News and analysis by
Dan Telvock
, Investigative Post's environmental reporter
Charles F. Zukoski, the provost and executive vice president for academic affairs for University at Buffalo, this week called for a committee to review policies and practices for research, scholarships and publications in light of the controversy with the university's Shale Research and Society Institute's (SRSI) study on shale gas exploration.
Artvoice also has some eye-opening documents in its investigation of the controversy.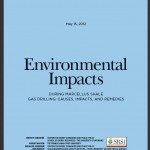 That SRSI study used data from the Pennsylvania Department of Environmental Protection to show that instances of pollution related to hydrofracking declined 60 percent from 2008 to August 2011 because of regulation. Hydrofracking is the practice of using water, chemicals and sand to drill deep into the Earth to extract natural gas.
"On this basis, the Marcellus industry has cut its incidence of environmental violations by more than half in three years, a rather notable indicator of improvement by the industry and oversight by the regulators," the study states.
Critics of the report say that it was tied to the oil and gas industry. UB students and faculty want a more detailed disclosure of the institute's funding to avoid conflicts of interest.
Zukoski released a letter Wednesday stating that Dean E. Bruce Pitman created SRSI to research practices and science related to shale gas exploration and hydrofracking. He said no university policies were broken when the Department of Geology established SRSI and that all funding for the institute came from the College of Arts and Science "through discretionary funds, which include indirect cost recovery from research grants, investment income and unrestricted gifts."
"UB has received no industry funding for SRSI," he wrote. "With regard to the first report of SRSI, Co-Director John Martin did not receive industry funding for his work on the report.  If the non-UB authors received industry funding for their work on the report, sound academic practice would dictate that they disclose it in the report."
Zukowski asked Vice President for Research and Economic Development Alexander Cartwright and Faculty Senate Chair Ezra Zubrow,  "to establish a joint committee to review university policies and practices related to research, scholarship and publication practices across the disciplines, with the goal of offering recommendations to develop and strengthen our policies in these areas."
"The Faculty Senate is the appropriate place for such a policy debate to occur and I am confident that, with this approach, any modifications to existing policies will be made in a thoughtful and careful manner," Zukowski wrote.
SUNY Board of Trustees member Joseph Belluck on Wednesday recommended that the trustees pass a resolution urging the State University of New York, University at Buffalo, "to fully report to the Board of Trustees in an expeditious manner all of the facts and circumstances regarding the formation of the UB Shale Institute, the selection of its directors and the publication of its first report, including the involvement of the natural gas companies in the formation of the institute, the selection of its directors and the publication of its first report."
James Holstun, UB's English professor and chairman of the UB Coalition for Leading Ethically in Academic Research (UB CLEAR), wrote Investigative Post Sept. 12 stating that every person associated with the SRSI either has oil and gas company ties or has at some point in their career argued in favor of hydrofracking. He said the SRSI report or its website—which has been pulled since the controversy erupted—makes no mention of public health concerns or contrary perspectives about hydrofracking.
"It bears every sign of being a propaganda mill in cheap disguise," Holstun said. "Its corporate solicitation—which promises donors a role in running the institute and first crack at its products to those who donate—is simply shameful. Whoever is responsible for that document in particular should face academic censure of some sort."
Holstun said that until the story on SRSI's connection to the Independent Oil and Gas Association, the institute's formation was secret and did not follow UB's procedures for creating new institutes and centers. He said he has found no evidence that the College of Arts and Sciences Committee on Institutes and Centers was ever consulted on the creation of SRSI.
"This is a profound violation of the traditions of collegial university governance," he said. " To conclude: the UB Council, the President, the Provost, the UB Foundation, and the Dean of the College of Arts and Sciences should immediately make public all documents received or generated by UB related to the formation, funding, governance, and planned operation of the Shale Resources and Society Institute. Transparency may not be the final step here, but it is the essential first step. And the university should quickly and carefully establish new conflict-of-interest rules and guidelines for public-private partnerships to prevent future disasters like this one."