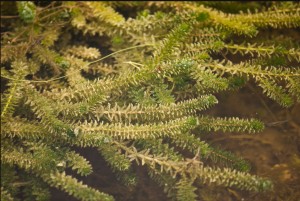 News and analysis by
Dan Telvock
, Investigative Post's environmental reporter
Local biologists said yesterday that one of the most invasive aquatic plants in North America has spread over portions of a 13.5-mile stretch of Tonawanda Creek, which could pose serious problems for native plants, animals and recreation.
U.S. Fish and Wildlife biologist Michael Goehle first discovered the Hydrilla plant on Sept. 7 in North Tonawanda by the boat ramp on Sweeney Street.
Since then, Goehle's coworker, biologist Denise Clay, has been working with six other agencies to inspect 46 miles of waterways, including the Niagara River, to see how far the Hydrilla has spread.  Hydrilla, a native plant of Southeast Asia, grows fast—up to an inch a day. It can dominate the aquatic ecosystem, choking native plants of sunlight, clogging boat motors and making it harder for them navigate through it and frustrating water fowl by making it difficult to cut through the thick growth to find food.
Boats are the most common way of spreading Hydrilla to other waterways. Goehle said that the Hydrilla so far appears limited to Tonawanda Creek in patches between Carney Street east of the railroad bridge to where its splits with the Erie Canal.
"There are some areas where it is a little 3-foot by 3-foot plot and there are other areas that are larger," Goehle said.  "We have looked into the Niagara River, mostly downstream of where the canal meets the river, and so far there have been no detections that way."
The team also checked Grand Island near marinas and docks and did not detect any Hydrilla.
Before the discovery in North Tonawanda, Hydrilla's exposure was limited to Cayuga Lake in the Finger Lakes region and more isolated areas in Long Island and Orange County, according to the state Department of Environmental Conservation.
Goehle said Florida has a huge Hydrilla problem, infesting more than 175 public waterways.
Goehle said the next step is to use GPS to help determine just how many acres have been impacted, a process that might begin next month.
"We are certainly concerned about it," he said.  "The biggest thing right now is trying to educate boaters on how not to spread them."