News and analysis by
Dan Telvock
, Investigative Post's environmental reporter
U.S. Senate hopeful Wendy Long didn't shy away from her strong support of hydrofracking during Wednesday night's debate hosted by YNN at Skidmore College in Saratoga Springs. In fact, she was quite bold about her opinions.
The hydrofracking portion of the debate begins at about the 50:30 mark of the video on YNN's website. Sen. Kirsten Gillibrand said drilling for natural gas presents a significant economic opportunity and can be a potential clean source of energy. However, she wants more study of the chemical concentrations used in hydrofracking and what, if any, health impacts they have.
The senator said there needs to be agreement on how will the chemical-laced water used for hydrofracking be cleaned or treated. She also wants to have requirements that gas companies clean up these hydrofracking sites so there aren't any future superfund sites, with a commitment to protecting drinking water.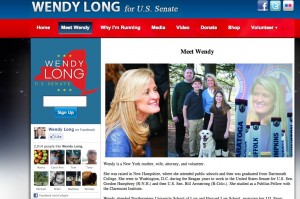 Long, the Republican challenger, said there needs to be less regulation.
"All of these concerns that you cite are just phony concerns," Long said. "This has been studied."
"There has been no evidence anywhere that this is polluting drinking water," Long continued. "These are completely phony concerns. The people of upstate need to get going with hydrofracking."
There are, however, numerous studies out there, including government studies, that have shown hydrofracking chemicals do pollute drinking water. In Wyoming, the EPA found that "ground water in the aquifer contains compounds likely associated with gas production practices, including hydraulic fracturing."
In the two deep water monitoring wells, the EPA reported that the benzene and methane discovered were well above the Safe Drinking Water Act levels.
"Given the area's complex geology and the proximity of drinking water wells to ground water contamination, EPA is concerned about the movement of contaminants within the aquifer and the safety of drinking water wells over time," the EPA study states.
The Wyoming report is just one of many that make a connection to hydrofracking chemicals and contaminated drinking water.
Gillibrand said Long told an Albany report that the economic benefits of natural gas fracking outweigh any health risks.
Long's response brought laughter from the audience: "They don't outweigh them. There aren't any health risks!"
Long said the connection of methane in the drinking water is "completely ridiculous" because it is a naturally occurring gas that has nothing to do with fracking.
"It is a complete myth," she said.
Have you ever seen Gasland?