News and analysis by
Dan Telvock
, Investigative Post's environmental reporter
Residents living near the Town of Tonawanda's industrial corridor have higher cancer rates than others in the state and region.
The state Health Department revealed the concerning data Tuesday in a health review that has been in the works for almost four years.
The review also noted that two of the cancer types are associated with chemical compounds the state Department of Environmental Conservation detected in its 2009 air monitoring program of Tonawanda, which has one of the highest concentrations of industrial polluters in the state.
"There are definitely health issues of concern in Tonawanda that could be related to the pollution," said William Scheider, a research assistant professor for University at Buffalo's School of Public Health and Health Professions. "But we can't say cause and effect."
Erin Heaney, executive director or the Clean Air Coalition of Western New York, said the review is more vindication for  residents who have been pushing state and federal agencies to investigate pollution in their neighborhood and take action. In a press release, Heaney called the situation a "cancer crisis."
"We should be taking a proactive approach and not waiting for definitive proof," she said. "The Department of Health study of Love Canal said there was nothing wrong with Love Canal, so our mantra is we don't wait for the Department of Health to start taking action."
In 2009, the state DEC released its air monitoring study of the Town of Tonawanda that found high levels of cancer-causing benzene linked primarily to Tonawanda Coke. Emissions from vehicles traveling the nearby Thruway and Huntley Generating Station, Indeck Yerkes Energy Services, Goodyear Dunlop Tires and the NOCO and Sunoco petroleum distribution terminals were listed as contributing sources of benzene, as well. High levels of formaldehyde were also detected in the air monitoring.
The DEC study prompted the Health Department to conduct its health review, which included Sheridan Park, Brookside Terrace, Riverside and Grand Island.
Using the state (excluding New York City) as the comparison, the Health Department found:
Statistically significant elevations of lung, bladder and total cancers among men and women.
Elevated levels of esophageal cancer among men and uterine cancer among women.
Elevated levels of oral/pharnyx cancer among men in one sub-area labeled "high potential impact area" marked in yellow in the map below, and elevated levels of leukemia among women in the Sheridan Park area marked in purple below.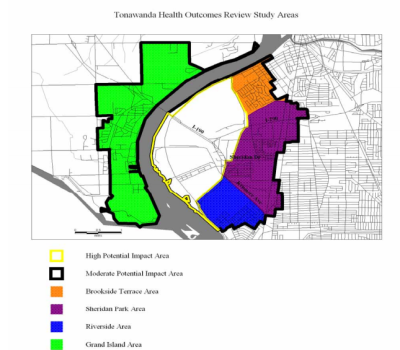 For women in the Brookside area, bladder cancer had statistically significant elevations. For men in Sheridan Park, total cancers, lung cancer and bladder cancer had statistically significant elevations. The results were similar for women in Sheridan Park, with the addition of leukemia. In Riverside, no type of cancer was statistically significantly elevated aside from lung cancer for women. In Grand Island, esophageal cancer was statistically significantly elevated among men and uterine cancer among women.
Cancer rates in the Town of Tonawanda were elevated when compared with the rest of Erie and Niagara counties, although not as pronounced as they were compared with statewide data, the report said.
The review states that although the chemicals detected in the Tonawanda air have been associated with some of these cancers —chiefly leukemia and pharnyx cancer — other factors can be contributing factors. Other factors include smoking, family history and exposures at work.
"This type of study cannot determine whether there is a casual link between possible past exposures from living in the Tonawanda study area and the excesses of cancer shown in this review," the report states. "In this type of review, conclusions about the cancer excesses are limited due to the lack of information about potential individual exposure histories and individual cancer risk factors such as smoking and occupation."
Scheider said the health review sets the stage for more analytical studies with a case-by-case approach to rule out other causes, such as smoking and occupation.
Jen Ratajczak, 46, is a lifelong resident of Tonawanda and a leukemia survivor. She said the Health Department took so long with its review that she thought they stopped working on it. She must take an expensive daily oral chemotherapy cocktail or her cancer will relapse.
"It makes me sad that there are so many people in our community who are sick with serious illnesses," she said. "But it does verify the work that we have done in our community and I hope that our political leaders will take this seriously."
The health review also found some elevations in birth-related health issues, although smaller than the cancer elevations:
Premature births were elevated in the overall study area.
Heart defects as a group were elevated, but major defects were not.
When the health-related issues of child birth were compared with data from Erie and Niagara counties, the elevations declined substantially and some were statistically insignificant, according to the Health Department report.
The report states that past reviews of statewide birth defects have shown higher rates in Western New York.
"The higher rates are thought to be due to superior diagnostic practices leading to more comprehensive reporting, particularly the reporting of minor birth detects, rather than to increased prevalence of birth defects," the report states.
The health review adds to a long list of health and pollution problems for the Town of Tonawanda.
Last month, Tonawanda residents released neighborhood soil tests that found some samples contaminated with polyciclic aromatic hydrocarbons. The residents collected the samples and had them tested by a certified lab. Residents urged the DEC to find the source of the contamination and begin a remediation process as soon as possible.
The Clean Air Coalition said in its press release DEC Commissioner Joe Martens should "honor his promise" to visit Tonawanda to meet with residents by March 31.
The nonprofit group also called for the following measures:
The Town of Tonawanda should pass a comprehensive land use plan that incorporates residents suggestions to phase out burning coal.
DuPont should phase out vinyl fluoride at its Tonawanda plant.
State and federal agencies should mandate that Tonawanda Coke follow the consent order to reduce pollution by June or the company should be taken to court.
Empire State Development Corp. and the Western New York Regional Economic Development Council should allocate more funding for pollution-prevention projects.
Elected officials should pass reforms that prohibit polluting industries from obtaining government subsidies.
Upcoming related meetings:
The Health Department will present its complete findings on Feb. 26 at 7 p.m. at the Sheridan Parkside Community Center.
The Clean Air Coalition is having a public meeting on Feb. 20 at 6:30 p.m. at the Brounshilde Post at 3354 Delaware Ave., where Tonawanda residents will share a year's worth of community research, which includes air monitoring results, emission data from local industrial plants and information on worker safety.
Editor's note: Per iPost's transparency policy, this story was edited by Investigative Post President Lee Coppola.