Rate is up since green totes introduced, but short of goals; still no education program or coordinator to lead the effort
Editor's note: Investigative Post reported last November on Buffalo's anemic recycling program. The story prompted a pledge by Mayor Byron Brown to take steps to bolster the recycling rate. Investigative Post follows up to see what the city has done. Coming soon: An update on recycling efforts in Buffalo public schools.
Mayor Byron Brown's administration has yet to meet its goal of doubling Buffalo's curbside recycling rate in the year since green totes were distributed to residents.
The city's curbside recycling rate – based on what residents place in green totes – rose from 8 percent to 12.2 percent in the course of a year, falling short of Brown's goal of 16 percent.
"It's not good enough," Brown said. "We want to see curbside recycling increase significantly."
The city's overall recycling rate – which also includes yard waste, tires and electronics – rose from 8.5 percent to 13.6 percent. Despite the improvement, Buffalo lags far behind the national average of 34 percent.
Nevertheless, the raw tonnage of recyclables collected jumped by 56 percent, setting monthly records.
While the introduction of green totes are widely credited for the increase, Investigative Post found City Hall still hasn't taken taken several other steps that could have further increased the recycling rate.
The city has failed to spend almost $400,000 earmarked to promote recycling, according to records obtained under the state Freedom of Information Law. Brown in November said the city was close to issuing a request for proposals for an education program, but no solicitation has taken place.
The city also continues to operate its recycling program without a coordinator. The job has been vacant since 2009. But in the face of questions from Investigative Post, the city advertised for the job in late October. No one has been hired, however, and in the meantime, many of the job duties continue to be handled by the son-in-law of one of Brown's staunchest Common Council allies.
The Brown administration has made many self-congratulatory statements about its recycling efforts the past year. But documents obtained under the FOI law and field research done by Investigative Post found the mayor and his staff have exaggerated numbers to overstate the improvement.
For example, Public Works Commissioner Steve Stepniak told Investigative Post in October that about 90 percent of residents were participating in the recycling green tote program. But field research by Investigative Post found 56 percent of households participate.
"We should have higher [recycling] numbers with a 50 percent participation rate," said Delaware Common Council Member Michael LoCurto.
Officials exaggerate progress
Investigative Post reported in November numerous deficiencies with the recycling program. The city is not enforcing a City Charter requirement that commercial and multi-family buildings recycle. Nor has it hired a recycling coordinator or instituted a public education program to promote recycling, despite having the funds set aside to do both. The result: a recycling rate one-third the national average of 34 percent.
The mayor and his press spokesman, Michael DeGeorge, disputed the accuracy of Investigative Post's report at the time. In response, Investigative Post filed FOI requests with the city seeking documents to prove claims made by Brown and his staff over the past year.
Investigative Post learned through the city's own records that the mayor's numbers were, in fact, incorrect.
Here are some examples:
The city issued a press release in April 2012 – quoted in some media outlets – that incorrectly claimed its recycling rate had jumped to 50 percent, well above the national average of 25 percent. Stepniak acknowledged last week the press release was a mistake and it was removed this week after he was questioned about it.
In November, the mayor's press secretary told one news outlet that the city's curbside recycling rate before the green totes were distributed was as low as 5 percent. Coupled with the claim that curbside recycling rates had grown to 16 percent, that implied the city had tripled its recycling rate. But records obtained under FOI show the curbside recycling rates before distribution of the green totes was 8 percent and the current rate at the time was about 12 percent.
Perhaps the most serious discrepancy involved the participation rate citywide. Stepniak said last fall the city did not track the rate and couldn't provide participation rates for each zone, but estimated that up to 90 percent of households use green totes.
Investigative Post hit the streets Dec. 10-14 – before the season's first significant snowfall – to determine participation rates in each of the five recycling zones in Buffalo. A reporter followed recycling crews as they collected from 1,742 homes on 24 streets in a representative cross-section of the city.
The tally: Residents placed green totes in front of 56 percent of houses. The percentages varied wildly street to street, from a low of 23 percent to a high of 85 percent.
The tracking found that the poorer the neighborhood, the lower the participation rate.
For example, Normal, West and Northland avenues and Rhode Island and Guilford
streets, all located on the East and West sides, ranked in the lowest five for participation rates. The participation rates varied from 23 percent to 33 percent for these streets.
Summit and Auburn avenues and Pennsylvania, Carolina and Downing streets ranked in the top five for participation rates respectively. The rates varied from 85 percent to 77 percent.
A good sign was on Summit Avenue, where residents had more green totes out than blue garbage totes. Summit Avenue had about an 85 percent participation rate.
"The pattern seems to be that they've had less success in poorer neighborhoods," LoCurto said.
Recycling rates on the upswing
There are two ways the city has measured its recycling rate. One is to use only the curbside collection data with the green totes.
The other, which is the norm nationally, is to include all materials the city recycles minus construction debris and hazardous materials.
In 2011, the city collected 126,139 tons of trash and 11,705 tons of recyclables. The figure includes yard waste, and other non-curbside items such as electronic waste and tires. That equates to a recycling rate of 8.5 percent.
Last year, the city collected 115,995 tons of trash and 18,206 tons of recyclables. That equates to a recycling rate of 13.6 percent. The national average is 34 percent.
There are huge cost savings if the city increases its recycling rate.
For example, Mayor Brown posted on his Facebook page that recycling saves the city $50 to $55 per ton on landfill tipping fees. He estimated the city saved more than $715,000 for 2012 in tipping fees even with the modest increase in recycling.
Increasing revenue is important because the city's solid waste fund has been running a deficit for over a decade.
City Comptroller Mark Schroeder said the deficit is running at an average of $3.2 million a year. In fact, since Brown took office in 2006, the fund's deficit has almost doubled from $10.5 million to $20.3 million. The city has been using parking fund surplus to cover the red ink — a practice criticized by the comptroller.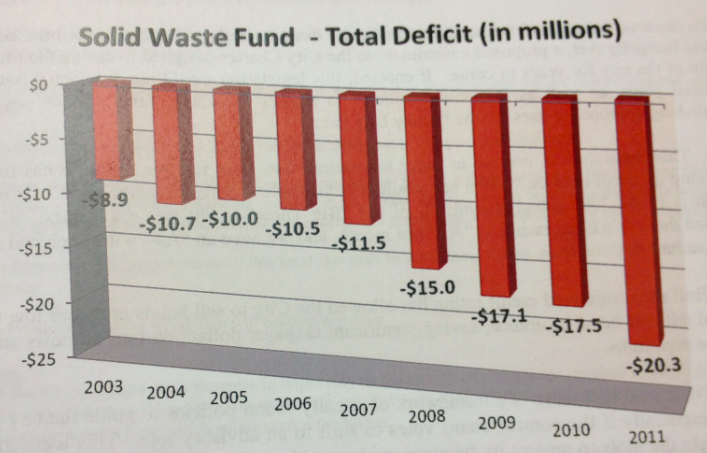 Schroeder wrote to Brown last August to express his concerns. Schroeder mentioned the proposed contract with Allied Recycling has every other week pickup, rather than weekly, saving the city $720,000. City officials have not supported moving to bi-weekly pickups.
Stepniak said he believes the city could "stabilize" the fund "if we keep increasing the recycling numbers." But Schroeder said the problems run deeper.
"Even if we were to tie the national (recycling) average, we would still have a deficit," he said.
Two reasons why: The city has not raised its garbage user fee since it was imposed in 1996 and has failed to collect $12 million in fees.
Unspent education funds
The city has $376,230 unspent for recycling education—rebates from the private company the city contracts with for recycling pickups.
Investigative Post reported in November that the city had withdrawn a request for proposals seeking a firm to carry out and education program. The mayor, reacting to the Investigative Post story, said the city was close to reissuing an RFP. Four months later, the city has yet to issue a new RFP, much less select a firm.
Stepniak said city officials have been fine tuning the proposal for an education program for recycling.
"We feel pretty satisfied with the product we have ready to go, so it will be shortly," he said.
LoCurto said the city lost an opportunity to roll out a recycling education program at the same time the green totes were delivered in December 2011.
"We may have missed maybe the most opportune time but there's still time to do it," he said. "There's not a reason not to do it. That money needs to be spent. The more people that recycle, the more money we save."
Since 2009, the city has spent $95,434 from the recycling fund, according to documents obtained under FOI. But little of it was on recycling education, aside from $2,656 awarded to Maven Technologies for two events to promote electronics recycling.
On the other hand, the city in July 2010 spent $13,650 to purchase blue recycling bins – since replaced by the green totes – even though a 2009 audit by the comptroller urged the city to stop using the funds for non-educational purposes.
About $15,700 was spent on two companies, apparently for consulting services in the drafting requests for proposals.
URS Corp. received $8,137 in 2010, three years after a former URS employee plead guilty to two counts of falsifying business records involving dinners and trips purchased for then Public Works Commissioners Joseph Giambra and Daniel Kreuz. Both Giambra and Kreuz pleaded guilty to criminal conduct. Also noteworthy: Three employees of URS's Buffalo office donated a total of $1,800 to Brown's campaign from 2006 to 2011.
City officials refused to answer questions about what URS did for the $8,137.
A total of $23,577 was given to two unnamed block clubs. City officials wouldn't answer questions about how the money was spent.
Stalled job search
The city has yet to fill the job of recycling coordinator, which has been vacant since 2009.
Stepniak said in December that the city had received applications from "some strong candidates." The job was only posted in house by the city's Civil Service department, he said.
"We haven't done any interviews yet," Stepniak said. "We're actually going through the process of qualifications."
But Brown offered a different answer: "There have been a number of interviews."
Investigative Post found evidence that qualified candidates weren't even getting interviewed or receiving responses after filing an application.
One applicant, who asked to remain anonymous because he is employed elsewhere, said the city has not responded to his application or a follow up letter.
"It was just like a black hole, off it goes and you never hear anything back," he said. "I thought I would at least get a chance to maybe interview and then not get it, but to just not hear anything at all, that surprised me."
In the meantime, special assistant to the commissioner Raymour Nosworthy continues as the defacto recycling coordinator, as he has since 2009. Nosworthy is the son-in-law of University Council Member Bonnie Russell. Brown officiated Nosworthy's marriage to Russell's daughter in July 2009. Nosworthy has donated $750 to Brown's campaign since then.
"You would hope they are looking for the best qualified candidate, but unfortunately it's something we see too often, frankly, in City Hall," said LoCurto.
Gap remains in City Charter
The City Charter does not mandate that residents in one- and two-family houses recycle, which leaves it out of compliance with state law, according to research by a University at Buffalo law student.
Both LoCurto and Fillmore Council Member David Franczyk said the charter should be changed to bring it in line with state law.
"I think we should be in harmony with state law," LoCurto said.
Such a change would mostly be symbolic because the city doesn't enforce the recycling mandates already on the books for commercial and multi-family buildings.
Franczyk expressed doubt that Council members would vote in favor of an enforcement effort.
"They would probably be reluctant to put any kind of punitive conditions on it," he said. "A lot of council [members] would be afraid of that."