Reporting, analysis and commentary
by
Jim Heaney
, editor of Investigative Post
Last week I wrote about the overflowing trash bins up and down Chippewa Street that greeted fans in town for the NCAA basketball tournament. That did not make it an unusual week for the downtown entertainment strip – actually, it was a typical one.
The truth is, Chippewa is dirty, smelly and uninviting most of the time.
I know because I walk the street five, sometimes six days a week. I park workdays at WGRZ on Delaware Avenue and walk up Chippewa to my office on Pearl Street. I retrace my steps on the way home in the evening. In between, I usually walk the street to get lunch. I'm on the street 15 to 20 times a week. So, I know of what I speak.
The street is worse in the winter because a fair number of businesses refuse to shovel their sidewalks. Some, like the operators of the SoHo Burger Bar, Bacchus Wine Bar and Restaurant and the Root Building that includes Emerson Commons, keep their sidewalks down to the bare pavement most of the time. My neighbors up the street at Prima Pizza & Pasta are good at clearing the snow and hosing the sidewalk, too.
But others are lackadaisical, especially several of the bar owners on the north side of Chippewa between Delaware and Franklin.
"There's still a handful of operations that aren't as good as we'd like them to be," said Jay Manno, owner of SoHo and president of Chippewa Strip's semi-defunct business association.
Most surprising are the operators of the newly opened The Lodge. They spent a ton of money to create a really nice restaurant, but were hit and miss this winter about shoveling. Some of their neighbors were mostly misses.
Witness that stretch of the block after the last major storm.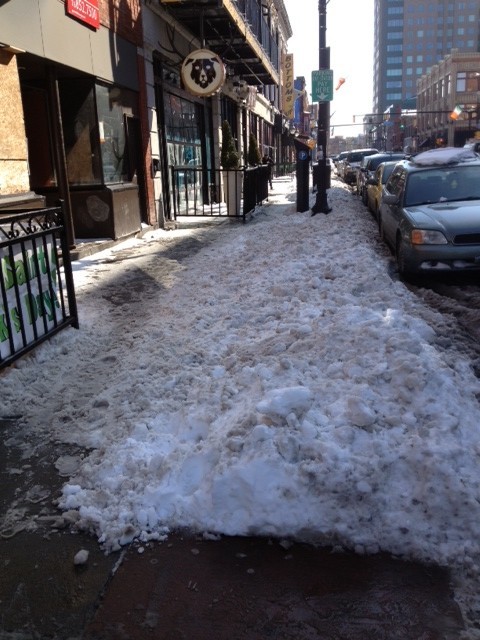 The owners of a couple of parking lots along the street aren't consistent, either.
The sidewalk in front of 30-42 West Chippewa, where the Bada Bing Bar & Grill is relocating to, has been a mess for the two winters I've worked in the neighborhood. It's rarely shoveled in the winter or swept in the warmer weather.
Take a look at this photo from the last big storm and you'll know what I mean. (The garbage totes are a nice touch, too.)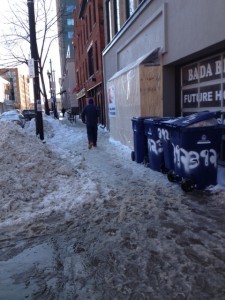 I can't blame the city for the failure of merchants to shovel or sweep. Then again, there is scant evidence City Hall is enforcing ordinances that require property owners to shovel their sidewalks and remove sidewalk patios during winter months to enable snow removal. (Mike DeGeorge, the mayor's spokesman, has refused to answer questions on this point. I guess Mayor Byron Brown will have to pay him more than $91,374 a year for him to actually interact with reporters.)
Merchants and city officials share the blame for the street's otherwise unappealing aesthetics.
Trash receptacles look like they date to Jimmy Griffin's days as mayor and several are in disrepair.
Long stretches of the street look like they haven't seen a broom in years. OK, I exaggerate. Months. Seriously.
And the smell, at least in front of some of the bars, well, let's just say rain often has to suffice when a power spray would be in order.
But at least you're never alone on Chippewa. You can count on being approached by panhandlers. I know I am, sometimes two and three times a day. It's not like the panhandlers need to worry about the cops: I've seen exactly one walking the beat in daytime hours over the past 21 months.
In their defense, the police are kept pretty busy at night – and not just flirting with female patrons and shuttling them around in their squad cars, both of which I'm told is a common sight in the warm weather. One only has to read the police briefs in The Buffalo News to know Chippewa is a dangerous place after dark.
Hope may or may not be on the horizon.
A new business organization is forming and I'm told – not by city officials, of course, who continue to sulk about last week's coverage – that about $700,000 in streetscape work is scheduled for later this year.
Sidewalks. Lighting. Planters. Even new trash cans – hopefully not blue totes.
"The improvements you're going to see on the street, with help from the city, is going to be incredible – night and day," Manno said.
There's also the ongoing construction by Uniland Development to build a new corporate headquarters for Delaware North at the corner of Chippewa and Delaware. I doubt Jeremy Jacobs is going to tolerate vomit and garbage in front of his new digs. For once, I'd be with him.
It shouldn't take Jacobs cracking heads – figuratively, of course – to clean up Chippewa. A little pride on the part of the slacker bar owners and code enforcement by City Hall would do the trick.
Then again, making the city look presentable doesn't appear to be a priority for the Brown administration.
Consider the experience of organizers of the National Preservation Conference that brought several thousand preservations from around the county and beyond to Buffalo in October 2011. After my story aired last week, one of the organizers volunteered to me that the local sponsors had to raise $35,000 to spruce up and maintain several public places after city officials failed to respond to requests to do so.
It seems that the preservationists, unlike city officials, weren't willing to be embarrassed when their guests arrived. That helps to explain why Chippewa looks and smells the way it does.