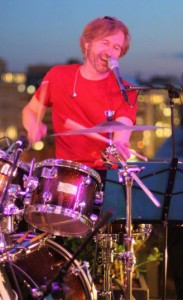 Take a local media icon and put him behind a drum kit. Team him with one of the city's preeminent roots-rock bands. Add legendary guest performers. Showcase all this talent in Buffalo's premier music club.
What you get is "News, Brews & Rock 'n' Roll," a unique, entertaining night of music July 22 at the Sportsmen's Tavern. The show benefits Investigative Post, Buffalo's award-winning, non-profit investigative reporting center.
"Everybody loved the show last year," said Tom Toles, who is headlining the event. "It was a unique gathering of people who love performing and enjoying music, and everybody is looking forward to doing it again, only bigger and better."
Toles is paired with the Outlyers, a mainstay on the Buffalo music scene since 1998. The band includes Tom Fischer, David Meinzer, Cathy Carfagna, John Brady and Jim Celeste. Toles described them as "a group of some of the nicest and most talented musicians in the area."
Toles and the Outlyers will be joined by musical guests who include:
WGRZ news anchor Maryalice Demler will serve as master of ceremonies.
The evening will include a silent auction of two of Toles' cartoons drawn for The Washington Post. We're talking the original artwork, not a copy.
The musicians have been rehearsing for several weeks and Toles said the upcoming show will feature "some of the best songs from last year and some great new ones, played in an atmosphere that is pure fun."
Toles won a Pulitzer Prize for editorial cartooning in 1990, when he worked for The Buffalo News. Toles subsequently joined The Washington Post, here the draws, blogs and continues to win awards.
He took up drumming after he moved to Washington. Besides playing and singing in two bands, Toles has written a musical, "Catapult Love," which was performed last fall at an arts center in North Bethesda, Maryland.
Toles is also co-writing and illustrating a book on climate change with climate scientist Michael Mann.
He works from his Hamburg home during the summer and will speak at the Chautauqua Institute on July 30.
Toles serves on the board of directors for Investigative Post and said he is happy to lend his talents to help his hometown watchdog news organization.
"Every community depends on high-quality investigative journalism, and Buffalo is uniquely lucky to have the strong team at Investigative Post," he said.
Tickets for the benefit are $25 in advance and $30 the day of the show. They can be purchased online or at the door. The show begins at 7 p.m. at the Sportsmen's, located at 326 Amherst Street, near Grant.
The show is sponsored by Flying Bison Brewing Co. and Try-It Distributing. Media sponsorship is provided by Artvoice.