Susan Arbetter has built The Capitol Pressroom into an influential interview program with a daily audience of 100,000 listeners by practicing what she described Tuesday as "broccoli dipped in chocolate" journalism.
Speaking to a near sell-out crowd at the Burchfield Penney Art Center, Arbetter said her approach – tackling serious subjects with a dash of flavor and humor – gives voters the information they need in a way they can digest.
"We need to eat vegetables to have real democracy," she said, "but people are opting to only eat dessert," referring to the gluttony of media consumption preoccupied with sports, celebrity and the like.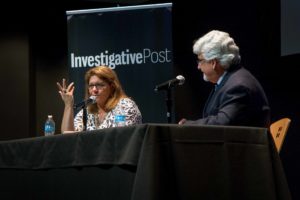 Interviewed by Investigative Post Editor Jim Heaney in front of an audience of 144, Arbetter offered pointed observations on Gov. Andrew Cuomo, a frequent guest until a year ago on The Capitol Pressroom.
"He is an alpha-male leader who is doing everything through a scrim of 'How does it help me and my political aspirations?' " she said. "I think that it's a pathology."
Arbetter, regarded as a keen observer of Albany politics, said the delegation representing Western New York in the state Legislature has lost influence in recent years, particularly in the Senate.
"Western New York in the state Senate is really nowhere anymore," she said. "The power in the state Senate is all on Long Island."
Listen to podcast of Arbetter's remarks on Investigative Postcast
One person from Western New York who Arbetter says does yield power is developer Carl Paladino. When asked whether he has real influence in political circles in Albany, Arbetter said that even "perceived power is power."
"He is Trump's guy in New York," she said.
Paladino's vocal opposition to the New York Safe Act is another source of his power, drawing huge crowds to rallies in Albany.
"If you can get that many anti-gun control people to come out, I mean that's power."
She added that power isn't going to get Paladino elected if he runs again for governor, as he said he is considering. The Democratic Party's base in New York City is too strong for Paladino to overcome, she said.
"Paladino is not going to win."
The Capitol Pressroom is broadcast daily on 20 public radio stations across upstate, including WBFO, which produced this report about Arbetter's remarks.
Her appearance was the kick-off event to Investigative Post's third season of its "At Issue" series. Next up is a gala dinner Oct. 19 featuring Margaret Sullivan, Washington Post columnist and former New York Times public editor, as keynote speaker. Journalist and educator Lee Coppola will be honored.
On Nov. 16, Investigative Post reporter Dan Telvock will discuss his award-winning coverage of lead poisoning in Buffalo and moderate a panel discussion with three experts, including Marc Edwards, who helped expose the water crisis in Flint, Mi.
Tickets for upcoming events can be ordered here. Memberships that provide for free or discounted admission to Investigative Post events can be purchased here.
The event series is sponsored by the M&T Charitable Foundation, Talking Leaves Books, R&P Oak Hill Development, NOCO Energy, Lawley Insurance, WGRZ and The Public.