News and analysis by
Dan Telvock
, Investigative Post's environmental reporter
Most people familiar with water quality problems in Buffalo were not surprised Thursday night when city officials issued a warning that a "harmful blue-green algae bloom" surfaced in Hoyt Lake at Delaware Park.
Instead, they were surprised that it took this long for one of these blooms to appear in Buffalo.
"Unfortunately, it was only a matter of time until we started to see harmful algal blooms in Western New York's waters," said Buffalo Niagara Riverkeeper Executive Director Jill Jedlicka.
After all, Hoyt Lake and its neighbor Scajaquada Creek for decades have been cesspools of disease and fecal bacteria that kills fish and birds every year. I've reported on the badly polluted creek and lake for years now, publishing more than 20 stories.
The source of this pollution is sewer overflows in Buffalo, Cheektowaga and, to a lesser degree, Depew. These overflows carry all kinds of pollutants into the water that create prime conditions for dangerous blooms to develop. Together, the municipal sewer systems in Buffalo, Cheektowaga and Depew spew more than a half-billion gallons of raw sewage mixed with stormwater into Scajaquada Creek every year. Sewer overflows that enter the creek can — and do — pollute Hoyt Lake.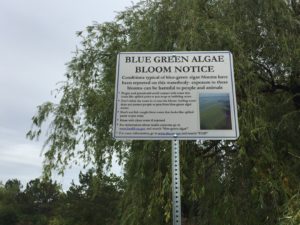 What exactly caused the bloom in Hoyt Lake may be difficult to identify, but there is plenty of scientific research that shows a direct connection to sewer overflows and runoff as the chief culprits. And both the lake and Scajaquada Creek clearly get plenty of both.
The only positive that can be taken away from the state Department of Environmental Conservation's Tuesday, Sept. 20 discovery of the algae bloom in Hoyt Lake is that the test results did not detect the toxin that can cause skin rashes — or, even worse — kill dogs and people who ingest the contaminated water.
The concern, however, remains that the toxin has the potential to develop in the bloom at any time, hence the three signs that the city erected in front of the lake that warn people not to touch the water or have their pets enter the lake.
By Friday afternoon, the bloom appeared to have dispersed, but there were still the typical mucky, murky spots, and some less common dark-green algae sludge near the shoreline that may be related to the bloom. Some spots of the lake also had a rotten stench, which isn't uncommon.
These blooms have wreaked havoc on Ohio's side of Lake Erie for years and now Florida is beginning to feel the pain, too.
But outside of Allegheny Reservoir in Cattaraugus County, Chautauqua Lake in Chautauqua County and Gill Greek in Niagara Falls, the waterways in Western New York have been spared the algae's wrath.
It's a growing problem, however: this month alone, the DEC has reported 58 harmful blue-green algae blooms in various New York waterways.
Some of the worst spots with identified high toxins are Song Lake and Deans Pond in Cortland, Owasco Lake in Cayuga County, Oneida River in Onondaga County and Chautauqua Lake.
Could this become a common occurrence in Hoyt Lake and elsewhere in Western New York?
"We do often see lakes that have a bloom tend to recur and have blooms again in future years," said Rebecca Gorney, the program coordinator for the DEC's harmful algae bloom program. 
Brian Dold, the director of planning and advocacy for the Olmsted Parks Conservancy, had thought the community was turning a corner.
Plans are in the works to dredge portions of Scajaquada Creek to clean out the layers of muck in the creek bottom and there's talk about eventually dredging Hoyt Lake and restoring its original serpentine shoreline. Cheektowaga in August was awarded a $5 million state grant and a $15 million interest-free state loan to address some of its sewer overflow problems. The Buffalo Sewer Authority is three years into its 20-year plan to eliminate a significant portion of its sewer overflows citywide. 
And then this happens.
"It takes it to another level that is concerning," Dold said.
"When things like this pop up, I think it is a reminder how we need to keep the pressure on. These waterbodies are extremely important to the Olmsted design."