Generous terms allowed LPCiminelli to obtain reimbursements beyond what most contractors permitted
It was an expensive dinner after a long day of meetings on the SolarCity project.
A senior executive at LPCiminelli, the company building the factory, ate at an upscale Italian restaurant in Albany, joined by two architects working on the project. The cost of the meal topped $120 each.
That night, LPCiminelli picked up the tab.
But, ultimately, state taxpayers footed the bill.
A few months later, the company listed the meal as a reimbursable expense under its contract to build the vast solar panel factory, the marquee project of the governor's Buffalo Billion initiative, and was paid back, in full.
This wasn't an oversight. LPCiminelli's contract, which federal prosecutors say the company received as the result of a criminal bid-rigging scheme, included some unusually generous terms. Month after month, state officials signed off on meals and entertainment expenses for LPCiminelli's employees – thousands of dollars, all told.
State contractors are not usually reimbursed for these kinds of costs. But this project was overseen by the Fort Schuyler Management Corp., a nonprofit affiliate of the SUNY Polytechnic Institute, which maintains it was not bound by the state rules that usually protect taxpayer money. Fort Schuyler paid LPCiminelli for all kinds of expenses that state agencies do not typically cover, like lavish dinners with business guests and lunches for the company's employees at local restaurants.
"They're getting paid millions of dollars to do the contract. So, why do they also get free lunch?" asked Kirk Laubenstein, executive director of the Coalition for Economic Justice, a local advocacy group. "Who gets free lunch?"
---
Listen to our story broadcast Wednesday on WBFO
---
Even when it came to expenses that are usually reimbursed, like business travel, the company's costs were not capped in the usual way. When LPCiminelli executives travelled to Albany, for example, they sometimes spent more than double the normal state allowance on hotel rooms.
As well as the expenses, Fort Schuyler paid LPCiminelli a developer's fee of about $20 million, or 3.5 percent of the cost of construction – a number that several local construction professionals said is remarkably high.
Since the contract was not competitively bid, they said, Fort Schuyler had little way of knowing what other firms might have offered, or whether it overpaid for the company's services. By negotiating only with one company, Fort Schuyler officials were "putting themselves in a position of weakness," one construction industry executive said.
---
Listen to Jim Heaney discuss story with Susan Arbetter of The Capitol Pressroom
---
While Fort Schuyler is not a state agency, it is a creation of state government, spending hundreds of millions of dollars of state money. And it was controlled, until last year, by a uniquely powerful state employee, SUNY Poly's then president, Alain Kaloyeros.
And the state's primary economic development agency, Empire State Development, was also involved on the SolarCity project. Each month, ESD received records of LPCiminelli's expenses to review before approving payment.
LPCiminelli said in a written response that the company was allowed to charge for meals and entertainment expenses and that state officials never raised concerns about the payments.
"State reimbursement requirements and the like do not apply to this project," the company's statement said. "It it is therefore misleading to try and use NYS contract metrics to attempt to gauge LPCiminelli's performance on this contract."
Officials at Fort Schuyler and ESD refused to answer questions about LPCiminelli's expenses. A lawyer for Kaloyeros did not respond to requests for comment.
LPCiminelli is conducting a routine audit of its expenses on the project, the company said in a statement, and will pay Fort Schuyler back if any were submitted "inadvertently or improperly."
"Reasonable and actual"
The idea behind using Fort Schuyler for projects like the SolarCity factory – the signature project of Cuomo's economic development program – was that, unencumbered by state bureaucracy, it could get things done faster. The result, according to a memo from the state comptroller's office, was "an environment ripe for corruption, bid-rigging, and kickbacks."
Last fall, prosecutors brought corruption charges against ten people involved in Cuomo's upstate economic development initiatives, including some of the governor's closest advisors and three top executives at LPCiminelli.
Despite the scandal, lawmakers have been slow to enact reforms. Cuomo opposes legislation, proposed by State Comptroller Thomas DiNapoli, that would ban nonprofits like Fort Schuyler from being used for state contracting.
LPCiminelli's contract with Fort Schuyler was vague about what the company could charge for, saying only that they would be reimbursed for "reasonable and actual" expenses. Fort Schuyler's definition of what was reasonable appears to have been more generous than the one used by state agencies.
Investigative Post reviewed more than 5,000 pages of LPCiminelli's payment applications from April 2014 to March 2015, obtained under the state Freedom of Information Law.
Among the expenses the company was reimbursed for: $237 on a lunch for local journalists.
A dinner for one LPCiminelli executive and a business guest that involved visiting two restaurants in the same night, at a total cost of $80 per person.
Even $3.99 for an ebook one executive bought on Amazon, "The five dysfunctions of a team summarized for busy people."
The person overseeing the project for Fort Schuyler attended several of the meals LPCiminelli later charged to the project, including a dinner for three at an Italian restaurant in Williamsville where executives spent more than $70 on wine. (Any reimbursements for alcohol were submitted inadvertently, LPCiminelli said.)
The agencies that handle the bulk of the state's construction work do not pay contractors for these kinds of expenses, according to interviews and a review of policies and contracts from the state Dormitory Authority, the SUNY Construction Fund, Empire State Development, the Department of Transportation and the Thruway Authority.
Those agencies have contract templates and manuals, dozens or even hundreds of pages thick, that lay out in exhaustive detail what they will and will not pay for – down to office supplies, hard hats and postage. Fort Schuyler, by contrast, didn't have any written policies for this project.
Even LPCiminelli wanted more clarity about what the company could charge for: the company said they pushed for a better definition when negotiating the contract.
Half a dozen construction professionals who reviewed the contract for Investigative Post said they would expect more detail on reimbursable expenses set out in writing, probably in a separate document attached to the contract. No such document exists.
Several also pointed out the contract included sections on reimbursable expenses that contradict one another.
Pub lunches, catered meetings
Sept. 23, 2014, was a milestone in the construction of the factory – the official groundbreaking.
From a podium with "The New Buffalo" written on it, the governor promised the city a brighter future. Assembled dignitaries posed with shovels on top of a mound of dirt, smiling for the cameras, their jackets flapping in the breeze. For Buffalo, it was meant to be a fresh start.
For several LPCiminelli executives, it was also a chance for a free lunch, at Cabaret Restaurant on Pearl Street, behind Shea's Performing Arts Center.
This wasn't a celebratory one-off. Over the first year of the project, Fort Schuyler reimbursed the company for at least $5,300 in meal expenses in Buffalo alone that state agencies wouldn't usually pay for – not even for meals with a clear business purpose.
That wasn't always evident in the receipts LPCiminelli submitted to Fort Schuyler, some of which simply read: "staff discussion."
One week in March 2015, the company billed for lunch on Monday, Tuesday, Wednesday, Thursday, and Friday, charging for everything from catered meetings to take out from Mighty Taco, ending the week with a pub lunch for several executives.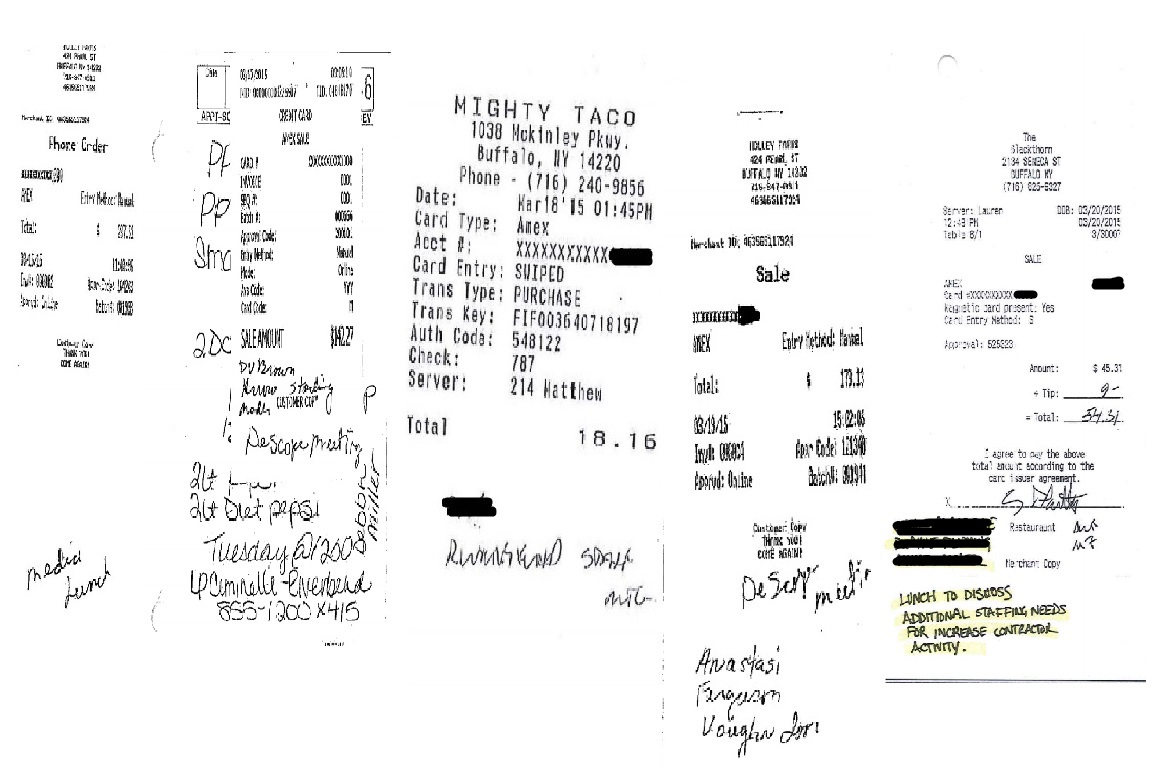 Dozens of LPCiminelli employees worked on the project. Many of the meals the company submitted for reimbursement, however, appear to have been attended by a handful of senior executives.
LPCiminelli said that, given the scale of the project and the tight construction deadlines, "members of our team and other companies that were assigned to it were working 12-to-16-hour days during both the planning and execution of this project."
"Meals were provided to keep the team working and to continue necessary conversations to allow the project to be completed on time."
But LPCiminelli also billed for some employees' meals when they were only working on the project for a few hours a week, according to records the company submitted to Fort Schuyler.
Of the executives who charged for lunch the day of the groundbreaking ceremony, for example, one worked three hours on the project that week; another is not listed as working on the project at all.
No limits on travel expenses
When LPCiminelli employees travelled to Albany to work on the project, as they often did over the course of 2014, the perks kept coming.
Almost any other state contractor would have been limited to a daily allowance of $111 to pay for hotel rooms. If they spent more, they would have had to cover the extra cost themselves.
Fort Schuyler never asked LPCiminelli's executives to stick to this limit. As a result, they hardly ever did, exceeding it on all but two of their 45 overnight stays that year. In some cases, the company's executive spent as much as $249 a night on hotel rooms – more than twice the state allowance.
Likewise, the daily state allowance for meals while travelling would have been $61 per person. On August 6, 2014, for example, a normal state contract would have limited LPCiminelli to $61 in meal expenses for the one executive who was in Albany that day. Instead, the company spent, and was reimbursed for, more than six time that amount – the full $382 the executive spent on a dinner with two architects working on the project, at an average cost of $127 per person. Since the architecture firm is headquartered in Albany, its employees would not have been entitled to any meal expenses under the usual state rules.
"If your company wants to have nice dinners, fine, but you pay for that – you don't bill that directly to taxpayers, that just seems crazy," said Sam Magavern, executive director of local good government group, the Partnership for the Public Good.
On other costs, large and small, Fort Schuyler was less strict with LPCiminelli than state agencies are with their contractors.
For instance, the State Comptroller's office says agencies should ensure that contractors submit itemized receipts for reimbursement; otherwise, state officials can't tell how many people attended a meal, or check whether the cost includes alcohol. Fort Schuyler didn't ask LPCiminelli to do this.
In addition, LPCiminelli was reimbursed for the time some of the company's most senior executives worked on the project, at hourly rates of up to $195 – something not all state agencies allow contractors to charge for.
In several cases, Fort Schuyler paid some LPCiminelli employees' monthly cell phone bills; most state agencies would only pay contractors for specific calls related to the project.
And most state agencies don't usually pay contractors for the cost of their employees travelling to and from work. In at least one case, though, Fort Schuyler reimbursed LPCiminelli for one employee's mileage for driving from her home in Chautauqua County to the RiverBend site, and back.
State oversight lacking
In the wake of the bid-rigging scandal, SUNY Poly was stripped of its economic development portfolio, and Empire State Development took over.
On the RiverBend project, though, ESD wasn't starting from scratch.
The money to pay LPCiminelli came from state grants that ESD administered. Every month, the agency received a copy of the company's payment applications, complete with receipts.
"For your review and comment," reads one email from an LPCiminelli administrator to an ESD official, with the company's requests for reimbursement attached.
ESD does a "thorough review of the payment request" when paying out grant money to ensure that only "legitimate project-related expenses" are reimbursed, an agency spokesperson said. The agency refused to make anyone available for an interview or respond to detailed written questions from Investigative Post.
The agency also refused to release expense records covering the balance of the construction work – from April 2015 to the end of 2016 – citing the federal investigation. In an advisory opinion, the executive director of the state Committee on Open Government called this type of denial "unreasonable."
Had ESD been contracting directly with LPCiminelli, the agency's own rules limiting contractors' expenses would have applied, ESD spokesman Jason Conwall said in a statement. "However, it is not our contract and we cannot comment on the specific details of individual receipts," he said.
Lack of competition
The lack of competition in the way the contract was awarded gave LPCiminelli little incentive to keep costs down, construction industry sources said. The vaguely worded Request for Proposals that Fort Schuyler issued in October 2013 – tailored to suit LPCiminelli's needs, according to federal prosecutors – was for a "preferred developer" to work on "strategic partnerships," not a specific construction project.
This approach is unusual, construction professionals said, because a company typically competes, at least in part, on its proposed fees and soft costs: overhead, salaries and expenses. To win the more than $600 million of construction at RiverBend, LPCiminelli didn't have to.
Even Fort Schuyler and Fuller Road didn't always do business like this. On some projects before and after RiverBend, the corporations chose developers through a more rigorous competitive process, asking companies to estimate their expenses and fees as well as lay out their qualifications.
LPCiminelli's 3.5 percent fee for the project – which it received in addition to the reimbursable expenses, labor costs, and a standard markup to cover overhead – represented a very good deal for the company, construction industry sources said.
In theory, the contract was structured so that LPCiminelli would shoulder the risk for any cost overruns, and the company's fee reflected that. But the project's budget – which is normally set before construction begins – wasn't finalized until construction was almost over, reducing the risk the company took on.
LPCiminelli said the company assumed other risks, however. They had to stick to an expedited construction schedule, agree to pay $175,000 per day in damages to Fort Schuyler if they fell behind, and contract directly with the architects designing the factory and assume responsibility for their work.
Proposed reforms
Federal and state investigations into contracts negotiated and managed by Fort Schuyler and its Albany-based sister, the Fuller Road Management Corporation, uncovered an intricate web of alleged corruption stretching from Buffalo to Syracuse to Albany. Prosecutors say top state officials used SUNY Poly's nonprofits to steer contracts to favored companies whose executives had been major contributors to Gov. Andrew Cuomo's political campaigns.
Last September, after the charges were announced, there was a chorus of calls for change. In November, Cuomo proposed sweeping ethics reforms, including more oversight of SUNY-affiliated nonprofits. But by April, the prospect of reform had dwindled. The state budget didn't include any reforms aimed at addressing problems raised by the corruption scandal .
Lawmakers are now considering a bill, proposed by the state comptroller, that would ban state-affiliated nonprofits, like Fort Schuyler, from being used for state contracting, among other changes. Over time, Fort Schuyler and Fuller Road "transformed into an economic development entity that was off the books," said John Traylor, executive deputy comptroller for operations.
Cuomo, however, does not support that legislation; his spokesperson has said he does not believe it gets at the heart of the problem.
Empire State Development's takeover of the nonprofits has included stricter procurement rules, new board members and more oversight. Supporters of broader reforms argue, however, that contracting through the nonprofits is a loophole that should be closed for good.
"They are so big and well established that they've become part of the paint on the wall of government," said John Kaehny, executive director of Reinvent Albany, one of the groups pushing for passage of the bill. "But if you step back and look, they're absurd: they exist to get around the law."
---
Editor's note: A version of this story published Thursday in the Times Union of Albany.