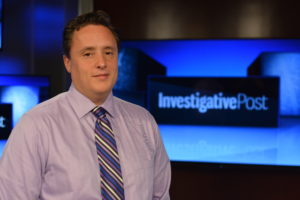 Award-winning environmental reporter Dan Telvock has left Investigative Post.
Telvock, perhaps best known for his reporting on the polluted Scajaquada Creek and lead-poisoning among inner-city children, is joining WIVB, Channel 4, as investigative producer.
"Dan was the first reporter I hired after I started Investigative Post and he's been a big reason for our success," said Investigative Post Editor Jim Heaney. "He's won more than his share of journalism awards, but more importantly, his reporting had a huge impact in the community."
Said Telvock: "My six years at Investigative Post are among the most memorable and rewarding of my 18-year career. I am really proud of the award-winning work we did together and none of it would have been possible without the many people who have supported Investigative Post over the years."
Telvock, a native of the Finger Lakes region and a graduate of SUNY Fredonia, worked for 13 years as a newspaper reporter in Virginia before joining Investigative Post in September 2012. His reporting has been cited for excellence by Investigative Reporters & Editors, the Society of Environmental Journalists, the National Association of Black Journalists and the New York State Associated Press Broadcasters Association. In addition, Investigative Post readers voted Telvock's reporting the story of the year in 2013, 2014, 2015 and 2016.