Marsha McLeod has joined Investigative Post on a reporting fellowship.
McLeod graduated with honors in May from the Columbia University Graduate School of Journalism, where she was a fellow at the Toni Stabile Center for Investigative Journalism. This summer she worked as an investigative fellow at The Trace, a nonprofit based in New York City that reports on guns and gun violence. She reported on the impact of stolen guns.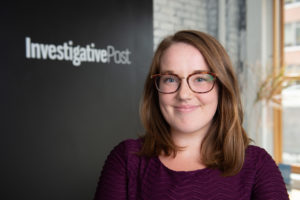 "Marsha brings impressive research and data skills to the job. She's a welcome addition to our staff," said Jim Heaney, Investigative Post's editor.
McLeod will report on criminal justice and immigration. She succeeds Daniela Porat, who did a lot of ground-breaking reporting on problems within the Buffalo Police Department.
"I am eager to get to know the residents of Buffalo and Western New York and hear what is on their minds about these issues," she said. "It's an honor to be taking over from Daniela and continuing her fair and sharp focus on law enforcement in the city and beyond."
While at Columbia University, McLeod reported a Master's thesis on county jail inmates who died of drug or alcohol withdrawal under the care of a private correctional healthcare provider.
McLeod, 25, is a native of Toronto. She graduated in 2015 from the University of Toronto with a dual major in visual studies and peace, conflict and justice studies. While a student, she won a Shelley Peterson Student Art Exhibition Award for a short video about solitary confinement.
Upon graduation, she produced a podcast, The Built Environment, that originated from four provinces. McLeod then worked as a production assistant to the Canadian photojournalist Rita Leistner on The Tree Planters, a project documenting reforestation in northern British Columbia.
Prior to her career in journalism, McLeod was a high performance sprint kayaker, winning 17 medals in national and North American competitions. She also worked as a counselor to youth with neurological disorders and volunteered extensively within Canada's second largest jail.
You can contact Marsha via email and follow her on Twitter.