Off Track Betting, in possible violation of FOI Law, also went to great lengths to conceal Wojtaszek's use of cell phone
The pay and perks are aplenty for the head of the Western Regional Off Track Betting Corp.
There's Henry Wojtaszek's annual salary of $179,462.
A state pension.
Forty-seven days a year of paid time off, including vacation, holidays, personal time and sick time.
Access to gold-plated health, dental and vision insurance, which he has opted out of in favor of an annual cash payment of at least $6,000.
And, until April, a cell phone and automobile paid for by OTB.
Wojtaszsek abruptly surrendered the car and phone after Investigative Post and the Niagara Gazette requested records under the state Freedom of Information Law that documented his use of the car and phone and whether he was reimbursing OTB for personal use.
A review of the documents shows:
Wojtaszek failed to follow the OTB policy that requires employees assigned cars "to diligently record and maintain accurate records of all personal use miles." Most of the weekly mileage reports he filed lacked odometer readings or included consistently rounded-off numbers. More than one-third of the 91,000 miles he logged over a 33-month period were not accounted for, records show.
He also violated OTB policy by failing to reimburse the OTB on a regular basis for his personal use of the car. In fact, he made no reimbursement payments for 17 months, from November 2017 until the time he turned the car in this April, when he wrote a check for $3,484.09.
OTB policy required Wojtaszek to pay 20 percent of the cost of his cell phone, but his payments covered, at best, only 16.5 percent.
The OTB redacted the phone number of every call Wojtaszek placed over the 14 months he had the phone, a move the state Committee on Open Government termed excessive.
The OTB took more than a month to provide the records, and only after a spat with reporters that played out in front of the Niagara County Legislature in early May. Wojtaszek refused subsequent interview requests regarding his use of the car and cell phone and instead answered only a handful of questions posed to him in an email.
"Given the questions raised about cell phone bills and car mileage, I decided the simplest way to end the distraction of these non-issues was to simply stop utilizing both benefits," Wojtaszek said in an email to Investigative Post and the Gazette.
The amount of money at issue involves a fraction of OTB's nearly $30 million annual budget. But the manner in which Wojtaszek handled his automobile records could be of interest to the state Gaming Commission, which has strict ethical standards for OTB executives. Gaming commission officials refused comment for this story.
Also relevant is the OTB's position, expressed by officials in their response to FOI requests, that the public benefit corporation is not fully subject to the FOI Law. Officials at the Committee on Open Government pointed to longstanding rulings that have established the OTB is, in fact, subject to the FOI Law.
Wojtaszek and the OTB have been besieged of late. Investigative Post has reported that most of its board members are receiving free health, dental and vision insurance that the state attorney general and comptroller have said they're not entitled to. The OTB's use of tickets to Sabres' and Bills' games has been questioned. The FBI is investigating the awarding of lucrative contracts by OTB to politically connected businesses. The state comptroller is about to conduct an audit of the agency. And the Monroe County district attorney is investigating allegations leveled by former state Senator George Maziarz that Wojtaszek and others were involved in a bid-rigging scheme in 2014 involving a contract awarded by Niagara County.
Wojtaszek has denied wrongdoing in all instances.
Use of car
The half-dozen OTB employees assigned cars are required to report personal mileage and reimburse OTB monthly. OTB charges employees much less than the IRS rate for use of its vehicles for personal use. OTB charged 11 cents per mile for personal use in 2016. That subsequently grew to 12 cents and now stands at 15 cents. The present IRS rate for vehicle use is 58 cents per mile.
Records obtained under the FOI Law show Wojtaszek put 91,780 miles on his OTB issued car between October 2016 and April of this year, when he surrendered the vehicle. While he was required to report personal mileage, more than a third of that mileage — 28,266 — was "unallocated" according to one internal report.
Wojtaszek wrote two checks, totalling $133.10, for personal use of the car during 2017. Documents show he made no payments between mid-November 2017 and the middle of April of this year, after he turned the vehicle in. At that point, he wrote a check for $3,484.09, covering the cost of all unallocated miles.
---
---
Weekly mileage logs show Wojtaszek usually failed to distinguish between personal and work-related use. An Investigative Post analysis of 81 weekly logs between July 2016 and March 2018 found he noted personal use 12 times; he claimed no personal use for 26 weeks. The other 43 weekly logs did not specify.
Examination of the 81 weekly mileage logs found that more than half were blank, incomplete or reported mileage with odometer readings that all ended in zero.
For example, Wojtaszek's log entry for the week ending March 19, 2017, began with a mileage reading of 10,400 and concluded with 10,900. His daily use totalled 100, 100, 50, 50, 50, 50 and 100.
That pattern was repeated in some 35 other weekly logs.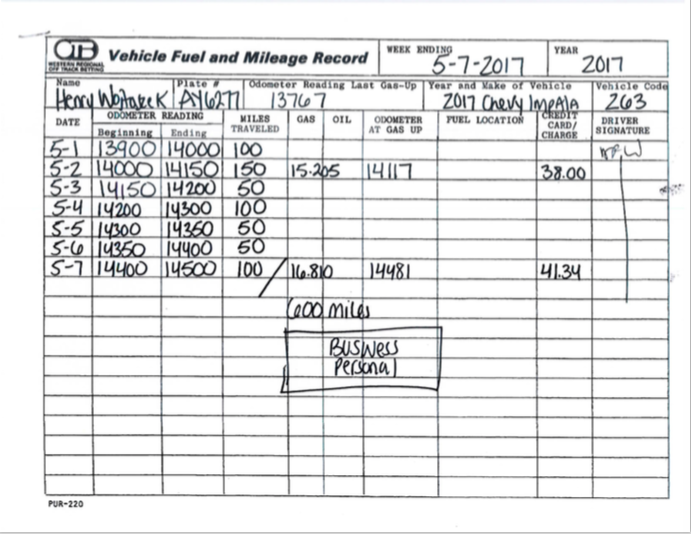 Wojtaszek refused to answer questions about his car use, aside from stating in an email, "I reimbursed WROTB for my personal mileage and the reconciliation and payment was calculated and approved by our internal auditor, and the payment was approved by our outside auditor and the Audit Committee of our Board of Directors."
When asked to provide paperwork to substantiate his claim, Wojtaszek refused.
Cell phone use
Wojtaszek was given a cell phone by the OTB in January 2018 and held it until FOI requests from reporters submitted in March of this year.
Phone use typically cost OTB $52 a month. Records provided to the Niagara Gazette and Investigative Post indicate Wojtaszek's phone use cost the OTB $867.08, of which he paid $142.73, or 16.5 percent. That figure falls short of the 20 percent monthly contribution stipulated in the organization's policy.
The calculations do not account for the $387 purchase price of the cellphone. If they did, Wojtaszek's contribution would be closer to 11.5 percent, a figure he said did not match his records. He declined to provide his math in response to followup questions.
"Bottom line is I reimbursed WROTB for the cost of the phone and what I was billed by WROTB up to this point for my use of a cell phone," Wojtaszek said via email.
The records were also subject of extensive redactions, the extent to which was challenged by the state Committee on Open Government.
OTB blacked out the last four digits of every telephone number Wojtaszek called while he possessed the cellphone. Wojtazek's own cell number was also withheld.
---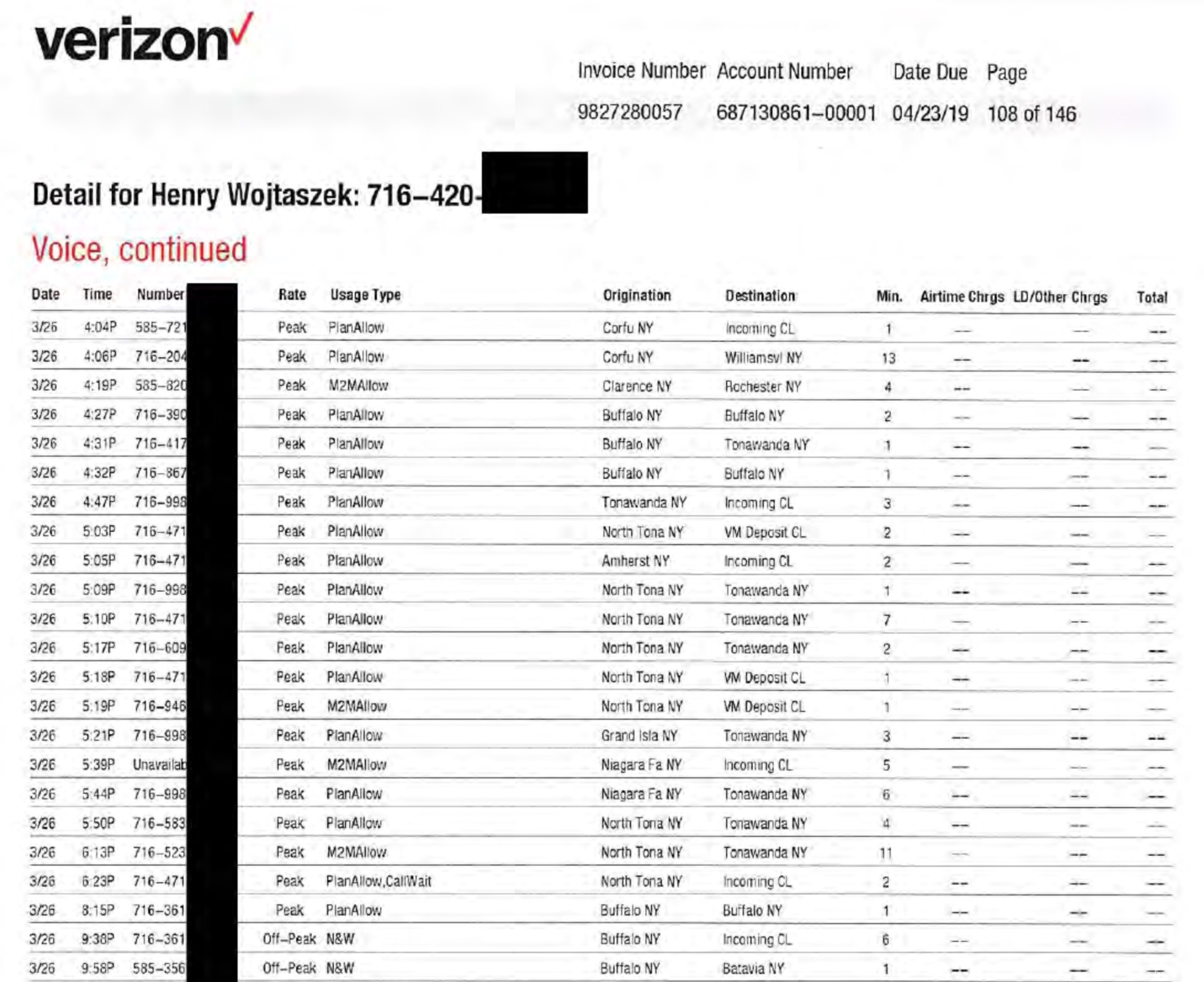 Personnel at OTB responsible for handling FOI requests said the redactions were made because their disclosure would have constituted an unwarranted invasion of personal privacy and attorney-client privilege, and, in addition, represented an attorney-client work product.
Wojtaszek serves as both the CEO of the organization and as one of its lawyers. The OTB's redactions apparently assume every phone call he placed was in his role as attorney or a personal call.
The Gazette appealed the wholesale redactions. William White, the OTB's appeals officer, denied the appeal on the grounds the OTB is a "quasi-private" entity not subject to the full extent to the FOI Law.
"Western Regional OTB … is a quasi-private corporation. It cannot be viably argued that Mr. Wojtaszek's duties as CEO, or general counsel, rise to the level of serving as a government official or function," White wrote.
White went on to say that the phone Wojtaszek used was not a "government-owned" device and that the "majority" of Wojtaszek's efforts include involvement with OTB's "private components"
Kristin O'Neill, the assistant executive director of the state Committee on Open Government, said White's argument "makes no sense to me whatsoever."
"I'm really concerned with the OTB's response," she said. "They're a public benefit corporation. In my mind, there's no question [as to whether] they're subject to FOIL."
O'Neill said FOIL's application to OTB's is well-established. An advisory opinion written 30 years ago by O'Neill's predecessor made it clear that the Catskill OTB, and by extension others, are subject to the law.
"Catskill OTB is, in my view, clearly an agency obliged to comply with the Freedom of Information Law," the advisory opinion said. "Therefore, all records of Catskill OTB are subject to rights of access granted by the Freedom of Information Law, irrespective of their origin or the function to which they relate."
O'Neill said it was conceivable that some calls Wojtaszek made on the phone could be reasonably believed to be private, and warrant redaction, but OTB's censure was "overbroad."
The Western Regional OTB is owned by 15 counties in Western and Central New York, plus the cities of Buffalo and Rochester. It operates 15 betting parlors, 30 betting kiosks in restaurants and bars, and a hotel, harness racing track and casino at Batavia Downs.
OTB is required to dispense its profits to its 17 government owners, divided up based on population. The total in 2017 was $2.9 million. Erie County received the biggest cut, $709,280; Buffalo's share was about $281,749; Niagara County's, $227,016.
---
Jim Heaney is editor of Investigative Post. Phil Gambini is a reporter with the Niagara Gazette.