Investigative Post has scheduled the first two events of its 2019-20 event series.
The season kicks off Thursday, Oct. 10, with a 5:30 p.m. social at Community Beer Works introducing Investigative Post's new reporting team. Geoff Kelly, Kate Kaye and Ali Ingersoll will be on hand to meet with attendees and answer questions.
Kelly, former editor of The Public and Artvoice, joined the iPost staff in April; Kay started in August. Ingersoll starts Sept. 23. Editor Jim Heaney will also be on hand.
On Wednesday, Nov. 13, Investigative Post will host a discussion with Christopher Klein, author of When the Irish Invaded Canada: The Incredible True Story of the Civil War Veterans Who Fought for Ireland's Freedom.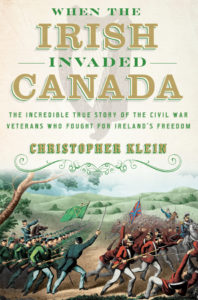 Klein's 7 p.m. talk at the Buffalo Irish Center will focus on the Battle of Ridgeways and Buffalo's role in the Fenian movement, which sought to gain Irish independence through a series of invasions of Canada.
Klein is the author of four books and a frequent contributor to History.com, the web site of the History Channel, among other publications. He is a member of the Author's Guild and Irish American Writers & Artists. He lives in suburban Boston, MA.
Investigative Post is encouraging attendees to read the book prior to Klein's appearance. When the Irish Invaded Canada can be purchased locally at Talking Leaves … Books, located at 951 Elmwood Ave. The book can also be purchased online at tleavesbooks.com and will be available for sale at the Buffalo Irish Center the night of Klein's talk.
Tickets to both events are $10, or free to Investigative Post members who have donated at least $100 in the past year. Admission to the October event also includes a free beer. Tickets can be reserved online or at the door. Want to join and support Western New York's nonprofit investigative reporting center? You can sign up here.
Investigative Post events are sponsored by Try-It Distributing and Buffalocal, the trade group for WNY's craft brewers, including Community Beer Works, Big Ditch Brewing and Flying Bison Brewing.
Investigative Post is an award-winning nonprofit investigative reporting center based in Buffalo. It produces fact-based, nonpartisan investigations on issues of importance to Buffalo and Western New York. Its work can be found on investigativepost.org, WGRZ, WBFO, Buffalo Spree and The Capitol Pressroom.