Changes announced by mayor fail to address most of the major demands made by activists and in some cases restate already existing laws and policies. Activists say they'll keep pushing.
Updated: 9:36 p.m.
The police reforms announced today by Mayor Byron Brown fall well short of demands made by protestors and actions being taken by some of his big-city peers.
Brown, after several lengthy meetings over the past week with a coalition of activist groups, outlined at a Wednesday press conference the first steps the city is prepared to take. 
Among them: more police training; greater use of de-escalation techniques; replacement of the Emergency Response Team, whose members resigned en masse last week, with a new unit; and establishment of a commission to study further reforms.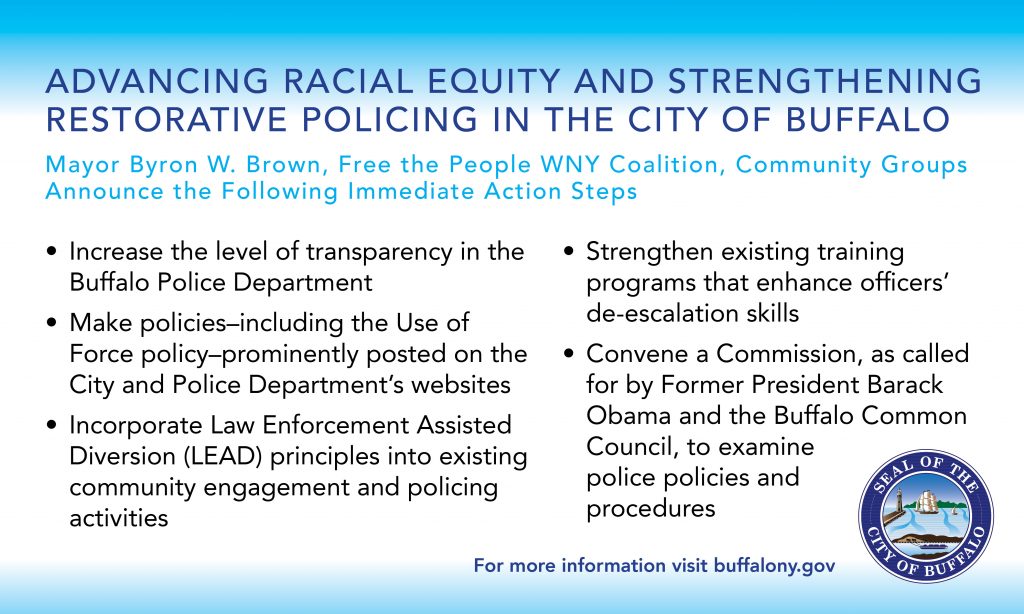 Other aspects of the mayor's plan simply restate what's already in state law or orders he's previously issued: 
Brown ordered that police issue appearance tickets for most non-violent crimes, but bail reform enacted by the state last year already mandates a similar procedure. His order requires clarification as to how it aligns with state law.

The mayor reiterated his ban issued last week on the use of chokeholds by officers, but that is not a practice taught in the police academy or proscribed in the department's policy manual. 

His call for the end of arrests for possession of small amounts of marijuana reiterates a directive he issued in 2019 that police have not followed. "We are going to make sure it happens now," Brown said

,

though he did not explain how.

His pledge to not deploy the Emergency Response Team ignores that the unit is not operational because everyone assigned to it resigned last week.
What's more, the mayor's proposed reforms, some of which take the form of executive orders, do not address most of the 13 demands made last week by a coalition of leading activist organizations. Those demands included cutting the police department budget, creating an independent police oversight body, and dismissing officers with a history of brutality.
"I am not in favor of defunding the police department, but I am in strong favor of reforming the police department," Brown said.
Members of the Free the People coalition nevertheless stood with Brown during his afternoon press conference. Afterwards, a spokesperson for the group, Kartika Carr, told Investigative Post that Brown's reforms are "just a start."
"We are in no way satisfied with just this," she said. "We are still pushing for the policies we've asked for under our 13 demands."
"This is the beginning of the beginning," said Miles Gresham, an attorney with the Legal Aid Bureau who participated in negotiations with the mayor. "This is by no means us, as Free the People, walking away and declaring victory. We are in it to win it." 
Still, activists don't have a lot to show so far for 12 days of street demonstrations. Brown has not agreed to the most substantive changes activists have sought and he has stopped well short of pledges made by officials in some other cities. The mayors of New York and Los Angeles, for example, have pledged to cut police funding while the city council in Minneapolis voted to abolish the police department altogether.
---
Follow Investigative Post on Facebook and Twitter
---
Brown characterized his moves as a solid step towards a more just city and said more will follow.
"The steps we're taking today will make Buffalo more equitable for the black people who call this city home," said Brown. "This is not a time for talk but for action."
He had strong words for the Police Benevolent Association, the union that represents the city's 700 officers and supervisors. 
Brown, who last week on MSNBC and CNN said the PBA "has been on the wrong side of history," said Wednesday, "the police union has been a barrier to reform."
"We're going to call on our police union to do the right thing by the people and by our community and be a partner, not a barrier to reform," he said.
The mayor said, for example, the union has demanded that officers receive overtime pay for some training. He also charged that members of the Emergency Response Team resigned their assignment after being told by the union that it would no longer provide legal services in the event officers are charged with misconduct in discharging their duties.
---
Watch our exclusive interview with PBA President John Evans
---
PBA President John Evans, in an exclusive interview with Investigative Post, said,
"They want to have a scapegoat, he wants to blame the union, so be it. I think a lot of people will maybe see through the charade and they should look from within. What have they done wrong over the years that has created this atmosphere. Why haven't they come to the table to say 'Hey we want to reform this or change this.' Right? They haven't."
"We're open to talks. We're not the obstructionists he portrays us to be. Our door is open and we will see what happens. "
 As for training, Evans said there is a training component built into the new contract presently being negotiated.
Overall, the PBA president said the mayor's proposal lacks detail.
"While I haven't seen any specific details of the reforms, what I have seen will not make the city a safer place for citizens or police officers."
---
---
Brown said he intends to meet with the union, as well as continuing to meet with the coalition at least 10 times in the coming year.
 "As mayor, I've tried to listen to everyone in our community," he said.
"We will shift policing in Buffalo away from enforcement and to a restorative model that promotes stronger community bonds, civic engagement and an end to young black men, black people, being caught in a cycle of crime and incarceration by consciously limiting their negative engagement with police," Brown said.
The mayor is responding to daily protests that began May 30 and have drawn crowds of up to several thousand protesters a day. What began as protests against the death of George Floyd at the hands of Minneapolis police quickly grew into demonstrations against police misconduct here in Buffalo. 
The protests exploded in the national consciousness when a video went viral last week that showed two Buffalo officers pushing a 75-year-old demonstrator, who fell and struck his head and sustained a serious head injury. The demonstrator, Martin Gugino, remains hospitalized. The two officers are suspended without pay and charged with felony assault.
---
Read more of our reporting on police misconduct