Who are the far right groups that helped elect 22 candidates to boards of education across Western New York?
Eleven newly elected school board candidates in Erie and Niagara counties are only two degrees of separation away from Western New York's radical right.
That is to say, they were endorsed by Western New York Students First, which portrays itself as a non-partisan organization but has extensive ties to some of the area's most radical figures and groups. For example, David DiPietro, considered one of the state Assembly's most right-leaning members, hosted a fundraiser for them in September; security was provided by the New York Watchmen, a quasi-militia.
WNY Students First teamed with the Constitutional Coalition of Western New York, founded by Nicholas and Nancie Orticelli of West Seneca. The couple are members of several far-right groups, and Nancie hosts a weekly radio show on WEBR AM 1440 that often interviews radical figures. 
Nancie Orticelli proclaimed victory in Tuesday's elections, which included wins for another 11 candidates supported by the right in outlying counties.
"We celebrated big wins for one night," Orticelli wrote on Facebook. "Our base is energized. These school board victories are a strong foundation for future success. The mission is far from done."
---
---
Tuesday's elections were just a start, Orticelli told Investigative Post. Her organization hopes to work with WNY Students First to field candidates in upcoming elections, including the Buffalo Board of Education, where six district seats are on the November ballot.
These organizations espouse parental choice and oppose the teaching of Critical Race Theory, sex education and Covid mask and vaccine mandates. The candidates they backed are of like mind, Orticelli said.
"You had to encapsulate all of the tenets," she said.
The effort to infiltrate school boards brings radical ideologies into schools and is dangerous for democracy, said Heidi Jones, a Buffalo attorney who researches local right-wing activity.
"The extremist candidates want to control what's taught in schools, such as sex education, accurate American history, or science like theory of evolution or the Big Bang. They also want to control what books are in the library or taught in English classes," Jones said.
"I think we need to be really conscious of how this rhetoric, how these policy ideas, how these policy implementations lead to actual harm."
---
---
Western New York is home to a number of radical right individuals and organizations that are active online and in the community. Many of them have been working together to coordinate social and political action, including the Constitutional Coalition and WNY Students First.
The Orticellis, founders of the Constitutional Coalition, are members of the Marching and Rolling Patriots. These groups staged numerous protests in 2020 and 2021 against government efforts to curb the transmission of COVID-19.
Some of their members also attended the Jan. 6 insurrection at the Capitol. One member, Pete Harding, faces multiple criminal charges on allegations he participated in the storming of the Capitol. He is one of at least six residents of Erie County facing criminal charges related to the attempted insurrection.
The Orticellis are also tied to Charles Pellien, founder of the New York Watchmen, a right-wing "Patriot" militia group. Pellien has been featured numerous times on "Coalition Radio," Orticelli's weekly show.
Pellien responded to news of Saturday's massacre by tweeting, "Black neighborhood, white suspect in custody. Buckle your chin straps."
---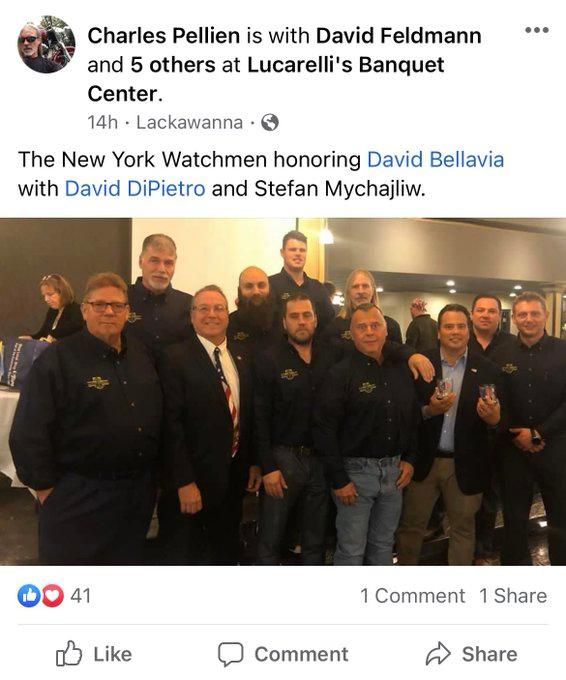 ---
Pellien's group of Watchmen served as security at the fundraising event last September hosted by DiPietro on behalf of WNY Students First. Tickets ranged from $89.95 for an individual ticket to $3,000 to become a top-tier "Spirit of America Sponsor." All proceeds went to WNY Students First. Then Erie County Comptroller Stefan Mychajliw was among those in attendance.
WNY Students First was incorporated as a New York nonprofit in June 2021, listing an Amherst address. The group's Facebook page was created in December 2020. The group describes themselves on the page as "a dedicated group of Western New Yorkers, working to ensure that each of our school districts provides the most exceptional education for students possible."
The group worked with the Constitutional Coalition to endorse candidates for school boards through Erie and Niagara counties.
Candidates endorsed by WNY Students First had to agree to four key positions, Orticelli told Investigative Post. They were parental choice and opposition to Critical Race Theory, sex education and Covid mask and vaccine mandates.
"They had a vetting process. And we decided to come alongside them and work with them," Orticelli said. "Whomever they decided to endorse, we supported as well as a coalition, trusting their judgment, because they hold the same values at heart that we do as far as schools are concerned for." 
The groups endorsed at least 26 candidates running in 13 school districts in Erie and Niagara counties. Eleven of them won.
They include Ryan Allen and Kristy Pingitore, who won seats on the Akron school board, and Christina Bleckinger and Stuart Bulan, who won seats in Williamsville. Bleckinger and Bulan were endorsed by New York State United Teachers in the election, as well. Sherry Steffans claimed victory over incumbent Nicole Novak in Grand Island, winning by 13 votes. 
---
---
"When you get one win, that's a toehold that you've gotten on that cliff, and you've got to keep climbing that mountain. You don't climb a mountain in one leap. It takes work, it takes time, it takes steps," Orticelli said.
"We're not going to swing that pendulum all the way back to the right, or even to the middle where it should be, it should actually be in the middle. We're not going to swing that to the middle in one election," she said.
Efforts by the right weren't all successful. Their endorsed candidates won only 11 of 87 seats open throughout Erie and Niagara counties. In Hamburg, all three candidates endorsed by Robbie Dinero, who gained notoriety after he refused to close his gym during the pandemic, failed to win election.
Jeremy Zellner, chairman of the Erie County Democratic Party, tweeted on Tuesday: "Tonight in school board races across the county, voters overwhelmingly chose reason over right-wing rhetoric, and science over conspiracy theories, bigotry, and extremism."
Jones also viewed the far-right's efforts in Tuesday's elections as largely unsuccessful.
"If one person is joining a board of what, seven or nine members to the board, if one person is alone in that ideological perspective, they're not going to make much of a difference," she said. 
But Jones cautioned that further fights lie ahead.
"If you're concerned about people taking over the school board and implementing these kinds of policies, or your local town board or Buffalo Common Council, even, then you really have to pay attention to each candidate," she said. 
"Not just what they say on their campaign literature, but look into what they say on Facebook or Twitter, and what they do in the community, who they associate with. And that's going to give you a much better sense of the true ideological position that somebody has."