Company insists the dismissals were linked to poor job performance. Employees say the firings were out of line with company practices and the union is seeking a court injunction.
Tesla has denied it fired dozens of workers in retaliation for joining a union organizing effort at its plant in South Buffalo. Rather, the dismissals were based on poor job performance reviews, and the timing of the firings was coincidental, the company said in a statement Thursday.
But several employees and a former manager challenged Tesla's representation of the dismissals in interviews with Investigative Post. They noted that the number of employees fired for poor performance — more than 40 — is an unusually large number. They also noted that most of the firings were in Tesla's Autopilot portion of the plant, where the union's organizing effort is focused.
One employee called Tesla's statement "completely bogus." Another called it "just a cover-up."
The firings came Wednesday, one day after Tesla Workers United announced a campaign to unionize the more than 2,000 employees at the plant. The union quickly responded to the firings.
"I strongly feel this is in retaliation to the committee announcement and it's shameful," said Arian Berek, a union organizer and fired worker.
WGRZ later confirmed that a total of 38 people were let go from the company Wednesday. The union said in a statement Friday the total number of firings was now "over 40."
Subscribe to our free weekly newsletter
Tesla Workers United has filed an unfair labor practices charge with the National Labor Relations Board alleging the firings were illegal. The union named 18 employees in the complaint, but noted there were others. The union said it was seeking "injunctive relief" under federal labor law "​​to prevent irreparable destruction of employee rights resulting from Tesla's unlawful conduct."
In its statement, Tesla denied the union's claim of retaliation, calling it a "false allegation."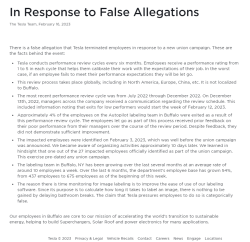 Rather, the company said, the firings were the result of performance reviews it conducted in December. The company said managers were told in December that "low performers" would be let go the week of Feb. 12, and that the company identified who would be fired on Feb. 3. 
The company noted that the employees who were fired "received prior feedback on their poor performance" and "did not demonstrate sufficient improvement."
"We learned in hindsight that one out of the 27 impacted employees officially identified as part of the union campaign," Tesla said. "This exercise pre-dated any union campaign."
Investigative Post spoke with three current and former Tesla employees who questioned the company's explanation. They explained that performance reviews at Tesla occur every six months, in June and again in December. Tesla, in its statement, said the same thing, noting the current review period ran from July through December.
Employees are expected to score at least three points out of five on their review, the employees said. If an employee scores lower, Tesla gives them six months — until the next performance review — to improve. That means,  one employee said, that any of the fired employees who received their first bad review in December "should have from January to June to get yourself together."
If an employee scored low on two consecutive performance reviews, employees said, the company could fire that person under company protocol.
A former senior employee agreed with Tesla's timeline of events — that employees who may have received two bad reviews in a row could be let go in February — but said it was unlikely that so many workers performed badly enough to be fired.
"I wouldn't put much validity in 30 people who had a [low score] last performance review and got another [low score]. Really? I wouldn't put much credence in that," the person said. 
Instead, that former employee said, Tesla likely used planned firings based on poor reviews to target union supporters, as well.
"I would say they used this current performance review cycle to get rid of people who wanted to unionize," the person said. "You don't have that large of a group that didn't improve within six months."
---
---
Tesla Workers United, in a statement Friday, also disagreed with Tesla's reasoning for the firings.
"While we respectfully disagree with Tesla's claims yesterday, we stand behind our decision to file charges with the National Labor Relations Board to investigate the firings of over 40 workers," the union said.
Tesla, in its statement, also denied an allegation from the union that its "time monitoring" system for Autopilot workers made it arduous for some  employees to use the restroom. Autopilot workers label images collected from Tesla's self-driving cars to better train the algorithm the cars use.
"Since its purpose is to calculate how long it takes to label an image, there is nothing to be gained by delaying bathroom breaks," the company said. "The claim that Tesla pressures employees to do so is categorically false."
Tesla Workers United pushed back on that claim, too, noting that some bathrooms are far away from where employees work, and that the bathrooms are small, meaning it can take extra time for a restroom break.
"I fear having low scores. I am constantly anxious that I'm not performing well enough even when I'm exceeding expectations," one employee, Sara Costantino, said.
Other unions have accused Tesla of firing workers in retaliation for organizing in the past.
In 2019, the United Steelworkers — which was attempting to organize a union at the Buffalo factory at the time — filed unfair labor practice charges with the NLRB, alleging that Tesla fired several employees for supporting the union. Tesla denied those allegations. The charges were later dismissed. 
A 2017 case from California also echoes what happened in Buffalo this week. In that case, the United Auto Workers alleged Tesla fired union supporters and used the company's performance reviews as cover.
"Tesla, which recently fired hundreds of employees for 'performance issues,' swept up many pro-union employees in the terminations," the union alleged in an October 2017 statement. "Several pro-union employees have come forward with copies of their performance reports, which show no areas of concern."
The NLRB lists that complaint as still open.
Tesla Workers United on Friday called on the company again to agree to "fair election principles" and not interfere in an organizing drive or union election.
"Work with us, not against us," the union said. "We want to ensure we are the greatest automotive tech giant in the world — but we can't do that without better [quality assurance] practices and assurances for our jobs."
In another action the union considers a provocation, Twitter appears to have "shadow banned" the union's Twitter account. That means users following the account can still see the union's tweets, but finding the account is more difficult. 
Tesla disbanded its press relations team in 2020. Elon Musk, CEO of both Twitter and Tesla, did not respond to questions from Investigative Post for this story.