The GOP selected Chrissy Casilio-Bluhm to challenge Mark Poloncarz for county executive after more established candidates took a pass. She had been prolific on Twitter, espousing conspiracy theories ranging from Damar Hamlin to Covid to the Jan. 6 insurrection.
As a first-time candidate for elected office, one of Chrissy Casilio-Bluhm's biggest challenges is introducing herself to voters. But it appears the Republican challenger to incumbent Erie County Executive Mark Poloncarz doesn't want voters to know her too well.
In the days prior to and since winning the GOP endorsement on Feb. 25, Casilio-Bluhm scrubbed her Twitter account of posts and retweets that amplified conspiracy theories, including the belief that COVID was the creation of "ONE Globalist Party," which "rigged an election" and "destroyed Trump" for "exposing the Swamp."
She also promulgated the conspiracy that the Buffalo Bills covered up the true cause of safety Damar Hamlin's cardiac arrest and hid him from the public. Some proponents of this dark narrative claimed Hamlin had died as a result of receiving COVID vaccines and his public appearances after his injury were the work of body doubles.
The content of @ChrissyCaBoom, Casilio-Bluhm's former Twitter account, was first reported at WNYMedia.net, a website whose owner sometimes does paid political work for Democrats. 
Shortly after that report was published, Casilio-Bluhm deactivated the account entirely.
Before she did so, Investigative Post dug up some examples of the candidate's embrace of QAnon-style narratives, too. 
Here are some samples of her tweets and retweets about Damar Hamlin:



---
Casilio-Bluhm's tweets about Hamlin's condition provoked pushback, as archived by WNYMedia.net. Because she scrubbed her account, her replies are invisible, though the tweets above provide some context:
In this tweet, Casilio-Bluhm offered the "100" percent approval sign for a tweet suggesting the 2020 presidential election was rigged and the COVID pandemic engineered by "ONE Globalist Party":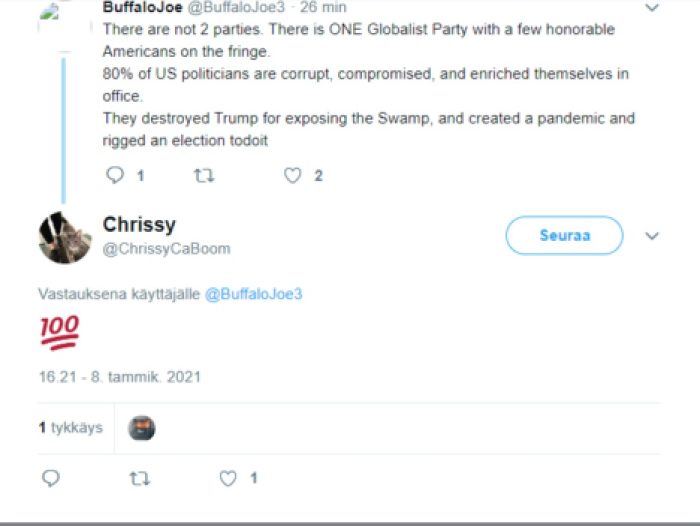 In these exchanges with former Democratic congressional candidate Nate McMurray, Casilio-Bluhm suggested the rioters who stormed the U.S. Capitol building on Jan. 6, 2021 were not supporters of former President Donald Trump: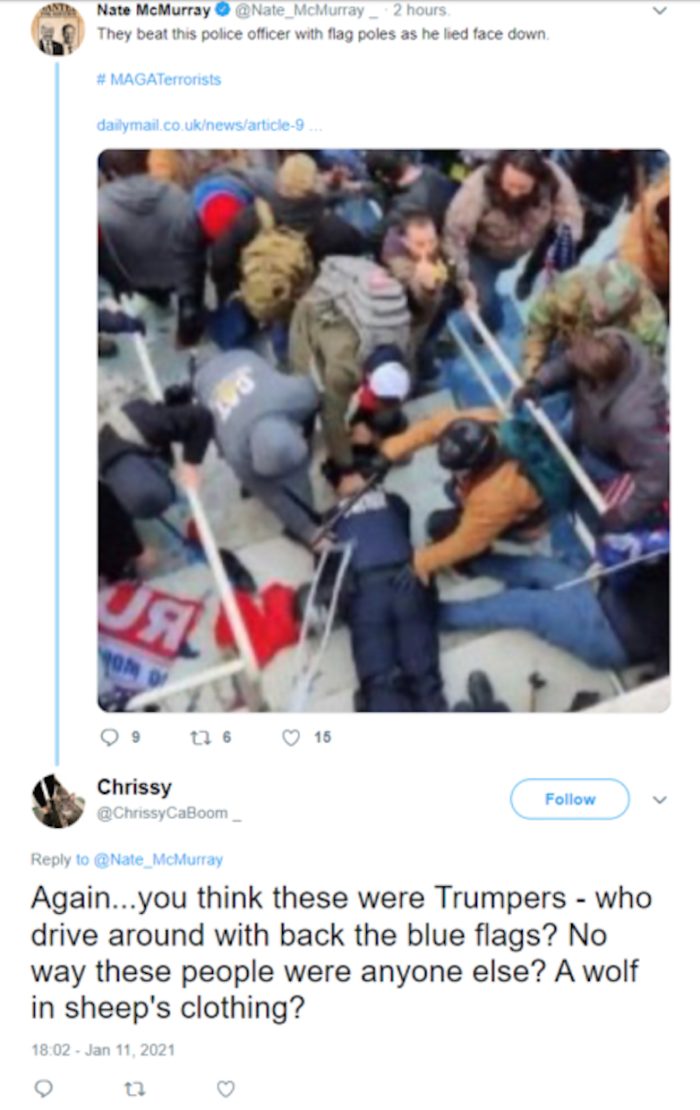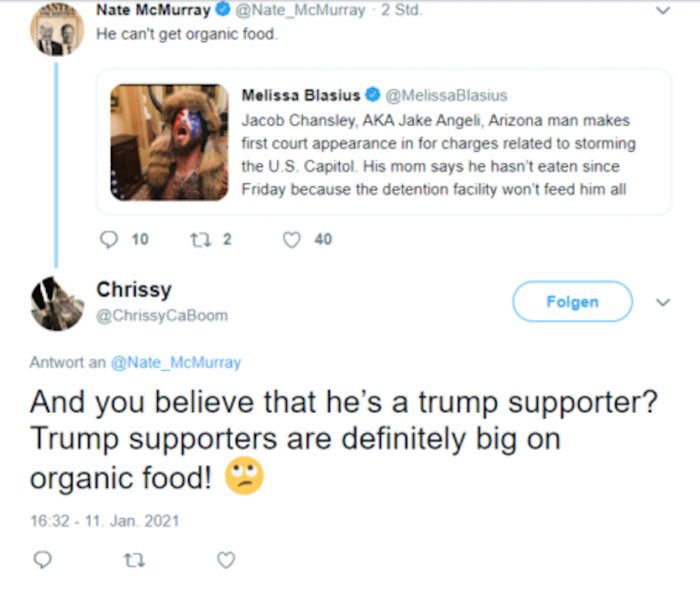 ---
Investigative Post asked Casilio-Bluhm to explain why she'd attempted to scrub then deleted her Twitter account. She sent us this statement:
With no record to run on, Mark Poloncarz and his lackeys are already on the attack to try and distract voters from the issues. I'm not a professional politician like Mark. I'm a business owner, a mom, and a taxpayer who is angry about Mark's failings and I am running to do something about it.

I am not going to allow Mark Poloncarz or any media outlet financially beholden to him to misrepresent who I am, what I stand for, or what I'll be fighting for in this campaign.

My campaign will be run on the issues that matter to Erie County taxpayers, like lowering costs for families and supporting small businesses.
She did not respond to follow-up questions — such as "Do you (or did you) believe that Damar Hamlin's injury was a 'PR stunt taking things too far' as you tweeted on Jan. 24?"
Casilio-Bluhm's grandfather established a thriving, family-run real-estate development and management business, focused mostly on commercial properties. The family name is emblazoned on for-lease and for-sale signs throughout Clarence and Amherst, where the majority of the properties the family owns or manages are located.
Politics are a family business, too. 
Subscribe to our free weekly newsletter
Casilio-Bluhm's father, Republican Patrick Casilio, is seeking a third term as Clarence town supervisor this year. He thanked his daughter for her work on his 2019 re-election campaign, in which he ran unopposed.
And last year her marketing and public relations firm took part in the successful Congressional campaign of Nick Langworthy, the former New York State and Erie County GOP chairman. Langworthy's campaign committee paid Casilio Communications $5,750, according to FEC records. 
State records show local Republican candidates paid the firm $28,297 from local candidates since 2015. The lion's share came from the 2019 campaign of Clarence Town Court Justice Jonathan Hickey. Pat Casilio's 2015 campaign for town supervisor paid his daughter's company $1,853.
Casilio Communications has made small donations — less than $500 over the past six years — to Republican candidates for local offices, according to state records. 
---
---
Other family members and family-owned companies have donated more than $44,000 to dozens of Republican candidates since 2005. The Casilios were major supporters of fellow Clarence resident Chris Collins, the former county executive and congressman, as well as Chris Jacobs, the former county clerk who succeeded Collins after Collins pled guilty to insider trading. 
They also supported Tim Howard, the former sheriff, and Stefan Mychajliw, the former comptroller, as well as a host of GOP state legislators, judges, and other Republican and Conservative Party office-seekers, with donations ranging from $25 to $1,000. 
One Republican operative told Investigative Post that Casilio-Bluhm's work for Langworthy secured her the Republican nomination to take on Poloncarz, the Democrat who is seeking a fourth term. 
Another operative said no current or past GOP elected officials with greater experience and higher profiles were interested in the race. 
Boston Town Supervisor Jason Keding was interested, but party leadership was concerned about both his name recognition and his ability to raise enough money to run a countywide race. 
Erie County Clerk Mickey Kearns was interested, too, but his refusal to change his registration from Democrat to Republican — despite running and winning on the GOP line over and over again — is said to have rankled some party leaders. After a damaging story on WGRZ about his use of taxpayer money for campaign purposes, Kearns dropped out.
Jacobs and state Sen. Pat Gallivan are arguably the biggest names in Erie County Republican politics, but neither stepped forward to challenge Poloncarz.
Poloncarz is a prolific user of Twitter with almost 62,000 followers, as well as his fair share of critics who dog his tweets with critical replies, whether the subject is politics, policy, or local sports.
As of noon Monday, Casilio-Bluhm's new account had 87 followers, mostly journalists and political operatives from both the major parties. She'd tweeted three times.