Braymiller Market benefited from millions in subsidies even before it opened its doors a year and half ago. Now the Brown administration wants to give the downtown grocery $563,000 to stay afloat. Council President Darius Pridgen and others question the proposed grant.
---
In 2019, Buffalo's plans for a downtown city block seemed to be the platonic ideal of urban redevelopment: turn an old parking lot into hundreds of units of affordable housing and place a grocery store directly next door.
And you could say that's exactly what the city accomplished. Today, the corner of Ellicott and Clinton Streets — right across the street from the Buffalo & Erie County Public Library — features 201 affordable housing units on one-half of the 2.52-acre lot, and Braymiller Market on the other half, downtown's only full-service grocery store.
But completing that project has come at a steep cost to taxpayers. So far, the apartments and grocery store project — built by Ciminelli Real Estate Corporation —  has received brownfield cleanup tax credits, tax-exempt state bonds, low-income housing tax credits, Industrial Development Agency subsidies and other state assistance. 
Those subsidies total $58.9 million in assistance so far, in addition to $16 million in tax-free state loans. The project was billed as costing $76 million.
Now, due to a pandemic-induced downturn in business, the Braymiller Market is seeking additional funding from the city, in the form of a $563,000 grant. The Common Council is set to vote on the matter in two weeks.
City officials — to both Investigative Post and other local journalists — have defended the proposed grant to Braymiller Market vigorously, arguing that having a grocery store downtown is essential. Lisa Hicks, director of development in the city's Office of Strategic Planning, said the city wants to give a grant to the Braymiller Market because of "the need to ensure that there's a fresh food source [and] grocery options [for] residents that live in and around downtown."
To that end, city officials changed their own rules for a federally funded program meant to give grants to small businesses with five employees or fewer to allow larger businesses — such as Braymiller Market — to qualify. Hicks argued that the city did not change the fund's rules for the Braymiller Market specifically. 
---
---
But Common Council President Darius Pridgen and local food access experts question whether such a grant is a good idea.
Pridgen argued that Braymiller Market is both a wholesaler for restaurants, in addition to a grocery store, and may not be the type of food business the city ought to support. 
Downtown needs a grocery store, he said, "but that's the key, a grocery store."
"I am not sure at this moment if Braymiller and their model is a grocery store that's needed. It is a store, but I don't know if it fits what many people need when you talk about a grocery store."
Downtown Buffalo, he said, has seen its restaurants struggle and office occupancy decline.
And Samina Raja, the principal investigator for the University at Buffalo Food Systems Planning and Healthy Communities Lab, argued that her team's research has indicated a greater need for grocery stores on the city's East Side. That research has been ongoing for more than 15 years. 
Raja said she supports Braymiller Market and said downtown does in fact need a grocery store.
"My fundamental question is, if we're in a world of finite resources, why are we investing there versus in a neighborhood over on the East Side where we know that there is a need for grocery stores?" Raja said. "That is a clear need."
Stuart Green, the owner of Braymiller Market, refused repeated interview requests from Investigative Post for this story. He said in a statement that he "greatly appreciates the City of Buffalo's ongoing efforts to help identify and gain access to critical pandemic recovery funds, which will provide a much-needed financial bridge, during what has been an extremely tumultuous economic period for the business at our downtown Buffalo location."
Hicks said the city has resources available for other East Side businesses and argued that keeping Braymiller Market open in downtown is essential.
"It behooves the city to try and do what it can to try and keep the market open for residents of downtown," Hicks said.
A history of subsidies
The project at 201 Ellicott Street officially began in June 2015, when Mayor Byron Brown's administration issued a request for qualifications, seeking a developer who could turn the city-owned parking lot into, possibly, "condominiums" with a "grocery component." 
The property had a number of commercial uses between the late 1800s to the mid-20th century, including "a blacksmith shop, the National Lead Company, Buffalo Kay Chemical Company, Inc., a salvage shop, auto repair shops, a laundromat … a hotel and various restaurants," according to the state Department of Environmental Conservation.
The city took ownership of the property in the 1960s and turned it into a parking lot, which is what it remained until 2019. That's the year the city sold the property to Ciminelli Real Estate Corporation for $2.3 million.

The DEC later approved the project for its brownfield cleanup program, which provides state tax incentives in exchange for a developer remediating a contaminated property. Mercury, arsenic, lead, copper and zinc, along with a slew of other chemicals, were found to be present on the property in high quantities. 
Ciminelli's project ultimately qualified for $15.2 million in brownfield cleanup tax credits, according to a DEC spokesperson. DEC rules allow the tax credits to total as much as three times the cost of cleanup.
---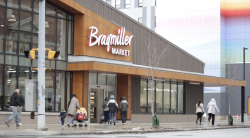 ---
Then, in mid-2019, Ciminelli and Green applied for and received $765,000 in tax incentives from the Erie County Industrial Development Agency. That included a $391,000 property tax break, a $339,513 break from state sales taxes and a mortgage recording tax incentive of $34,500.
In exchange for those tax breaks, the Braymiller Market promised to create 25 full-time jobs and 40 part-time jobs, paying an average of $29,637 per year. Green told the IDA that his business was 60 percent wholesale supplier to local restaurants and 40 percent grocery store.
In September 2019, the combined apartments-and-grocery-store project received additional assistance: a $2 million grant from the state's Housing Trust Fund Corporation.
A slew of additional assistance followed in October 2021. Gov. Kathy Hochul, along with Brown, Erie County Executive Mark Poloncarz, state Sen. Tim Kennedy, Assembly Majority Leader Crystal Peoples-Stokes and other state officials announced the following:
$16 million in tax-free state loans;

A $19.1 subsidy from New York State Homes and Community Renewal; and

$21.8 million in federal Low Income Housing Tax Credits.
Put together, the project received or qualified for $58.9 million in public assistance, plus the $16 million in interest-free loans. 
Most of that money went toward Ciminelli's apartments. But Braymiller Market, which listed its total cost at $6.9 million on its IDA application, also received substantial assistance. Between the IDA tax breaks, the $2 million state grant and $5.5 million in tax-free state loans, it received a total of $8.3 million in public assistance.
And Ciminelli Real Estate Corporation, though not Braymiller Market, received $3.6 million in two Paycheck Protection Program loans for its Buffalo-based business, both of which were forgiven.
---
---
Pridgen, whose district includes Braymiller Market, argued that while government support for private businesses is needed, the government shouldn't support businesses that can't survive once the assistance runs out.
"If it is obvious that the business cannot survive, then government should not just be giving more money," he said. "And that's just 101. I don't believe $500,000 is going to keep Braymiller afloat."
Buffalo changes the rules and steps in
Braymiller Market finally opened its doors in September 2021, in the midst of the COVID-19 pandemic. Because of that opening date, Hicks said, the store was not eligible for federal pandemic assistance, leading Green to approach the city for help.
At the time, Hicks said, the city didn't have any funds Green could apply for or receive. But, she said, the Office of Strategic Planning eventually decided that $1.5 million it had set aside for small business support could help Braymiller Market.
As it was first set up, the city's "microenterprise" fund was meant to dole out $1.5 million in direct grants to businesses with five employees or fewer. The money in that fund came from an $11.4 million federal allocation to the city, a special pandemic-era version of Community Development Block Grant funding.
Hicks said the city ultimately assisted 102 small businesses with grants from that fund. Then the fund "closed."
Prior to that, however, Hicks said the city changed how the program operated and made the funds available to larger small businesses.
"Mid-way through the program we actually changed it to make it easier and also to make it more available to more small businesses," she said. "So we changed it from a microenterprise program to a small business program."
Hicks argued that the city didn't change any of the program's rules for Braymiller Market specifically. It simply allowed Green to apply for the money leftover in the microenterprise fund. Green had to submit financial records to the city, among other documents, Hicks said.
"The rules have not been changed for any of the businesses that we are assisting," Hicks said. "The funding source comes with rules and regulations that were established by the federal government, and we are following those rules and regulations to the T."
She said that while Braymiller Market benefited from public assistance up-front, it deserved operational support now as well.
Local food experts questioned why the city isn't jumping to offer similar assistance to East Side food projects. Those experts said the need for greater food access on Buffalo's East Side was made tragically clear last summer, after the Tops mass shooting. At the time, Raja and her Food Lab team opined that the city needed to invest in food access, particularly on the East Side.
"City governments can decode and streamline public policy to make public resources accessible for East Buffalo residents and businesses," she and her team concluded in a May op-ed.
To Nnenna Ferguson, director of the Buffalo Food Equity Network, that kind of operational assistance for a grocery store like Braymiller ought to come with public input. She, like Raja, noted that the city has a significant need for food access and grocery stores on the East Side. And while downtown ought to have a grocery store, too, she said, the public should be allowed to weigh in on how the city spends money on food access.
"There are so many other community organizations [that] either have plans, have whole … proposals and ideas," she said. "And we don't often make space to hear them as well, [like] we hear from major commercial ventures."
She added: "Whether or not Braymiller, or any grocery store, should get public funding, I think, really is a question that should be posed back to the people who don't often get asked what it is that they need specifically for their neighborhoods."
Raja argued that if the city is willing to support Braymiller, it ought to also support other grocery stores and fresh food markets on the East Side.
"Tinkering at the margins and saying, 'Do we have [$563,000] for Braymiller' versus another store on the East Side, I would say, 'Slash the police budget and put it into community food infrastructure,'" she said.
"It's actually not that radical."
Subscribe to our free weekly newsletter