Michael Joseph of the Clover Group is registered to vote in Florida. That raises questions about his eligibility to serve on the board of the Roswell Park Cancer Institute, which requires its members to be residents of New York State.
Michael Joseph — whose company, the Clover Group, was accused last week of  "racist and illegal housing discrimination practices" — has split time for at least the past decade between Buffalo and West Palm Beach, Florida.
That's not unusual for a well-to-do real estate developer. 
But it raises questions about his legal residency — and thus about his eligibility to serve as chair of the board for Roswell Park Cancer Institute.
In April 2018, Joseph registered to vote in Florida, according to that state's records, and his registration remains active. He is registered as a Democrat.
For voting purposes, the Clover president and CEO lists his current address as 3200 Washington Road, West Palm Beach, which is the property he and his wife purchased in 2021 for $15.9 million. It is located across the Lake Worth lagoon from Mar-a-Lago, home to former President Donald Trump.  
---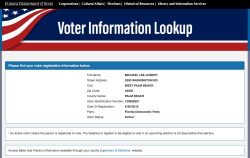 ---
Roswell Park is a New York public benefit corporation. Its board members are appointed by the governor and the leadership of the state Legislature. The state's Public Officers Law requires those appointees to be residents of New York State.
In fact, the law says a public officer's position becomes vacant as soon as that officer "ceas[es] to be a resident of the state."
---
---
Joseph's change in voter registration calls attention to the developer's residency, but it may not disqualify him from serving on Roswell's board.
Jerry H. Goldfeder is an election law and voting rights expert with the New York City-based firm Stroock & Stroock & Lavan LLP, He told Investigative Post that residency is determined by many factors — and voting is only one.
"Where you file taxes is another," he said. 
Goldfeder explained that there is no "bright line" for determining residency. Even the number of days spent per year in one state or another does not by itself determine which of a person's addresses is home, for the purposes of holding a board position such as Joseph's.
"Just because he has more than one residence doesn't obviate the residence that he's claiming to be on the board. Just because he votes elsewhere doesn't obviate his Buffalo residence. It means he can't vote in Buffalo. But, you know, that's a choice."
---
---
Joseph was first appointed to Roswell's board in 2010 by then Gov. David Paterson, according to the cancer research and treatment center's annual reports.
Joseph's current local address is on Penhurst Place in Buffalo, which is owned by a limited liability corporation that uses Clover Group's office on Harris Hill Road in Clarence for a mailing address. The limited liability corporation purchased the home in 2016 for $700,000, according to city tax records. 
Joseph's past local residences include addresses in Williamsville and Amherst. His name does not appear in a search of Erie County's voter rolls.
Joseph and his wife bought their current West Palm Beach home after selling another property, four miles away in Palm Beach proper, for $10.5 million. They'd built the Palm Beach house for $8.5 million, according to the Wall Street Journal, on land they'd purchased in 2013.
The allegations against Clover, which Joseph found in 1987, were made in a federal lawsuit by a former employee, who claimed he was fired in January after complaining to company leadership about the practices he'd observed.
The former employee, Peter Rizzo, recorded conversations among Clover executives talking about the company's policy against building senior housing complexes in communities that are more than 20 percent Black. In the recordings — published last week by Investigative Post — the executives use the code "Canadians" for Black people and "the Canadian factor" for the company's practice of  considering the percentage of Blacks living in the community surrounding a proposed development site.
Subscribe to our free weekly newsletter
Republican members of the Erie County Legislature responded by submitting a resolution demanding Joseph — a prolific donor to Democrats — be suspended from the boards. Democratic legislators voted down that resolution and instead passed another that called on Clover to fire executives responsible for those practices, without directing sanctions at Joseph individually. Both resolutions called for an independent investigation into the company's practices.
The public relations firm hired by the Clover Group declined to answer questions about Joseph's residency. Gov. Kathy Hochul's office did not respond to a request for comment.