Bruce Rushton will cover criminal justice. Sue Schulman will serve as assistant editor. They join a growing staff of accomplished journalists.
Investigative Post has added two veteran, award-winning journalists to its staff.
Bruce Rushton will cover criminal justice, drawing on his 36 years of reporting for daily and alternative newspapers. 
Sue Schulman will serve as assistant editor in a part-time capacity. She is the former editor of The Buffalo News investigative reporting team and has 42 years in the news business.
"Our bench is deepened considerably with the addition of Bruce and Sue. They're experienced, highly skilled and their addition positions us to take the next step as a news organization," said Investigative Post Editor Jim Heaney, who worked under Schulman on The News' investigative team.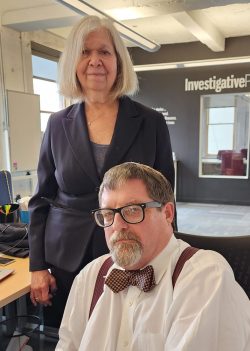 Rushton, who grew up in Tacoma, Washington, graduated from Yale University with a B.A. in American Studies. He's worked as both a beat and investigative reporter covering taxes, courts and state and local government at a variety of newspapers, most notably State Journal-Register in Springfield, Illinois, and the Illinois Times, where he also hosted CapitolView, a weekly PBS program on state politics and government. 
"Bruce Rushton is a watchdog with a bite, and when this journalist senses corruption, he's not afraid to expose it for what it is and hold 'em  accountable," a judge wrote in awarding Rushton first place for column writing in 2013 for his work with the Journal Register. 
Rushton previously reported for Riverfront Times in St. Louis, Phoenix New Times and The News Tribune in Tacoma, where he lived most recently before relocating to Buffalo.
"My passion is in-depth reporting, holding people accountable and writing stories that make a difference," he said.
His beat responsibilities with Investigative Post will include criminal courts, prisons and law enforcement agencies, including the Buffalo Police Department. Rushton's hiring enables Investigative Post to continue its extensive, in-depth coverage of criminal justice issues.
Schulman worked as a reporter and editor at The News for 34 years before retiring in 2020. Editor Margaret Sullivan selected her as editor of the paper's investigative reporting team when it was established in 2003 and she held the position through 2012. She previously headed the paper's Amherst bureau. Stories she reported or edited won more than a dozen awards for topics that included gun trafficking  and inequities in public school funding.
"Sue, for my money, was the best editor at The News," Heaney said. "She had a deft  touch with people and copy."
Subscribe to our free weekly newsletter
Schulman, a native of New Jersey, earned a B.S. in mass communications and political science from Rutgers University and a masters in economics from the University at Buffalo. She began her career with the Ocean County Times-Observer, then reported for the Albany Knickerbocker News before joining The News in 1986. Later in her career, she also served for six years as an adjunct professor at SUNY Buffalo State, teaching courses in news writing and investigative reporting.
"I've been a big fan of Investigative Post ever since Jim started it over a decade ago," Schulman said. "They've written such important stories over the years, tackling everything from the Buffalo Billion and reading scores to lead paint, City Hall finances and so much more.  Great work. The kind of stories that reflect why we got into journalism. I'm excited to be here."
With Investigative Post, Schulman will work with Heaney to develop story ideas with reporters and edit stories.
The addition of Schulman and Rushton brings Investigative Post's newsroom staff to seven, in addition to two employees on the fundraising and administrative side. Investigative Post is a nonprofit news organization based in Buffalo whose partners include WGRZ, Channel 2.