Falling circulation. Fewer visits and books and other material to lend. The decline afflicts the entire Buffalo and Erie County library system, but nowhere is it more pronounced than in portions of the East Side, which experts describe as a "book desert."
---
Nakia Luper, a mother of three, has watched as the Broadway-Fillmore neighborhood deteriorated around her. Stores closings. The Central Terminal crumbling. 
And, in 2005, her neighborhood library shutting down. 
"The kids used to go and have fun," Luper said. There were "different activities going on at the library all the time. And then one day it was just gone."
The closest library is now three miles away. Luper said it's not safe for children to walk that distance through blighted neighborhoods to take out a library book. 
Nearly two decades after funding for the Buffalo and Erie County Public Library was slashed — resulting in 15 fewer branches — circulation at what's left of the system is down by almost a third, visits have fallen by close to half, and the collection of books and other materials is down 15 percent. 
The decline is evident throughout the 37 remaining libraries, particularly on the city's East Side. There, experts say, a book desert now exists in the Broadway-Fillmore neighborhood — a poor, largely minority community where the closest library is roughly three miles away.
---
---
Investigative Post analyzed library data on funding, circulation and visits, as well as books and other collections, during the 15- year period starting before the library cuts in 2005, through 2019, the year before the COVID pandemic began. Data starting with 2007 was used when it was the most-recent base year available.  
  Investigative Post found:
Fewer people use the libraries. Visits dropped by 42 percent systemwide — 2 million fewer in 2019 than in 2004. 

Fewer books, music and other materials are available to loan out. Collections have grown at a few libraries — Clarence, Orchard Park and

Marilla. But just about every other library has suffered losses. Systemwide, library materials — electronic as well as those on shelves — fell by more than 500,000 items, or 15 percent, between 2007 and 2019.

Fewer items are being borrowed. The Lancaster, Buffalo North Park and Hamburg Lake Shore libraries saw an uptick in items checked out. But circulation is down at all other libraries, bringing the systemwide drop to 28 percent.

Buffalo libraries are hit the hardest. Circulation at the city libraries, including Central Library, is down by 1 million items, or 57 percent. 

The systemwide circulation drop here is greater than at libraries in New York State or nationally.
The library system here experienced deep cuts under former County Executives Joel Giambra and Chris Collins. The current county executive, Mark Poloncarz, has increased and stabilized funding, but not enough to make up for previous cuts when inflation is taken into account.
"You can't run 52 library outlets and four bookmobiles with a 24, 25 percent cut in your budget," said Ken Stone, deputy director of the Buffalo and Erie County Public Library. "The numbers don't work."
A long walk to a library
On a dead-end street in Buffalo's Broadway-Fillmore neighborhood, no children play outside. Decaying houses and vacant lots dot the landscape. Railroad tracks divide the neighborhood.
Here, on the last block of Milburn Street, the closest library used to be the Dr. Francis E. Fronczak branch. It was shuttered in 2005.
A short walk from that street leads to convenience stores along Broadway or the Lincoln Field House off Quincy Street.
But not a library.
Not a bookstore. 
Not even a free little library in front of someone's home.
The closest open libraries — the Leroy R. Coles Jr. on East Delavan and the Central library downtown — are each nearly a three-mile walk.   
Slightly further away is the Frank E. Merriweather Jr. Library, a crown jewel of the county library system. It opened on Jefferson Avenue in 2006, after five other branches on the East Side were closed. Walking there from Milburn Street requires passing over the Kensington Expressway. 
The other option is the East Clinton Branch Library, 3.2 miles away via Bailey Avenue.
The Broadway-Fillmore neighborhood — caught at a distance between the three libraries — is a book desert, experts said.
---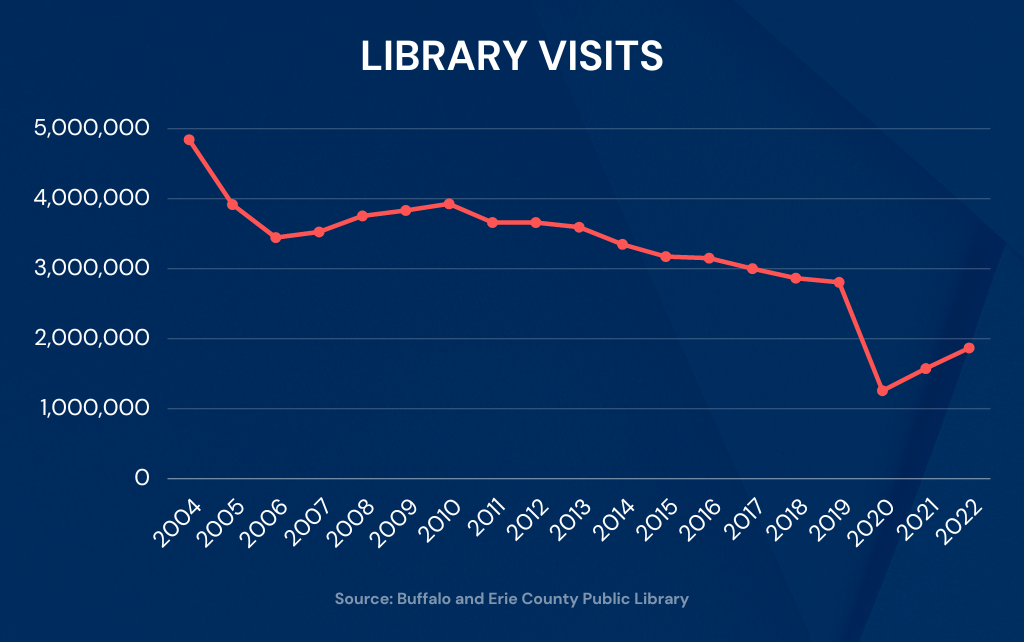 ---
"What would this do to a child's sense of hope?" said Susan Neuman, who worked on the No Child Left Behind program during the George W. Bush Administration, and has studied book deserts for more than a decade.
"What would this do to their aspirations? Their goals? If they never saw a book, why would they want to become literate? There's no reason. I mean, the environment has an enormous impact on children's learning."
Book deserts, according to literacy experts, are geographic areas where communities face more barriers and higher hurdles to obtain printed materials like books, newspapers and magazines. 
And it's not just about public libraries. It's access to reading materials in general, including from bookstores and community spaces such as barbershops. Lack of children's books in these areas is of particular concern.
These book deserts tend to exist in low-income, largely minority neighborhoods, which have experienced years of disinvestment, research shows. They are also neighborhoods that tend to have relatively limited internet access.
Subscribe to our free weekly newsletter
To Luper, who lives beyond a viaduct in the Broadway-Fillmore neighborhood, allowing her children to walk to any of the remaining libraries is not a safe option.
Run-down buildings and empty lots put the children in danger, she noted. 
One of her children is grown, but she worries whenever the younger ones — ages 9 and 15 — leave the house.
A couple years ago, she recalled, a 12-year-old neighborhood youth went missing while walking to a grocery store. He never returned home. 
"That's why they don't go," Luper said, referring to the library. "They don't have nothing to do to motivate them to be a better person."
Consequences of book deserts
The impact of a book desert ranges from inconvenience to catastrophe, literacy experts say.
Fewer than one in four of Buffalo's pupils in grades 3-8 read at grade level in 2022, according to state standardized test results. Lack of books isn't fully responsible for the low scores, but it does play a role, experts said.
Lower-income homes typically have fewer books than in those occupied by wealthier people, making public libraries even more important in poorer areas, according to experts. 
"I recognize the enormous impact poverty can have on a child's opportunity to learn, very, very early on." Neuman said. "And when economic segregation occurs, which is also coupled, of course, with racial segregation, you will often find a very limited access to books."
---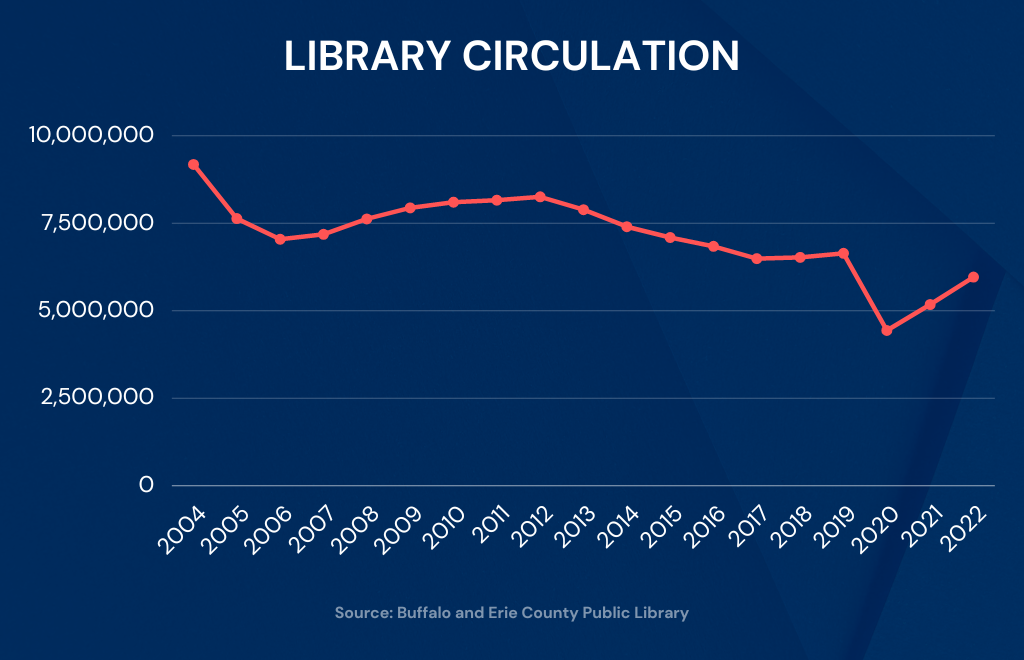 ---
As Neuman found, book deserts aren't limited to Buffalo.
Throughout the United States, libraries have seen drops in circulation and visits in the 21st century, according to data gathered by the Institute of Museum and Library Services.
Parts of Detroit, Philadelphia, Los Angeles and Washington, D.C., have been identified as having book deserts in some of their poorest neighborhoods.
Statewide, circulation throughout New York libraries dropped 18 percent between 2004 and 2019. Nationally, circulation increased by 7 percent over those years, but has been in steady decline since 2014.
"This isn't an issue that just affects Buffalo," said John Spears, director of the Buffalo and Erie County Public Library. "This is an issue that affects Erie County, that affects New York, that affects the entire country."
Slashed, and slashed again
"The most difficult time of my career happened 20 years ago because we endured severe budget cuts," said Stone, the library's deputy director.
He was there when the branch libraries closed. Eight in the city, with five of them east of Main Street. MLK. Fronczak. North Jefferson. Mead. Kensington.
"People's lives were hurt," Stone said. "It's bad enough that we lost 15 libraries, but every other library had their hours reduced. And again, a public access computer isn't worth much if the doors are locked."
In 2005, Giambra said the belt tightening was necessary to avoid a fiscal crisis. He and the County Legislature ordered $7 million in cuts, slashing funding by 24 percent — but leaving it to library officials to decide what would stay and what would go. The county's cuts impacted operating money as well as capital spending for new materials.
Collins cut another $2.6 million during his tenure.
Purchases of new books and other materials were reduced "to a trickle" during these years, according to the library's history posted on its website.
---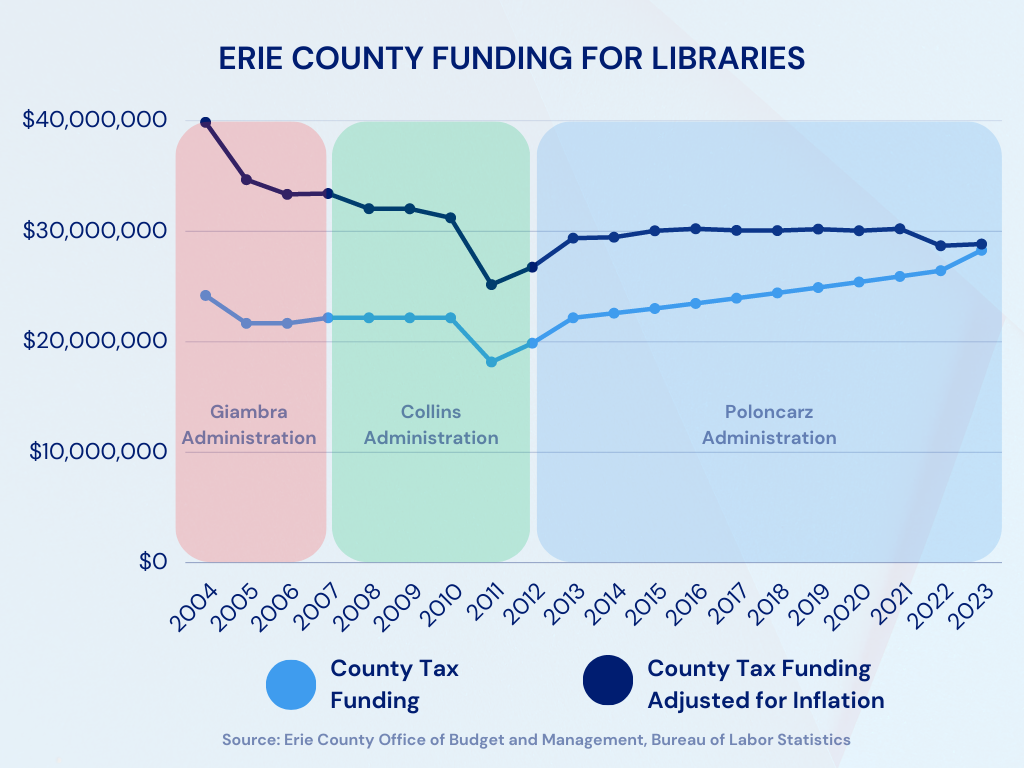 ---
In 2013, under Poloncarz, funding began to creep up, generally 2 percent a year, with the largest increase — 7 percent — coming in 2023. With that increase, local library funding hit $28 million in 2023 — roughly what it was in 2004.
Library funding has kept up with inflation in the years Poloncarz has been in office. But overall funding, going back to the year after the cuts were made, has lagged. To have kept up with inflation over the past two decades, county funding would now be $39.9 million — almost $12 million more than its current level.
The 2005 cuts were too large for county government to restore, the Poloncarz administration maintains. 
"There is no aspect of county government that has kept pace with inflation from 2004 levels," the county's Office of Management and Budget said in a statement to Investigative Post. "There is simply no way for the county to generate more revenue to provide massive year-over-year increases to the library without cutting other services elsewhere." 
Instead, the statement said, "The Poloncarz administration has believed that providing the library with stability in known funding growth they can count on year after year is a reasonable compromise."
Library officials acknowledged the increased funding from the Poloncarz administration. But they say more funding would be impactful.
"There's people who can't make it in here. We want to be able to go to them. That is one way that the increased funding could help," Spears said.
"A fixable problem"
Eliminating book deserts isn't an insurmountable problem, literacy experts and activists agree.
"I can't do anything with someone's economic status, I really can't," Neuman said. "But what I can do is I can put books in an environment and I can see children's eyes light up. So it's a fixable problem."
Building or reopening a branch library in the heart of the book desert could be one solution. That's what some neighborhood residents want.
Neuman said there are ways to get books in the hands of children who can't get to a library. Non-traditional organizations can play a role.
In Buffalo, for example, Black Boys Read Too is putting books in community spaces like barbershops. They are at work in the Elmwood Village, the Lower West Side and North Buffalo — but not yet on the East Side.
"I think it's not that there's a lack of books," said co-founder Ruqayyah Simmons. "I think that our children don't have access to them, whether it's transportation or the means to be able to purchase them."
But traditional libraries will continue to play a key role.
Programs such as the Buffalo Public School's 24/7 online library, which gives students access to more than 7,000 digital books, and the county library system's bookmobile, which was reinstated in 2016, are cited as ways to expand access to library books for those who cannot visit a library building.
The future of libraries will not look like their past, but they will remain the key access site for books, said Spears. 
"Libraries have adapted and they've changed," he said. "We are one of the last true community spaces."
And Stone agreed. 
"Libraries, in history — and I think it's even more important now — are the great equalizer," Stone said. "We provide information and we provide access to everybody."