I'Jaz Ja'ciel outlines her goals for a revitalized local chapter of the National Association of Black Journalists
I'Jaz Ja'ciel, a reporter with Investigative Post, has taken the reins of the Buffalo chapter of the National Association of Black Journalists.
Ja'ciel was elected president of the chapter in April and has been working to return the 30-member organization to active status after a period of inactivity. That accomplished, she is looking to the future.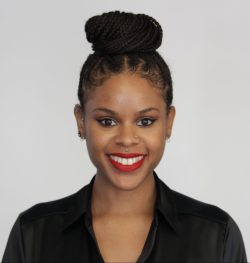 "It was extremely important to me that our chapter didn't dissolve because we reflect and represent Buffalo's diverse communities," Ja'ciel said. "Our chapter has accomplished great things over the years and I'm confident that our resurgence will take us to even greater heights."
The Buffalo chapter is one of about 130 nationally. There are two other chapters in New York State, in Rochester and New York City.
NABJ was established in 1975 and today has more than 4,000 members nationally.
The local chapter's mission: "Getting expanded and more balanced media coverage of minorities and increasing minority representation at both the staff and management levels in Western New York newsrooms."
Ja'ciel's goals for the local chapter include:
Helping journalists of color develop professional opportunities and skill sets. 

Hosting in-person and virtual events dedicated to fostering relationships between Black media professionals and the community.

Conducting workshops and media training for high school and college students.

Establishing an annual Black film series.

Supporting and promoting Black-owned businesses.
Ja'ciel also hopes to re-establish partnerships with the Rochester chapter of NABJ; the Buffalo Broadcasters Association; Western New York Minority Media Professionals; and the Public Relations Society of America, Buffalo-Niagara Chapter.
"Collaboration is key to any kind of success and I believe that partnering with other local media organizations will strengthen not only our chapter, but the relationship between media professionals and the people we serve," Ja'ciel said.
Other local officers include:
Adriana Viverette, Vice President (WBLK FM)

Al Vaughters, Vice President of Broadcast (retired, WIVB)

Deirdre Williams, Vice President of Print (Buffalo News)

Shantee Perkins, Treasurer and Secretary (Starr Connextions Inc.)
Ja'ciel, 30, joined Investigative Post last August. She covers urban affairs and her story on Buffalo sky-high eviction rates was voted by readers as Investigative Post's top story of 2022.
She previously reported for Spectrum News and was part of a team that won a 2023 Regional Edward R. Murrow Award for Excellence in Diversity, Equity and Inclusion. Ja'ciel produced a package and served as a moderator for the award-winning town hall covering the mass shooting at Tops Supermarket. Previous to Spectrum, she was a weekend anchor for WBFO.
A Buffalo native, she earned a bachelor's degree in communications at SUNY Buffalo State, then a master's degree in data science and analytics, also from Buff State.