In response to Investigative Post's report last week, the Fillmore District's Mitch Nowakowski wants the comptroller to find out how many city employees are on extended leave and why.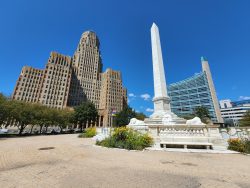 ---
A Buffalo legislator wants to know how and why a clerk in the city's fire department was kept on paid administrative leave for seven and half years, collecting nearly $600,000 not to work.
Fillmore District Council Member Mitch Nowakowski also wants the city's comptroller to find out how many similar situations are hidden in the city's payroll.
Nowakowski, chair of the Council's Civil Service Committee, filed a resolution Monday asking Comptroller Barbara Miller-Williams to perform an audit to find out how many city employees are being paid to stay at home, why, and for how long — and what the "relevant city entities" are doing to return them to work or get them off the city's payroll.
The resolution is a response to Investigative Post's report last week about Jill Repman, formerly known as Jill Parisi, who was accused in 2016 of tampering with the fire department's payroll to pad her paycheck. According to the city's law department, there was never any arbitration hearing to address the disciplinary charges the city brought against Repman. 
Instead, according to payroll records, the city simply kept paying her.
---
---
Not long after Investigative Post began making inquiries into Repman's employment status last month, she was ordered to return to work.
Nowakowski called the city's handling of the case of Jill Repman, a.k.a. Jill Parisi, "maddening" and "gravely concerning."
"After reviewing the egregiousness of this situation, I am requesting an audit and report of all city employees on paid administrative leave from the City Comptroller," Nowakowski told Investigative Post on Tuesday.
---
---
The comptroller said she too is determined to get to the bottom of the Repman situation. Miller-Williams told Investigative Post Tuesday she had not yet seen Nowakowski's resolution but had already assigned a staff member to look into Repman's case. 
"I think it bears investigation," she said. 
Miller-Williams said the responsibility for managing staff and certifying the accuracy of departmental payrolls fell to the administration — the city's human resource department and, in this case, the fire department — but the comptroller's office has a responsibility to protect taxpayer resources.
"When it comes to city tax dollars, I can't be continuing to issue a payment without some clarity here as to whether or not it's legal, ethical, and justified," she said. "That's what I have to find out."
Subscribe to our free weekly newsletter
The resolution was referred to the Civil Service Committee for further discussion next week.
"I take the public trust in city government very seriously," Nowakowski said, adding that, under the city charter, the comptroller "is the correct department to conduct this audit."