New York has committed $56 million to complete infrastructure work to service the STAMP industrial park. The money is a lifeline for projects facing legal & regulatory challenges.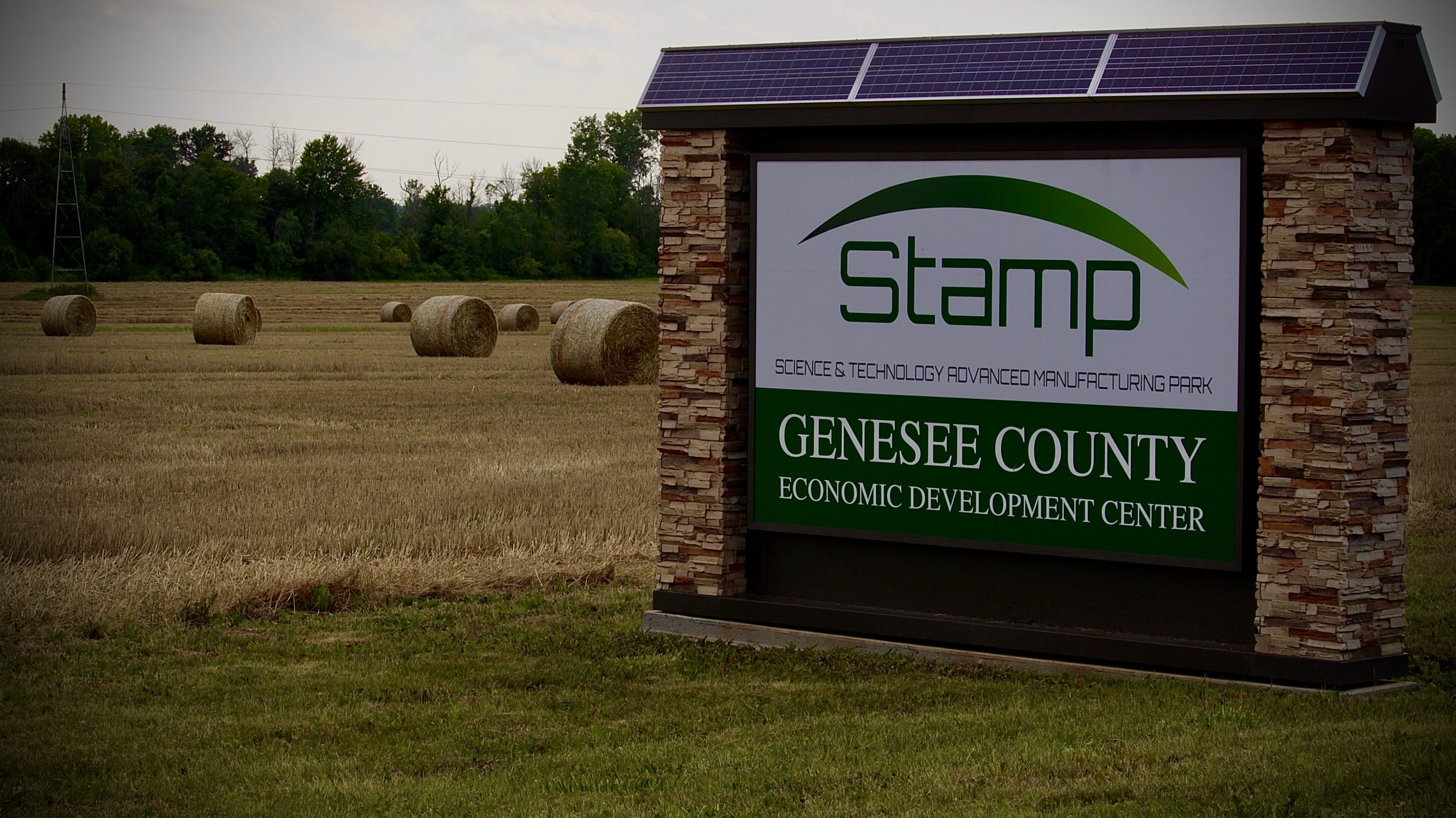 ---
The state is investing an additional $56 million in the STAMP industrial park to finance the completion of infrastructure projects that are the subject of legal and regulatory disputes.
Gov. Kathy Hochul on Thursday announced that Genesee County Economic Development Center, the economic development agency constructing  STAMP, will receive $56 million for various infrastructure projects. They  include an on-site wastewater treatment facility and pump station, a nine-mile sewage transmission line, a water main, natural gas lines and road improvements.
The Genesee County EDC has been building STAMP's infrastructure for several years. Some of the work has run into legal or regulatory challenges, particularly a 9 mile wastewater pipeline. 
In September, for example, a local judge issued a temporary restraining order against the wastewater pipeline following a lawsuit from Orleans County. That order meant Genesee County EDC could only construct the pipeline up to the Orleans County line. That order remains in place. 
Then, last month, the U.S. Fish and Wildlife Service shut down pipeline construction in Genesee County after contractors spilled hundreds of gallons of drilling fluid in federally protected wetlands. Cleanup of those spills is ongoing and the Service has not yet allowed construction to re-start.
Those issues are in addition to Investigative Post's previous reporting that found that STAMP's wastewater pipeline as currently planned could end up violating the Clean Water Act.
---
---
The $56 million comes from FAST NY — Focused Attraction of Shovel-Ready Tracts New York — a $200 million grant program administered by Empire State Development, funded through the 2022-23 state budget. The money is primarily being used to prepare sites around the state for industrial development.
It's at least the fourth major state grant for STAMP since 2012. There was an initial $2 million that year, $33 million from the Buffalo Billion, and an  $8 million grant. Empire State Development has also awarded smaller grants to Genesee County EDC to purchase land for STAMP, including one for $671,000 in 2014. 
STAMP has had difficulty recruiting tenants to its sprawling 1,250-acre site. So far, two have agreed to locate there, in exchange for hefty subsidies involving property and sales tax abatements and discounted hydropower from the New York Power Authority.
Plug Power, a hydrogen energy producer, has received $270 million in subsidies for 68 jobs, which works out to $4 million per job.
Edwards Vacuum has received subsidies worth $39 million, or $65,333 per job.
The governor's announcement "demonstrates her steadfast commitment" to STAMP, Genesee County EDC President and CEO Steve Hyde said in a statement.
"This award creates significant momentum in our efforts to design, engineer and secure permits for infrastructure at STAMP," Hyde said. 
A spokesperson for the Genesee County EDC did not respond to a request for an interview about the grant award. A spokesperson for Hochul similarly did not respond to a request for comment.
Tonawanda Seneca Nation Chief Roger Hill, though, expressed serious concern about the grant. He said the governor's announcement comes days before the Nation commemorates the Treaty of Canandaigua, which "protects our right to free use and enjoyment of our lands."
"I challenge Governor Hochul to explain how the wastewater treatment facility and STAMP industrial park, which would sit next to our pristine Big Woods and Tonawanda Seneca Nation territory, advance her supposed commitment to environmental justice," Hill said in a statement. "Our ancestors fought and died to protect this land and now she is using taxpayer dollars to destroy it."
The development of STAMP, located in the northwest corner of Genesee County, has drawn controversy in recent years. The massive industrial site is surrounded by indigenous territory and land protected by both state and federal environmental agencies.
Two years ago, the Tonawanda Seneca Nation, which borders STAMP, settled a lawsuit it had brought against the Genesee County EDC over the development of Plug Power's hydrogen production facility. In exchange for dropping the lawsuit, Genesee County EDC agreed to permanently protect 200 acres of nearby wildlife habitat.
The injunction and action by the U.S. Fish and Wildlife Service means construction of the wastewater pipeline is currently on hold.
If completed as planned, the pipeline could discharge phosphorus into Oak Orchard Creek, which would violate the federal Clean Water Act. That's because the creek is listed as "impaired" for that chemical, meaning no additional phosphorus can be dumped in the creek.
State officials with the Department of Environmental Conservation are currently attempting to prevent additional phosphorus discharge in Oak Orchard Creek after they previously said such dumping was allowed.