The Hochul administration is continuing to spend tax dollars on the South Buffalo plant, more than six years after it opened. Bureaucrats are stonewalling requests for public records that detail the spending.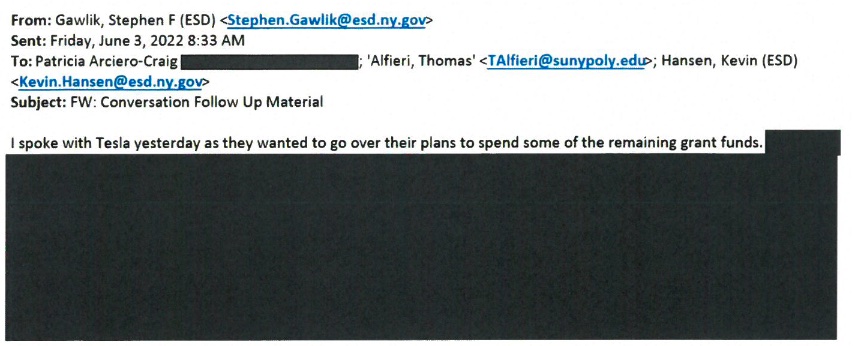 ---
If you thought New York was done spending money on the Tesla's factory in South Buffalo, think again.
Documents obtained by Investigative Post under the Freedom of Information Law have revealed a $29 million fund that state officials have allowed Tesla to spend on various projects around the plant. 
The state has so far allowed Tesla to spend $1.4 million of the fund. The money has been spent on a new boiler, a rotary screw air compressor and additional truck parking. 
There's another eight projects on the to-do list and $27.4 million available. Requested projects include a new cafeteria, an electrical substation, adding more delivery bays, expanding a parking lot, bus shelters and building a new road from Tifft Street to the factory.
Officials refused to say how much each of the projects could cost. Documents listing the estimated costs were redacted. Steve Ference, a spokesperson for NY CREATES, an economic development nonprofit funded and staffed by state agencies that helps oversee the Tesla facility, refused to say.
---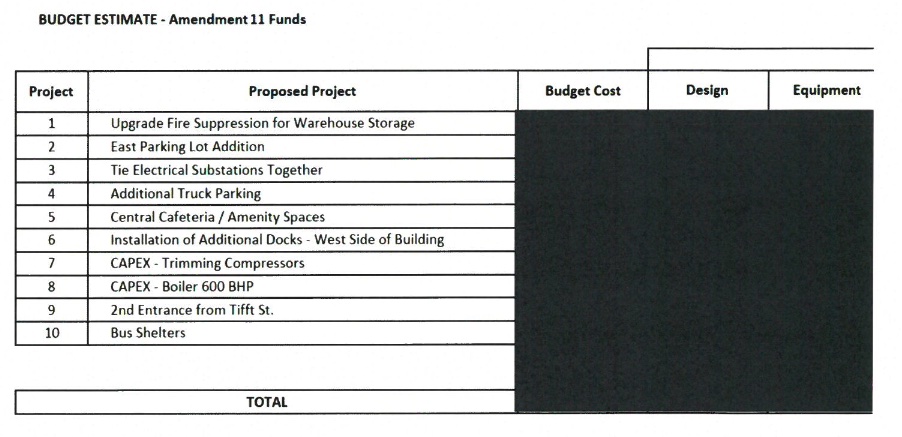 ---
The existence of this fund has not been previously reported or publicized. Academics and lawmakers alike said they were surprised to learn of it.
"At no time was it ever revealed that there's still a hidden fund of money, taxpayer money, for Tesla seemingly to call on at their will," said state Sen. Sean Ryan, D-Buffalo, who's been critical of how the state has handled the Tesla project.
"I was under the understanding that all of the subsidies to Tesla were spent."
Fort Schuyler Management Corp., also involved in the Tesla project, and Jim Potter, an attorney with the Albany-based firm of Hinman Straub, took nine months to fulfill Investigative Post's March 8 FOIL request. On Nov. 1, Fort Schuyler provided 1,300 pages of emails and other documents, nearly every page partially or wholly redacted.
Fort Schuyler has been involved in the Tesla project since its inception and has a history of withholding public documents. 
Its refusal to honor FOI requests and otherwise disclose details of the project was the basis of an Investigative Post story in 2014 that caught the eye of then-U.S. Attorney Preet Bharara, who opened a criminal investigation into allegations of bid-rigging. A year later, Investigative Post sued Fort Schuyler after it again refused to disclose public records requested under the FOI Law.
---
---
Despite the redactions in the documents provided to Investigative Post earlier this month, some details about the fund are known.
The fund appears to be held by the Fort Schuyler Management Corp. and managed by NY CREATES and the SUNY Polytechnic Institute, a group of state universities that specialize in high-tech research, including on microchips. 
In one email obtained by Investigative Post, the boiler — a fourth for the factory and considered a "backup" — was estimated to cost $900,000, but it's not clear if that's what the state ultimately paid. Documents indicate the boiler work was not put out for a competitive bid.
It's uncertain whether Tesla faces any deadlines for spending the fund or what rules apply. An agreement between Tesla and the state states that all funds had to be spent by the end of 2021. Records, though, show Tesla and the state spending the money throughout 2022 and 2023. Ference refused to answer a question about a spending deadline.
The $29 million fund is what was left over from a $750 million grant New York used to build and equip the 1.2-million-square-foot facility. 
What began as a $225 million project under Gov. Andrew Cuomo's Buffalo Billion program ballooned into a $959 million effort as planned tenants for the facility kept changing. Solar panel manufacturer Silevo was meant to be the original occupant before SolarCity, a sales and installation firm, bought them out. SolarCity, however, was deep in debt, triggering an acquisition by Tesla in 2016. Elon Musk was an owner in both Tesla and SolarCity.
Tesla planned to manufacture its SolarRoof product at the factory, in partnership with Panasonic. That partnership fell through in early 2020 and Panasonic shipped its 400 jobs to Malaysia. 
Tesla has since sharply reduced its SolarRoof production, instead manufacturing charging equipment and employing workers to "train" the artificial intelligence that runs its self-driving vehicles.
The factory was completed with $29 million of the state's money unspent. But instead of returning those funds to Empire State Development, SUNY Polytechnic Institute, or the state's general fund, officials quietly, at the height of the COVID-19 pandemic, set them aside for Tesla. Known as Amendment 11 to the state's agreement with Tesla, the money exists for "project related purposes."
Ryan said the funds should go back into the state budget, especially in light of Gov. Kathy Hochul's budget director calling on state agencies to tighten their belts this budget season.
"I will definitely inquire through Empire State Development for a status update on these funds and encourage them to not fund this project any further," Ryan said.
Elizabeth Marcello, a Hunter College professor who previously scrutinized the state's Tesla project for the good government group Reinvent Albany, said it was "absurd" that New York would continue to spend money on the factory.
"You'd think, once they used public money to buy something for a company, that that would be the end of it," she said.
Ference said the fund exists, in part, to "maintain the state's investment" and "further the growth of Tesla."
Ryan said the state needs to make details about the spending available and argued that FOI requests "should be responded to in a timely manner and should not have unnecessary redactions." He described the existence of the fund as an affront to other businesses in Western New York that have paid out of pocket for their own equipment and renovations. 
"All over Western New York manufacturers are throwing their money into their projects," he said. "Governments are not giving them a bank account to draw from. It's outrageous that we're giving one of the richest people in the world access to taxpayer dollars."