Staff
Jim Heaney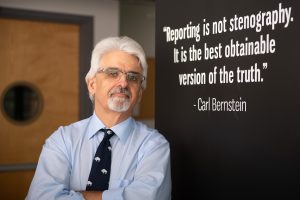 Jim Heaney has kept a quote from Carl Bernstein taped to the side of his computer terminal for most of his career that reads: "Journalism is not stenography, it is the best obtainable version of the truth."
Those have been his words to work by, first at The Orlando Sentinel, then The Buffalo News, and now Investigative Post. He's worked to embed that ethos into the DNA of the nonprofit investigative reporting center he founded in 2012.
Heaney, 67, is editor and executive director of Investigative Post. His reporting has been cited for excellence in about 25 journalism competitions over the course of his career. He was a finalist for the 1993 Pulitzer Prize for investigative reporting for his series on slum housing. 
His investigation of Buffalo's misuse of federal block grant funds won Governing Magazine's national reporting award in 2005. He and Steve Brown of WGRZ won an Edward R. Murrow Award in 2016 for their investigation into Buffalo's poor track record of solving homicides. In 2019, he won the Nellie Bly Award for Investigative Reporting for uncovering corruption in the Buffalo Billion program.
While Heaney continues to report on a limited basis, he spends most of his time editing, fundraising and coordinating news coverage with Investigative Post's media partners, including WGRZ.
Heaney was an investigative reporter with The News for 25 years before he left in August 2011 to undertake plans to launch Investigative Post. His investigative work and beat coverage at The News focused on government and urban and economic issues. 
Subjects of his major investigations included government corruption, city schools, housing discrimination and wasteful public spending. He was an early practitioner of computer-assisted reporting and the use of surveys to gauge the effectiveness of local elected officials.
"We have a lot of fine journalists at The News, but to my mind Jim was the point of the spear," columnist Donn Esmonde said at a fete to honor Heaney upon his departure from the paper.
"His determination, to paraphrase Mencken, to afflict the powerful who needed afflicting, raised the performance bar in our newsroom. I know that Jim was an example and a mentor to younger reporters. For the rest of us, myself included, he was a journalistic conscience, a constant reminder to tell the story the way it needed to be told, to not let anyone off the hook," Esmonde said.
Heaney was a leader in the Buffalo Newspaper Guild for more than 20 years. He served on eight negotiating teams and was a recipient of the union's Outstanding Service Award in 2009.
Prior to joining The News in 1986, Heaney worked as a reporter and editor with The Orlando Sentinel, covering transportation, politics and local and state government. Before that he was publisher and editor of The First Amendment, a weekly paper he founded to serve Buffalo's Kensington-Bailey neighborhood.
Heaney attended St. Bonaventure University and graduated from Medaille College in 1977 with a degree in media communications. He grew up in the Town of Tonawanda and is a 1973 graduate of Kenmore East High School.
He can be reached at jheaney@investigativepost.org. His Twitter handle is @jimheaney.
Geoff Kelly
Geoff Kelly joined Investigative Post in April 2019 after four years as editor and publisher of The Public, a weekly newspaper he co-founded, and 10 years as editor of Artvoice, another Western New York weekly.
Kelly was also editor of Pulp, an alternative newsweekly in Pittsburgh, for two years.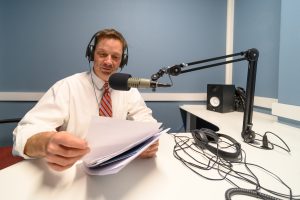 A native Western New Yorker, Kelly, 53, was raised in East Aurora, graduated from Canisius High School and received a bachelor's degree in English literature from Middlebury College. He began his journalism career as a freelancer for Artvoice. (First cover story: "Get the Lead Out," about the City of Buffalo's federally funded, scandal-ridden and ineffectual lead hazard control program.) He was appointed the paper's editor in January 2000. 
Over the next two years, he co-wrote a series of articles about legacy radioactive wastes in Niagara County, covered toxic chemical exposure in the Hickory Woods housing subdivision in South Buffalo, and began to develop a beat covering city politics and government.
In April 2004, Kelly traveled to Iraq with a team of academics and journalists from Harper's Magazine, Free Speech TV and Middle East Report. His reporting from Baghdad appeared in the San Francisco Bay Guardian, the Boston Phoenix and the Village Voice, among other publications. Later that year, Kelly moved to Doha, Qatar, where he freelanced for such publications as Arabies Trends and Qatar Today. He also served as senior media officer for the Qatar Foundation.
Upon returning to Buffalo and Artvoice in 2006, Kelly resumed writing about regional politics and government, with an emphasis on Buffalo's City Hall, as well as environmental issues. He carried those interests to a new publication he co-founded in 2014, The Public.
His reporting duties with Investigative Post focus on local government and politics.
Geoff can be contacted at gkelly@investigativepost.org. His Twitter handle is @ghkelly1969.
I'Jaz Ja'ciel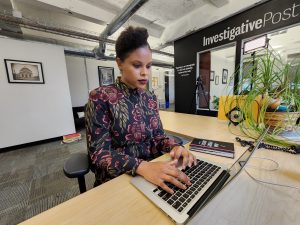 I'Jaz Ja'ciel is a multi-talented journalist. She earned a bachelor's degree in communications at SUNY Buffalo State, then a master's degree in data science and analytics, also from Buff State. She won numerous awards for academic excellence at the college.
A Buffalo native, Ja'ciel, 29, joined Investigative Post from Spectrum News, where she was a multimedia reporter. Before that, she was a weekend anchor for WBFO.
Ja'ciel covers urban affairs, including housing, criminal justice and public health.
Readers can follow her on Twitter at @jaz_ciel and contact her via email at ijaciel@investigativepost.org.
J. Dale Shoemaker
A native of central Pennsylvania, J. Dale Shoemaker previously reported for The Sun News in Myrtle Beach, South Carolina. He worked for three years with PublicSource, a nonprofit news organization in Pittsburgh after graduating from the University of Pittsburgh, where he served as managing editor of The Pitt News, the student newspaper which publishes daily. He also served a stint as reporter at the Newark Star-Ledger.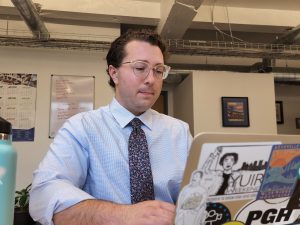 Shoemaker, 28, covers economic issues for Investigative Post. He'll carry on our coverage of economic development subsidies and issues related to the construction of a new stadium for the Buffalo Bills and renovation of the downtown arena that's home to the Buffalo Sabres. He'll also report on economic conditions of the poor and working class, with particular attention paid to the city's East Side.
Readers can follow Shoemaker on Twitter at @JDale_Shoemaker and contact him via email at jdshoemaker@investigativepost.org.
Garrett Looker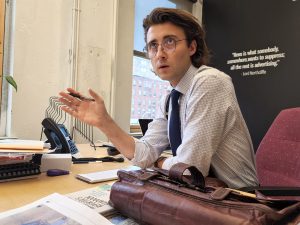 Garrett Looker, 25, is a reporter and multimedia producer for Investigative Post.
An Indiana native, he won a Best News Feature award from the Iowa Newspaper Association while an intern at the Sioux City Journal. While a student at Ball State University, he produced and directed award-winning documentary videos — one examining the history of racial segregation in Muncie, another following Ball State's bid to take over the city's struggling public school system.
Looker covers education and environmental issues, produces our podcasts and heads up our video production operation.
Readers can follow him on Twitter at @Garrett_Looker and contact him via email at glooker@investigativepost.org.
Nancy Webb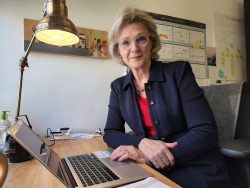 Nancy Webb joined Investigative Post in January of 2020 as director of development and administration.  Her primary duties include fundraising, finances, human resources and managing the office. With a background that includes broadcasting, she also coaches the reporting staff on voice-overs and on-camera presentation.
Nancy has a bachelor's degree in dance from Texas Christian University and a master's degree in arts management from the University of North Texas. A longtime Texan, she moved to Buffalo with her husband in 2018. 
She previously served as director of philanthropic services at the North Texas Community Foundation in Fort Worth. Before that she led the fundraising effort at Big Thought, a Dallas-based nonprofit that provides youth in marginalized communities with skills and tools to be successful.
Donors can contact her via email at nwebb@investigativepost.org.