Buffalo, which has suffered over the years from a series of planning mistakes, is nearing a decision on how to develop its Outer Harbor even though the state agency managing the project hasn't completed its homework on key legal, financial and environmental issues.
These unresolved issues, particularly whether to build five-story condos, shops and restaurants near the environmentally sensitive Times Beach Nature Preserve, are at the core of a dispute that boiled over last week.
Rep. Brian Higgins and Assembly Member Sean Ryan went public last Friday in their opposition to the Erie Canal Harbor Development Corporation's development plan for the northern 171 acres. They said the development corporation's proposal lacks broad public support and threw their support behind a plan that scales back residential and commercial development in favor of more green space and public access to the waterfront.
"The rest of this land should be preserved for the people who have been denied access to their waterfront for way, way too long," Higgins said.
Robert Gioia, the chairman of the development corporation, responded angrily to the lawmakers' decision. He regards opponents as special interest groups who don't reflect the community at large.
"If we are going to get into these discussions where it is either my way or the highway then we are going to get stalled," Gioia said. "We are not going to get anywhere."
The outstanding issues include:
The environmental impacts of residential and commercial development on the Outer Harbor. The development corporation is prepared to pick a plan without conducting any study of its environmental impact and one prominent environmental attorney has cautioned that the agency runs the risk of a legal challenge if it waits much longer to initiate required environmental reviews.
The cost of developing and maintaining green spaces for public recreation. Agency officials contend the plan must include both housing and commercial to generate tax revenue to help pay to maintain that space. But they have yet to develop cost estimates or formally approach city and

c

ounty officials to determine whether they are willing to surrender tax revenue to the development corporation.
The extent to which the 171 acres can be developed without

approval

of the state Legislature. The land that comprises the Outer Harbor used to be part of Lake Erie and some legal authorities contend the property functions as a park. Therefore, state legislative approval is required to build housing and most commercial uses on the land, they said. The development corporation has yet to consider this legal issue, however.
Another potential bone of contention not yet raised as a public issue is the absence of a guarantee that the green space set aside in the agency's plan will remain that way in perpetuity. State officials have expressed reluctance to keep the open space preserved.
"I don't know that I am prepared to say that everything that's green will stay green forever," said Thomas Dee, president of the development corporation. "I don't think that's good planning."
Cuomo presses for action
No swath of land in the past 50 years has more master plans gathering dust than Buffalo's Outer Harbor.
More than 24 proposals have been drafted and subsequently abandoned over the past half-century for reasons that include political infighting, community cynicism and lack of leadership.
Enter Gov. Andrew Cuomo, who sees the land as an economic opportunity that his predecessors failed to accomplish. He tasked the Erie Canal Harbor Development Corporation, which acquired the land in May from the Niagara Frontier Transportation Authority, with developing a blueprint through a fast-tracked planning process.
In September 2013, Cuomo announced his vision to transform 400 acres of the Outer Harbor into a world-class destination.
About half the land, including Gallagher Beach and the Small Boat Harbor, is the city's first state park. The development corporation sees the other half as desolate land in need of a makeover.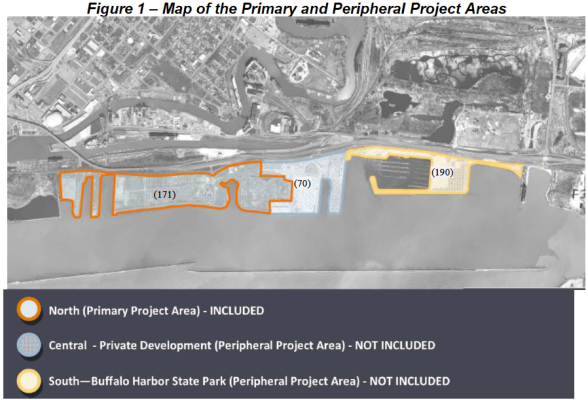 Seven months later the development corporation chose Perkins + Will, a Chicago-based design firm, at a cost of up to $738,000 to begin the planning process. The firm held community meetings in July, August and September attended by about 1,300 residents. The public reviewed three concepts in August, all of which called for extensive residential and commercial development; none called for only a park with related recreational uses.
The development corporation presented its preferred draft plan from the three concepts to the community last month. The plan shows open space mixed with three clusters of development that includes housing, stores, restaurants and cultural activities.
We are not changing our position.

—Thomas Dee, Erie Canal Harbor Development Corp.
Agency officials and representatives of Perkins + Will touted the preferred plan as one that local residents helped create. But at least four prominent civic and environmental organizations took exception.
The Sierra Club-Niagara Group, League of Women Voters of Buffalo/Niagara, Buffalo Niagara Riverkeeper and the Western New York Environmental Alliance expressed concerns about the quick pace of the planning process and whether the plan truly reflected the wishes of the public.
For example, a majority of the people who attended the planning sessions was against dense housing on the Outer Harbor. Yet, the state's preferred plan showed three clusters of residential development totaling up to 2,100 housing units.
"This place is uniquely Buffalo, so why do they want it to look like every other waterfront in the United States with this random development?" said Lynda Schneekloth, a board member of the Sierra Club-Niagara Group.
Ryan, whose district includes the entire Outer Harbor waterfront, added: "I never saw a big push for housing. I saw the opposite, I saw a big push for green space."
Dee insists that housing and commercial development should be a component.
"We are not changing our position on that," he said. "There needs to be a way to attract people out there and it has to come through mixed use."
With public opposition growing, Higgins and Ryan endorsed Buffalo Niagara Riverkeeper's concept plan for the Outer Harbor. That approach, which focuses the densest development in the vacant Terminal A and B buildings next to the former Freezer Queen facility, is a vision "built from decades of community input," said Jill Jedlicka, the nonprofit group's executive director.
One of the chief complaints among activists is the state's insistence on building houses and shops next to the 45-acre Times Beach Nature Preserve.
Times Beach a bird sanctuary
The Army Corps of Engineers dumped contaminated sediments dredged from local waterways at Times Beach from 1971 to 1976. The agency abandoned the site so that migratory birds and other wildlife could continue using it as a save haven.
The nature preserve's relatively large, diverse, coastal wetland is the western gateway to an internationally recognized bird migratory zone in the Niagara River corridor.
Times Beach attracts some 250 species of birds, including regional rarities such as yellow-crowned night herons, cinnamon teal ducks, laughing gulls and Acadian flycatchers.
Want to see and hear some of the regional rarities found

at

Times Beach? Click each link for details:
Recognizing its importance, the New York Department of State in 1987 designated Times Beach as one of 250 significant coastal fish and wildlife habitats in the state. The unusual diversity makes it "one of the most popular bird observation and study sites in the Niagara Frontier," according to the Department of State report.
Even city officials were originally opposed to development near the nature preserve.
The Office of Strategic Planning did not intend to permit development immediately adjacent to Times Beach. In fact, early draft versions of land use maps that were part of the city's ongoing effort to update its 60-year-old zoning code show most of the Outer Harbor as open space.
But City Hall sources told Investigative Post that development corporation officials nudged the city to change the land use map to better fit their vision of development on the Outer Harbor – even before the state agency presented its concepts to the public.
Consequently, the May 2014 version of the Outer Harbor's draft land use map closely mirrors the development corporation's preferred plan presented to the public last month.
Activists are adamantly opposed to the development corporation's insistence on building housing and stores just a few feet away from the nature preserve.
"These condos will kill Times Beach," said Jay Burney, an environmental activist with the Friends of Times Beach, at a rally attended by about 50 people earlier this month.
"I'm not saying no development. I'm saying don't build a condo curtain around Times Beach Nature Preserve."
State officials' rebuked the concerns of the activists.
"We don't have to say that you have to have 100 percent bird migration that is unobstructed," Dee said. "I don't think that's the way life is going to work."
At any rate, the development corporation does not know the environmental impacts, which poses a potential legal dilemma.
Several legal concerns
Richard Lippes, a local environmental attorney, said the state should have completed the environmental review before presenting development concepts to the public.
"They are sort of turning the process on its head," Lippes said.
"The purpose of an environmental review is to assure that the information is in front of the decision makers before they decide on an alternative or a group of alternatives so that they know what those consequences might be."
Dee, however, said planning remains in the conceptual stage and that it's too early for an environmental review.
"I honestly don't think we are putting the cart before the horse here," he said.
The lack of an environmental review isn't the only legal dispute.
The Outer Harbor, Times Beach and Lake Erie are too vulnerable and too important for our community to not get this right.

—Jill Jedlicka, Buffalo Niagara Riverkeeper
Lippes also maintains that the Outer Harbor already functions as a park and the Public Trust Doctrine, which prohibits most commercial and residential development on parkland unless approved by the state Legislature, therefore governs its use.
"The Public Trust Doctrine is intended to protect the public's parkland from non-park use," said Lippes, who is counsel for the state Sierra Club and Buffalo Niagara Riverkeeper.
Dee said development corporation attorneys have not raised this legal issue yet. Regardless, if legislative approval is required, "we will do that," he said.
"We are not trying to short cut anything or short change anyone."
There are unresolved financial issues as well.
Lack of financial estimates
Development corporation officials have long contended that the Outer Harbor needs residential and commercial development to make the green space economically sustainable. But they don't have estimates to show how much the green space would cost to develop and maintain or how much tax revenue housing and commercial development would generate.
The development corporation has two firms conducting an economic analysis of its Outer Harbor concept, Dee said. He expects the analysis in a few weeks.
Despite the absence of cost and revenue figures, Dee said, "I don't think just a park is a viable option" without supporting revenue from commercial and residential development.
Any property tax revenue generated by development at the Outer Harbor would flow to the city and county without a deal to the contrary. Development corporation officials have not formally approached the city and county about surrendering tax revenue.
Both Gioia and Dee seem determined to move forward with an Outer Harbor blueprint sooner than later. In fact, Dee said selecting a concept by the end of this month seems "reasonable." That timetable conflicts with what Ryan said agency officials told him in a meeting two weeks ago when they offered to delay a decision until January.
Some in the community – perhaps mindful of fateful decisions that resulted in the lamented expansion of the University at Buffalo to Amherst, building of Ralph Wilson Stadium in Orchard Park and construction of expressways that divided city parks and neighborhoods – contend more work needs to be done before a plan is selected.
"The Outer Harbor, Times Beach and Lake Erie are too vulnerable and too important for our community to not get this right," said Jedlicka of Riverkeeper.