The unit charged with investigating allegations of child abuse and neglect in Erie County is still having a hard time clearing cases on time.
While there has been improvement since Investigative Post reported on the unit's performance last summer, about four in 10 investigations are not completed within the timeframe the state requires.
And although caseworkers are assigned fewer cases, the average workload is still higher than the state-recommended maximum.
"There has been improvement but we're still not where we should be," said Erie County legislator Ted Morton, who is vice chairman of the committee that oversees Child and Protective Services.  
Social Services Commissioner Al Dirschberger said CPS is making "great progress."
"It may be slow to some, but it's in the right direction," he said.
The department has gone from crisis to crisis over the past three years, after the deaths of four children whose caretakers were being investigated by CPS.
An unprecedented state audit in September 2013, following the death of five-year-old Eain Clayton Brooks, prevented the county from closing cases while state officials reviewed all open investigations.
Almost three years later, CPS's performance has yet to fully recover.
The rate of change seems slow to Morton.
"I asked about a year ago if, by the end of 2015, we would be where we should be," Morton said. "Well, here it is, almost the middle of 2016, and we're not."
Numbers show improvement
CPS is doing better at lowering workloads and meeting deadlines than at any point since September 2013, according to state data.
Caseloads are down to an average of 19 per worker and Dirschberger said he expects them to be down to 15, the maximum the state recommends, by early fall. That's compared to a peak of 51 cases per worker in May 2014.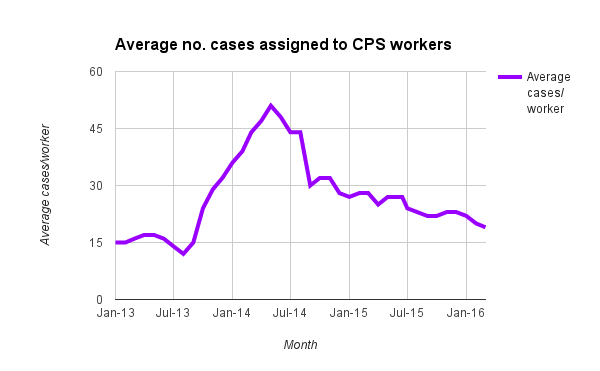 The department is also doing better at completing initial assessments of reports of abuse and neglect within seven days. Sixty-five percent were done on time in March of this year, compared to 37 percent in the same month last year. Before the audit, however, around 90 percent of these assessments were regularly completed on time.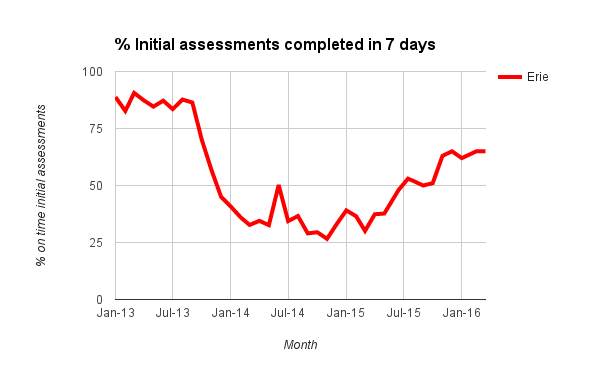 More investigations are being completed within the state-mandated 60 days. Fifty-eight percent of cases were closed on time in March, compared with 46 percent a year earlier. Those numbers fall short of the 90 percent on time rate prior to the audit.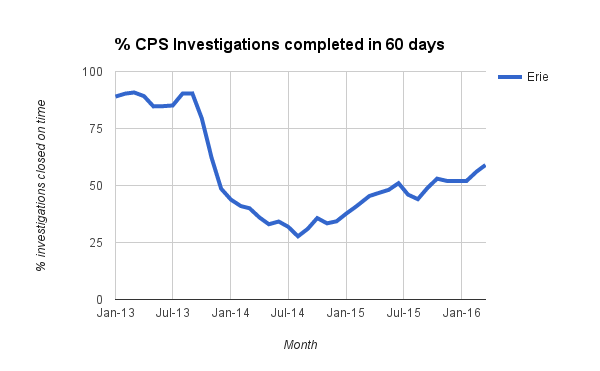 Despite the improvements, Erie County still lags behind other large counties the state considers comparable when it comes to caseloads and completing investigations on time, according to state data from March 2016.
Erie County ranks second worst of 14 large counties the state considers comparable for the size of caseloads and closing cases on time. When it comes to completing initial assessments of families on time, Erie County ranks in the middle of the pack.
Asked about this, Dirschberger said: "I just make of it that we're lagging because of the situation that we weren't able to close cases."
Worker turnover, retention
In June 2014, after the death of Jacob Noe, the Department of Social Services asked county lawmakers for a big increase in workers.
Funding was approved to create 37 new CPS worker positions and, initially, the number of workers increased, hitting 145 that September.
But, due to turnover, there are now roughly as many CPS workers as before legislators approved the increase.
Morton, who vice chairs the legislature's Health and Human Services Committee, said he was frustrated that the number of workers did not appear to have increased.
"Today it's down to about 110, which is about what it was before we approved all that money," Morton said.
Moreover, almost two-thirds of CPS workers currently on the job have less than three years' experience – which Morton said is a concern, but largely inevitable due to the stresses of the job.
Dirschberger said the ultimate goal is to have caseloads down to 15 and deadlines met around 90 percent of the time.
"We're not going to have perfect numbers, but we do want to get those numbers up," he said.
Said Morton: "We're certainly getting closer but we're certainly not there, either."