Updated: 2:36 p.m.
Crime is way down in the City Of Buffalo since the COVID-19 pandemic was declared.
The number of daily arrests before the pandemic typically exceeded 20 a day, including a recent high of 37 on March 6. Arrests since Thursday have ranged from two to eight a day.
Police say there's one primary reason for the drop: businesses, which can be a magnet for criminal activity, have mostly closed. 
"A lot of commerce has stopped," said Captain Jeff Rinaldo. "A lot of crime occurs around commerce. If you don't have commerce, you don't have crime."
---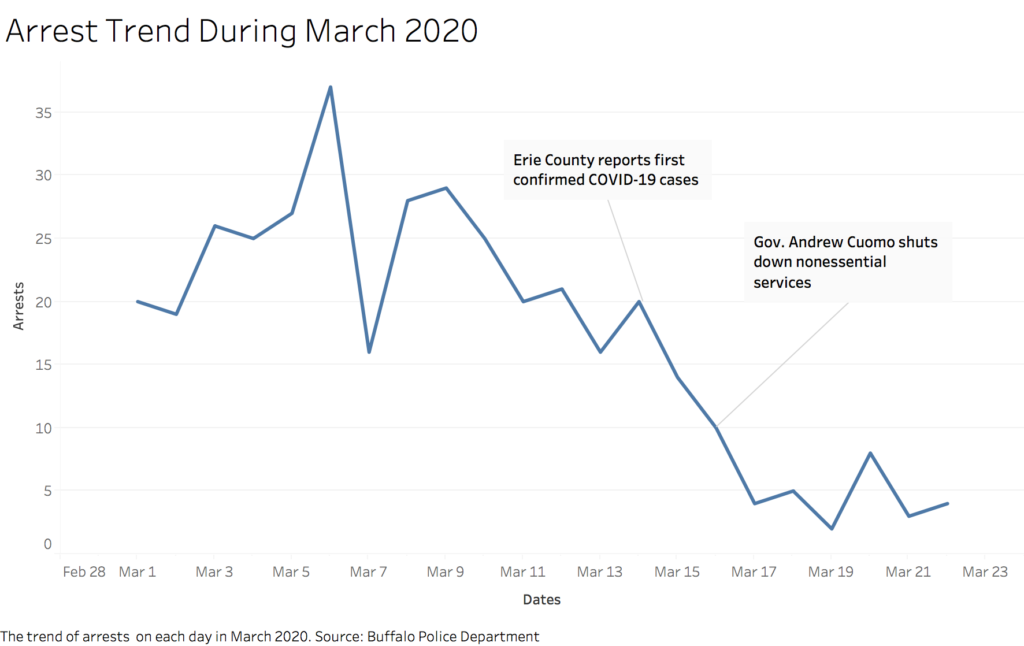 ---
Gov. Andrew Cuomo announced Friday 100 percent of employees in nonessential business must work from home. That comes days after the governor mandated bars and restaurants to close their doors to sit-down diners. 
Rinaldo said the New York State bail reform that went into effect at the beginning of the year has been helpful in reducing the number of arrests. As a result of the reform, police now issue appearance tickets for most minor crimes, resulting in them taking fewer people into custody. 
"Because of bail reform and because we have so many people out of custody, they're able to care for themselves, care for families, be nimble, flexible, respond to this pandemic," said Kevin Stadelmaier, the chief attorney for Buffalo Legal Aid's Criminal Defense Unit. 
In addition to serious crime and arrests being down, Rinaldo said calls for service have decreased. And with fewer cars on the road, fewer accidents are being reported. 
---
Jails are incubators for the virus: A report from The Marshall Project
---
A few units, like housing and homicide, have received some protective gear like gloves, masks and hand sanitizer. Patrol officers are still without equipment, according to John Evans, president of the Buffalo Police Benevolent Association.
Buffalo Police Commissioner Byron Lockwood told Evans their supply had run dry and they were turning to other sources, including the National Guard, to get enough protective equipment for all officers.
Still, officers are required to respond to calls.
"We're
not not responding to calls," Rinaldo said. "We haven't made that decision at this point. I know some police departments have, but we're not at that point."
Both Evans and Rinaldo say no Buffalo Police officers have tested positive for COVID-19.  If someone does become infected, the officer must be able to prove they got it on the job, in order to have leave covered.
Officers responding to calls have also been told to encourage anyone inside to come outside, if it is "reasonable and feasible." 
The department is running low on protective equipment and has been working with the city Fire Department, trying to secure enough masks for everyone in the agency. 
"We're doing everything we can, just like every other agency in the country," Rinaldo said. "Unfortunately, who saw this coming? No one. It's not like a police department has 100,000 masks sitting on a shelf for some day." 
Meanwhile, Legal Aid is advocating for the release of people who are older than 50 from the county's Holding Center and Correctional Facility during the pandemic. 
Judges, for their part, are looking to reduce the jail population and have suspended weekend sentences for nine people. 
All civil courts in the state are closed, as are those on the town and village level. Locally, all arraignments for arrests in Erie County are being handled out of two offices in downtown Buffalo. Defendants in City Court are arraigned via video conference with judges working out of the district attorney's office. Prosecutors and defense attorneys are with the judges. 
While the Erie County DA doesn't have discretion to charge minor cases, John Flynn said he encouraged local agencies to be aware of the pandemic and act accordingly when filing charges.   
"I trust my partners in law enforcement to do the right thing and what to prioritize and bring here into my office," said Flynn.   
---
More COVID-19 Coverage