Western New Yorkers are being implored to stay at home and limit their travel. Data that tracks cell phone movement suggests that many are not heeding the call.
On average, Erie County residents have made relatively modest changes to their travel patterns, reducing their average distance traveled by 40 to 55 percent. That works out to a grade of C on a scorecard developed by Unacast, which tracks cell phone movement. 
The other seven counties in Western New York are all receiving  a grade of D or D minus.  On balance, they've reduced their movement by less than 10 percent. 
Worse yet, they all get Fs for limiting unnecessary travel. Erie County, on the other hand, grades out at C for reducing unneeded movement. 
---
| | |
| --- | --- |
| County | Grade |
| Erie | C |
| Cattaraugus | D |
| Niagara | D |
| Allegany | D- |
| Chautauqua | D- |
| Genesee | D- |
| Orleans | D- |
| Wyoming | D- |
Source: Unacast
---
Western New York as a whole lags behind the rest of the state and nation in reducing movement. The state currently grades out at B minus, the United States at B.
The grades are determined by Unacast, a Norwegian data company that tracks cell phone movement worldwide. Its grades are based on a comparison of distances traveled — primarily by car, transit or foot — before and during the COVID-19 pandemic. Updated grades and data can be found at Unacast's website.
Here's how the scorecard works: Areas that have changed travel patterns and reduced non-essential travel by more than 70 percent receive an A; a reduction of 55 to 70 percent rates a B; 40 to 55 percent, a C; 25 to 40 percent, a D; and anything below that is considered failing.
The score fluctuates depending on the day and movement activity. The grades reported in this story were as of Wednesday morning.
At one point, Erie County was scoring high and had an A across the board. It only lasted two days. Erie County Executive Mark Poloncarz took to social media on March 24, applauding the county for its efforts and receiving an A on the same website.
"Thank you all who have heeded our warnings," Poloncarz wrote on Twitter.
---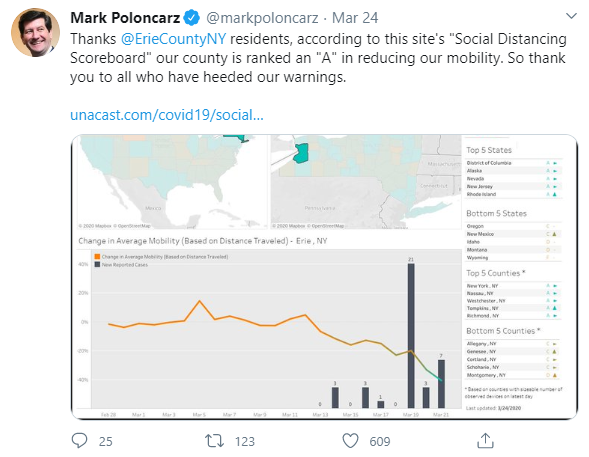 ---
The tweet indicated the data he was looking at came from March 21, one of only two days the county has received top marks. The other came on March 22.
There's a four-day lag in time from the actual date and when the website is updated "to ensure a full picture of activities," according to the research methodology.
Analysts at Unacast track movements by harnessing data generated when people use their cell phone. Through their site and third-party tools, like Google Analytics, Unacast  gathers a variety of information that's used to analyze patterns such as how often and where people move to and from.
"As the country's behavior changed, so did the underlying data," Thomas Walle, the Unacast CEO and co-founder, wrote in a post.
The Unacast data scientists have been analyzing movements for retail and real-estate businesses for about five years. In the case of travel, researchers are looking at the difference in movement from before the pandemic and now. 
By analyzing mobility patterns, researchers get a general sense of how people are adapting to adjustments in everyday life, such as switching to working from home, avoiding non-essential trips to places like the gym or the movie theater, and canceling longer-range travel such as vacations.
Research shows that people limit their travel as the number of COVID-19 cases in their area increase. That correlation explains why most of the outlying counties in Western New York are receiving low marks: Cattaraugus, Chautauqua, Allegany, Wyoming and Genesee all have fewer than 10 confirmed cases of coronavirus, far fewer than in Erie County.  
Residents in the downstate counties hardest hit by the virus have limited their travel the most, the research shows. New York County, which comprises the five boroughs of New York City, has reduced its change in average travel distance by more than 70 percent. 
Residents in Westchester County, where New Rochelle is located, have adjusted their travel distance by 55 to 70 percent while reducing non-essential visits by 70 percent, research shows. Health officials there established a containment zone early in March when a COVID-19 cluster broke out.
---
More COVID-19 Coverage