Authorities have yet to conduct required studies on the impact of dumping industrial sewage from STAMP into a creek considered imperiled because of pollution.
---
Updated Oct. 4 at 3:02 p.m.
Oak Orchard Creek is considered Orleans County's "lifeblood."
Flowing south to north from Genesee County wetlands to Lake Ontario, it provides trophy salmon and trout a place to feed and spawn. The creek draws fishermen, $30 million in tourist spending and around $100,000 in county revenue each year.
"Oak Orchard Creek is a huge — a huge — part of the fishery … it's gigantic," Lou Borrelli, captain of a fishing charter boat, told Investigative Post. "Generally speaking, most of the fish are going to be affected by the water quality, because if it does get contaminated that could have a huge effect on reproduction."
Yet it's here, in the Town of Shelby in Orleans County, that the Genesee County Economic Development Center wants to dump up to 6 million gallons of wastewater per day from its Science, Technology and Advanced Manufacturing Park (STAMP). That's the industrial park that Sen. Chuck Schumer, Gov. Kathy Hochul and others are championing as a future home for thousands of high-tech jobs in rural Genesee County. 
Located in the Town of Alabama — population 1,777 — the closest cities of Buffalo and Rochester are each more than 35 miles away in opposite directions. Existing infrastructure is not readily available. To get wastewater from the 1,250-acre STAMP site, Genesee County EDC is seeking to build a 9.5-mile pipeline across the county line to Oak Orchard Creek.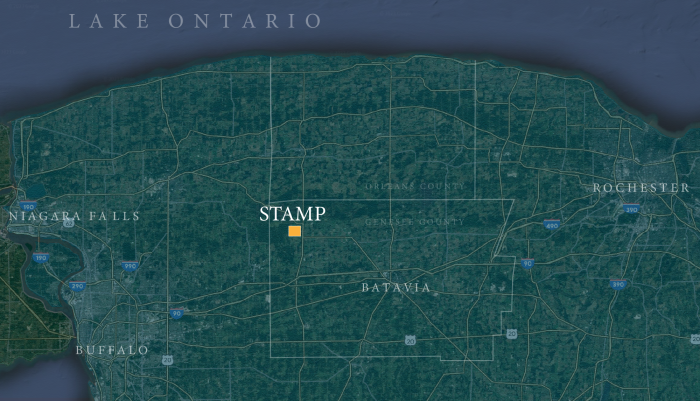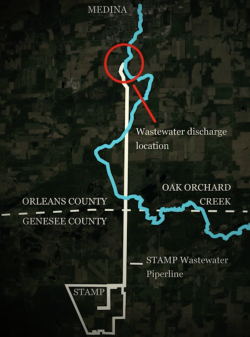 The industrial park remains mostly farmland, but has recently attracted two tenants, requiring the construction of water and sewer lines.
But an investigation by Investigative Post has found serious problems with STAMP's plan.
For one, interviews and a review of documents reveal that the project — as currently planned and permitted — could violate the federal Clean Water Act. 
That's because, under that law, Oak Orchard Creek is already listed as "impaired" because of pollution from phosphorus. That means no more of it can be discharged into the waterway. Experts said it's likely any discharge from STAMP would contain phosphorus, resulting in a violation of the law.
"Simply, [STAMP's wastewater pipeline] is a new discharger and seeks to discharge into an impaired waterbody. This is expressly prohibited by the Clean Water Act," attorney Margaux Valenti, legal director for the Buffalo Niagara Waterkeeper, wrote in a July letter.
---
---
The Environmental Protection Agency  — while reviewing the wastewater discharge permit for STAMP — raised red flags about the discharge, warning the state Department of Environmental Conservation that additional phosphorus discharge could run afoul of federal law.
What's more, neither Genesee County nor the DEC have studied the impact the wastewater could have on the plants or fish that call Oak Orchard Creek home. Phosphorus, a common plant nutrient, is known to cause algal blooms that can crowd out wildlife and organisms in a body of water.
---
---
That has Orleans County officials worried, in part because of the potential impact on fishing and the tourism industry it has spawned. It's one of the reasons why the county filed a lawsuit Sept. 11 seeking to stop construction of the pipeline. The Genesee County EDC has appealed to State Supreme Court Judge Frank Caruso to reject that request.
On Sept. 18 though, State Supreme Judge Sanford Church issued a temporary restraining order halting any construction activities in Orleans County. Church set an Oct. 23 court hearing to further address the matter.
Despite that order, Genesee County officials plan to take three parcels of land via eminent domain, two of which are in Orleans County. In its lawsuit, Orleans County argues that those takings are illegal. Plus, in an effort to stop the eminent domain, it acquired its own easements on the two parcels within its jurisdiction. Lawyers for Genesee County EDC say those arguments and easements are immaterial.
There's also uncertainty over precisely how much treated sewage the  Genesee County EDC wants to dump into the creek. The number has varied from 1 million gallons a day — the amount it is presently permitted to discharge — to 11 million gallons a day, which the EDC has advertised to prospective tenants.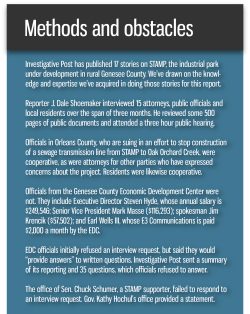 The state DEC, meanwhile, approved a wastewater discharge permit for STAMP last year on a basis the agency has subsequently acknowledged is faulty. DEC officials issued the permit on what turned out to be the false assumption that STAMP would not discharge additional phosphorus into Oak Orchard Creek.
State officials now say STAMP must find a way to "offset" its phosphorus discharge in order to comply with the law.
"All these red flags started to come up of, 'How's this gonna affect us?'" said Michael Dobell, executive director of the Orleans County Industrial Development Agency.
"We are 100 percent in support of the STAMP project," added Lynne Johnson, chair of the Orleans County Legislature, "[but] to just assume that this gray water would go into Oak Orchard Creek was poor judgment on their part."
This story is based on interviews with 15 officials, experts and residents, and a review of some 500 pages of documents. Representatives of the Genesee County EDC have refused to answer questions.
Possible violation of federal law
Oak Orchard Creek has been included on what's called the 303(d) list — the part of the Clean Water Act that lists impaired waterways — since at least 1998. A 2009 study by College of Brockport researchers traced the contaminating phosphorus in the water to nearby farms and industries, as well as the natural environment.
"[Impaired] means under the federal Clean Water Act, there is a level of contamination that triggers certain requirements," said attorney Alex Page, who has represented the nearby Tonawanda Seneca Nation for 25 years, including on environmental issues. "And one of the key requirements is that you not add any more of that contaminant, because doing so would violate the Clean Water Act."
In New York, it's the DEC's job to issue permits — including wastewater discharge permits — that comply with the Clean Water Act. Because Oak Orchard Creek is impaired, and because STAMP discharge is likely to contain phosphorus, DEC should not have issued a wastewater discharge permit to the industrial park, experts like Valenti have argued. Attorneys for the Tonawanda Seneca Nation have made similar arguments to the DEC, even though the creek does not run through its territory.
---
---
Nevertheless, the DEC issued a permit for STAMP's wastewater discharge last September. When issuing the permit, DEC asserted that because STAMP's wastewater — likely to include phosphorus — would replace existing agricultural runoff from the site that would also include phosphorus, STAMP's discharge into Oak Orchard Creek would not violate the Clean Water Act. 
Page called that assumption "patently absurd for a number of reasons."
As it turns out, there was no existing agricultural runoff from STAMP into Oak Orchard Creek. That runoff went into other nearby bodies of water.

---
---
Jill Heaps, an Earthjustice attorney and clean water expert, came to the same conclusion in a January memo she wrote for the Tonawanda Seneca Nation. The Nation then sent that memo to the Environmental Protection Agency.
"Most critically, DEC conducted no sampling of any existing runoff at the STAMP site to determine whether, and to what extent, there is actually phosphorus running off from the STAMP site into Oak Orchard Creek before approving the 'offset,'" Heaps wrote.
DEC has since realized its mistake and has demanded, in a July 10 letter, that the Genesee County EDC provide more information on how to achieve a "phosphorus offset" to ensure the discharge complies with federal law. The Genesee County EDC is protesting that demand. In an Aug. 16 letter, Phillips Lytle attorneys working for the Genesee County EDC acknowledged that DEC issued the permit on the faulty basis that STAMP would offset existing agricultural phosphorus. But the lawyers rejected mitigations proposed by the agency.
"Neither of these proposed alternatives are feasible, and the Department's position that such mitigation may be required is unlawful and unnecessary," wrote Adam Walters of Phillips Lytle.
A DEC spokesperson said the agency is still awaiting a technical response to its July letter. In a statement, the DEC said it will "ensure GCEDC complies with all state and federal law and regulations, including demonstrating in its engineering report that there will be a phosphorus reduction in the Oak Orchard Creek watershed."
Spokesperson Andrea Pedrick noted that the agency "requires additional information from the applicant regarding … options to remove phosphorus in the watershed in order to achieve necessary nutrient reduction requirements."
In a statement, a Hochul spokesperson didn't address the potential violation of the Clean Water Act.
"We remain committed to protecting our environment through record investments while supporting communities and smart economic growth," spokesperson Matt Janiszewski said.
Other issues mount
Under the Clean Water Act, Oak Orchard Creek must eventually be studied to determine how much, if any, phosphorus can be dumped into the waterway. DEC has done no such study.
During its State Environment Quality Review, the Genesee County EDC initially planned to dispose of its wastewater elsewhere, meaning it didn't consider the impact on Oak Orchard Creek.

The EDC served as both project sponsor and lead agent — in other words, both judge and jury — when completing its environmental reviews.
"I believe it does create a conflict of interest," said environmental attorney Arthur Giacalone. "Now, unfortunately, it's built into and allowed under SEQR. So technically, it's not illegal."
Now that the discharge point has changed to Oak Orchard Creek, the EDC has only studied its impact on flooding, erosion and the mussel population.
---
---
The lack of studies on Oak Orchard Creek and STAMP's potential impact on the waterway mean much is unknown. A major issue, Page said, is that because Genesee County EDC was "pre-permitted" by DEC, no one knows yet what chemicals and other substances would be contained in STAMP's eventual wastewater.
"Normally, you need to know what the discharge is in order to understand what permit conditions might be required, and what the impacts on the receiving water body would be," Page said. "So that in and of itself is pretty problematic."
The differing amounts of discharge mentioned by the Genesee County EDC is another point of contention.
"The future tenants remain unknown and will discharge unknown pollutants in unknown amounts," Valenti, legal director of Buffalo Niagara Waterkeeper, wrote.
"How is a 6 million [gallon per day] need justified? How was that number ascertained? How can the STAMP Sewer Works know the future pollutants and risk to the receiving water body at this time?"
Pedrick, the DEC spokesperson, said any discharge above 1 million gallons per day would require either a new permit or a modification to the existing one. She noted that every new STAMP tenant would also need its own permits.
Mark Masse, senior vice president of operations for the EDC, has stated publicly that STAMP is being built for 6 million gallons per day. Both he and Earl Wells III, a public relations consultant, have refused to answer questions about why the agency advertises a wastewater capacity greater than that. 
Orleans County officials also worry that the volume of wastewater could erode the banks of the creek.
"We already have a lot of erosion issues that are down through here and along the Oak Orchard Creek," said Katie Sommerfeldt, manager of the Orleans County Soil and Water Conservation District. "And just by putting more water into it, we're just making these issues worse."
Residents, officials left without answers
Down a steep embankment, the Oak Orchard Creek runs past Rhonda Hawkins's backyard in Medina. It's a quiet neighborhood, the sound of rushing water audible. Neighbors fish for catfish and children play in the creek at the nearby park, she said.
Hawkins questioned why anyone would want to dump wastewater into the creek. Doing so would be "dangerous for everyone."
"If we get a drought, that goes stagnant," she said, motioning toward the river. "And if they're pumping sewer into it, that's just going to sit there and then we're going to get the fumes, and that's bad for our breathing."
Johnson, chair of the Orleans County Legislature, said she's been attempting to negotiate with Genesee County EDC, but those talks have stalled. She said she and other officials support STAMP, so long as it doesn't harm Orleans County's existing economy.
"If this wastewater has nowhere else to go, give us an economic boost," Johnson said last month. "That makes it worth our while instead of making us their dumping ground."