The Erie County Legislature passed on another opportunity Thursday to approve the county executive's $3.75 million lead prevention plan that includes eight new employees to inspect homes and help families that have children with elevated blood lead levels.
Buffalo Mayor Byron Brown's 11-point lead hazard control plan released Wednesday was not enough to persuade county legislators to move forward with a separate action plan proposed by County Executive Mark Poloncarz. The city's commissioner and assistant director of permits and inspection services told county legislators Thursday afternoon that the city plan focuses on education, collaboration with the county health department and concentrated enforcement in the three highest risk ZIP codes.
But some county legislators questioned why the city's plan falls short of requiring mandatory, regular inspections of one- and two-family rentals, similar to a successful program in Rochester. City officials said they do not have the resources to launch such a program. In fact, Commissioner of Permits and Inspections James Comerford said it would be "impossible" to regularly inspect the 22,000 one- and two-family homes in the city's rental registry without more money and inspectors.
The county health department has primary responsibility for inspecting homes for lead hazards, but its inspectors typically get inside only a quarter of the 2,500 homes inspected annually, which concerned Majority Leader Joseph Lorigo and Legislator Pat Burke.
"We need to get to the bottom of it and find a plan that works," Lorigo said. "If we can't get the inspectors in the home, there's really no sense in hiring the inspectors."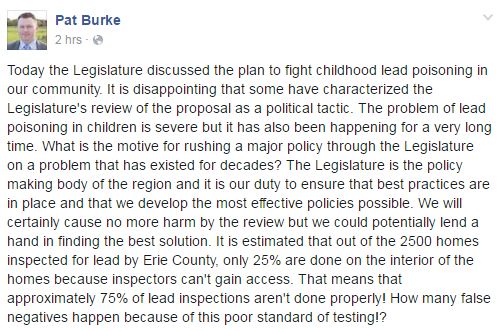 The Poloncarz administration said in a statement that, "It's worth keeping in mind that the County Executive's proposal was designed to be a stand-alone expansion of ECDOH's lead poisoning prevention program, and regardless of concerns about proposed City Charter changes it is a well-thought out plan to improve Erie County's response to lead poisoning."