When Sonja Slother enrolled in a fledgling film production program at Daemen College, her enthusiasm was buoyed by the college's partnership with a company committed to creating more than 100 jobs.
The initiative, which was awarded $4.5 million in Buffalo Billion funding, was meant to train a workforce for the visual effects industry Gov. Andrew Cuomo said would take root in Western New York – and, specifically, for the company Daemen had partnered with, Empire Visual Effects. State and college officials touted the training program as a fast track into high-paying jobs.
A graphic designer by profession, Slother had recently been laid off, and the chance to learn new skills – as well as the prospect of steady employment – appealed to her. She enjoyed the classes and did well in the program, earning a letter of recommendation from her professor.
A few months after graduation, Slother started working at Empire Visual Effects.
But two years later, she's profoundly disheartened.
"When class ended, what was promised was not there," she said.
Slother wasn't alone in feeling let down.
Of the more than 50 people who have completed Daemen's certificate program, only six currently work full-time at Empire Visual Effects. And the company, which committed to creating 150 jobs by 2019, only has 12 full-time employees.
Almost all of the dozen graduates of the program interviewed by Investigative Post said that the college, the company and the state failed to deliver on their extravagant claims for the project.
Laura Sommer, chair of Daemen's visual and performing arts department, who is in charge of the visual effects certificate, said many more than six of the program's graduates have worked for the company on a freelance basis.
"If the students want to work very hard and seize this as a career path, that opportunity is right there," she said.
But instead of the "good-paying, high-tech" jobs promised by Gov. Cuomo, Slother and many of her fellow graduates worked on an as-needed basis, for $12 an hour. They said the work available at Empire was so sporadic that they would often go months without hearing from the company. Many couldn't get enough hours of work to make back the $5,250 they paid Daemen in tuition.
"We have two teenage sons that are in high school, so $5,000 is a lot of money just to throw away," Slother said.
Ben Porcari, managing partner at Empire Visual Effects, acknowledged that the company's job creation has lagged.
"It's currently a little less than we'd like but we're a brand new company launching an industry that's never existed here before," Porcari said.
For those in Slother's position, that's little consolation.
"It was touted as this big thing and it was very disappointing having nothing at the end," she said.
High hopes, few jobs
Prospective students had good reason to be optimistic about what the visual effects program could offer them.
Students learned how to create the kinds of visual effects seen in so many movies and TV shows, like changing the background of scenes and editing out the safety wires used during stunts.
When the partnership between Daemen and Empire Visual Effects was announced in 2013, the college's president, Gary Olson, said it would create a "workforce development pipeline" between the college and the company.
The aim was "to fast-track community college students into a rigorous training program at Daemen and then into high-paying visual effects jobs at Empire," he wrote in a letter to the editor in The Buffalo News the same year.
The job creation claims were repeated at the opening of Daemen's newly renovated visual effects facility in the Tri-Main Center at the end of 2014, with a promotional video featuring a graduate from the program's first class saying: "I essentially went straight to work for Empire and went from a student to a visual effects artist."
But, already, the promise of jobs was proving difficult to keep.
---
Listen to our radio version of this story broadcast on WBFO. 
---
Graduates of the program were struggling to find steady work with Empire. The professor hired to teach the certificate, an experienced visual effects artist, had quit. And enrollment dropped – in large part, graduates said, because word had gotten out that the job prospects were dismal.
Despite Empire's success in securing contracts on major TV shows and commercials, including helping to create a revamped "Charlie the Tuna" for Starkist, the company hasn't been hiring many people.
Of its 12 full-time employees, half are graduates of Daemen's program. Another six or seven people, mostly Daemen graduates, are available to work when the company needs them, Porcari said.
Empire State Development, the state agency administering the program's grant funding, refused an interview request but said in a statement that the company's funding is contingent on job creation and that it will be required to return the money if it fails to create the number of jobs promised.
Porcari, the company's managing partner, said he's optimistic about hiring more people soon.
"Certainly, we wish there were more at the moment but we're pushing forward," Porcari said.
Justin Keil, one of those 12 full-time employees, said he worked hard to earn his position.
"A lot of it was how much you wanted it," he said. "You have to come in and put in the time."
Keil, a graduate of the prestigious University of Southern California film school, worked at Empire part-time for six months while holding down another full-time job, honing his skills and gaining experience, before "there was any talk of anything close to full time."
"It was a little bit insane but I think it was worth it," he said.
Porcari said the starting freelance wage of $12 an hour is higher than the regional median for media production work, and that full-time employees make about $30,000 annually, depending on seniority.
Empire had as many as 25 full-time workers in early 2014, he said, but couldn't sustain that level of employment, because of the cyclical nature of the film industry.
Nonetheless, he said he's confident that the goal of creating 150 jobs by the start of 2019 is still feasible.
Under Empire's agreement with the state, up to three-quarters of those positions can be filled by contract employees, because of the freelance nature of much post-production work.
Still, those employees are supposed to work at least 35 hours a week. Many of the program graduates interviewed by Investigative Post said they rarely worked that much for more than a few weeks at a time.
Stephen Shackelford had just graduated from Niagara County Community College with an associate's degree in fine arts when he enrolled in the certificate program. He started working part time at Empire Visual Effects in March 2015, while still taking classes, and at first, he said, there was a steady stream of work.
But by the time he graduated in May, so little work was coming in that he and many of the other freelancers had to find other part-time jobs, he said.
Working at Empire, he made back less than half the cost of tuition.
"Eventually, I just had to cut my losses and pursue something else full time," he said.
He now works at a restaurant in Niagara Falls.
"I just felt like there wasn't an adequate return for the time and money and effort I put into the program," he said. "They were making a lot of empty promises."
Misplaced trust
The college and company now say that ebbs and flows in the amount of work are inevitable, given the nature of visual effects work and the challenges of creating an industry in Buffalo effectively from scratch.
Asked why so few of the program's graduates had secured full-time jobs at Empire, Sommer, the Daemen professor, said: "It has to do with the industry and I think that's what's misleading to people."
But many graduates say it was Daemen who misled them.
Many of the students who took the course said they understood that there were no guarantees. Still, they thought that if they worked hard and completed the program, they had a good chance of getting a job with the Empire Visual Effects.
After all, the program had been created in partnership with Empire, and the company had pledged to create 150 jobs. The classrooms where they studied in the Tri-Main Center were right next to Empire's offices and Porcari would occasionally drop in on classes.
"They're training you for this thing, there's jobs to be had, there's a demand for it – that sounds great. It didn't seem too fantastic or ridiculous," said Evan Lukas, who completed the program in May 2014.
At that time, the page on Daemen's website promoting the program said: "Successful completion of this certificate will translate immediately into a job opportunity with Empire Visual Effects. They'll be hiring 150 positions for their Buffalo studio over the next three years."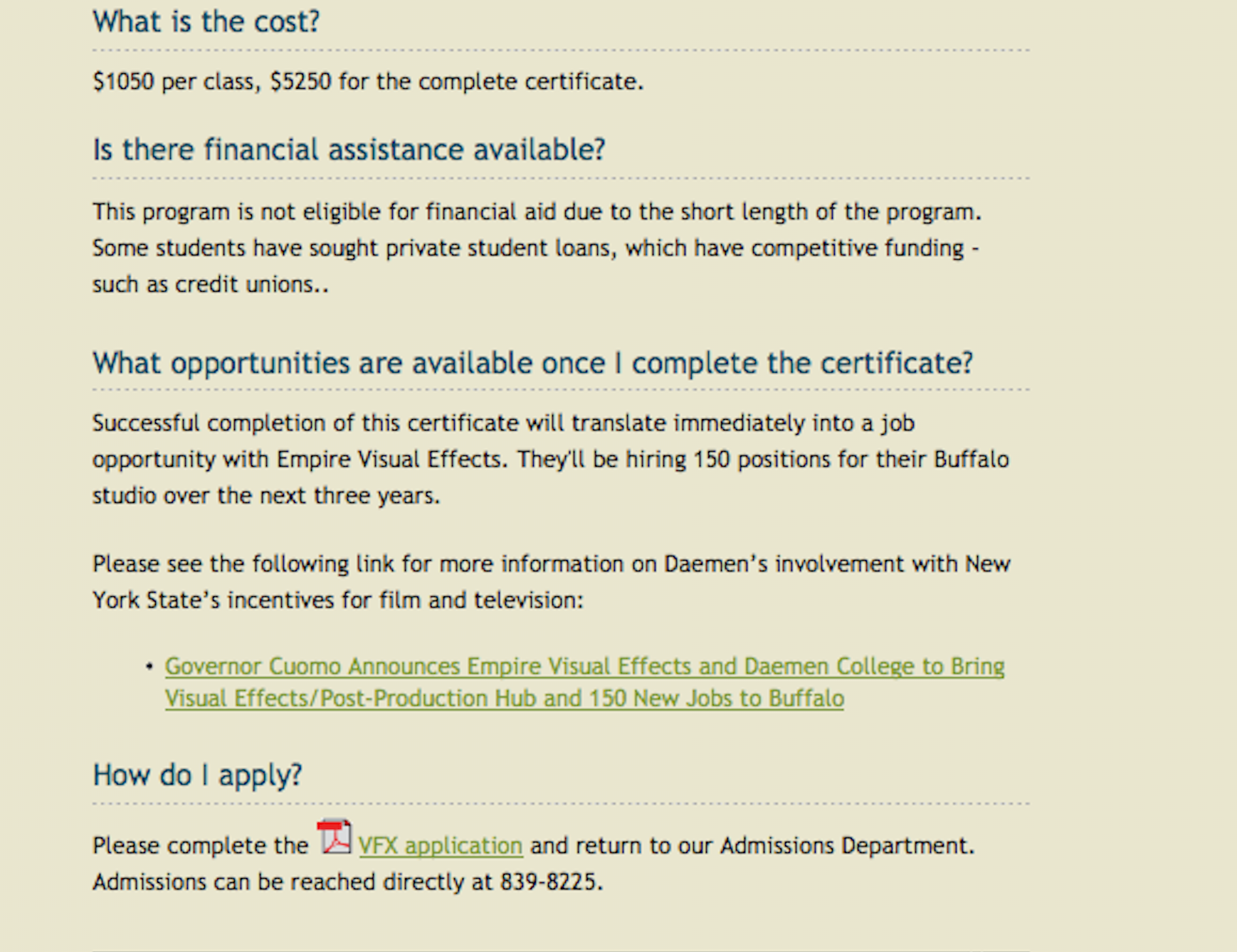 The page was later changed and no longer says anything about job opportunities.
Asked about this, Sommer said: "That opportunity is absolutely there. We didn't say that it was going to transfer immediately into a job or characterize what that job would be."
"We can't, as an educational institution, guarantee anybody a job full-time."
To Susan Weeks, that was exactly what Daemen seemed to be promising prospective students.
Weeks had worked on major Hollywood productions like the "Harry Potter" films and "Men in Black" before coming to Daemen in 2013 to teach the new visual effects certificate.
From the start, she had concerns about the way the program was promoted.
"Students were coming in with huge expectations and I was kind of forbidden from telling them there's no guarantee," Weeks said.
Sommer disputes this.
Weeks said that after she told the second class of students that the job prospects were less certain than they might have been led to believe, three of them dropped out of the program altogether.
She said the students who managed to secure full-time jobs at Empire tended to be the ones who had come into the program with visual effects or related skills already at a high level.
Weeks resigned from her position as a professor at Daemen after just over a year.
Lukas, a graduate of the program, said Daemen's credibility made it easier to believe what college officials said about the partnership with Empire would work.
"I didn't expect an institution with the history they have to have mishandled things to the degree they did," he said.
A risky undertaking
Not everyone who enrolled in the certificate wanted to work at Empire after graduation. Some gladly took higher-paying jobs in different fields; others wanted the training but not necessarily to stay in Buffalo.
For those who did, though, opportunities to use their skills at companies other than Empire are scarce.
One of the program's aims was to keep talent in Western New York, by providing "high-paying employment" to Daemen graduates and others, "who would historically leave WNY to pursue careers in the industry elsewhere," according to state records.
President Olson wrote in the Huffington Post that the program was "a prime example" of efforts to keep visual effects jobs in the United States, instead of being outsourced overseas.
State officials also said the partnership between Daemen and Empire would encourage other visual effects companies, enticed by the expansion of a tax credit for post-production work done upstate, to move to the region.
An admissions page for the program read: "Get the skills you need to work on major feature films & television series – RIGHT HERE IN BUFFALO."
Economic development experts warn, however, that trying to create industry clusters from scratch is misguided.
"This is like Exhibit Z in the book called 'tax breaks do not defy gravity'," said Greg LeRoy, executive director of Good Jobs First, a national subsidy research organization.
"Trying to cook something up out of whole cloth defies history – it's not the way clusters in new industries take root."
At a press conference in July 2013, then Lieutenant Governor Robert Duffy said the initiative would "be a magnet for drawing these post-production companies and jobs up here to Buffalo and Western New York."
So far, none have.
That's left graduates of the program who can't get enough work at Empire with few options when it comes to finding work in the field.
The program has been temporarily suspended since last year while Daemen retools the curriculum and relocates classrooms back to the college's Amherst campus. Sommer said almost everything bought with state funds was brought back in the move. Classes will resume in the fall.
In response to student feedback, some of the changes being made include increasing the program's length from 15 weeks to a year, shifting the schedule to night classes, more career counselling, and built-in internships, Sommer said.
Many of those who have graduated so far have found full-time employment elsewhere, gone back into education, or returned to their old jobs.
Some gave up on Empire once they realised how sporadic the work would be; others said they were still available to work but hadn't heard from the company in months.
Jeremy Boczar, who completed the certificate two years ago, said he wasn't sure it had been worth it.
"I got this certificate in order just to work for 12 hours a month – it's pretty ridiculous in the end."