Updated daily with news and intelligence on the India Walton-Byron Brown race for mayor and other local elections
Welcome to Campaign Notes, an election blog we update daily with news and intelligence on upcoming elections, including the mayoral race. Geoff Kelly, our government and politics reporter, writes most of the entries, with contributions from other Investigative Post reporters. Email Geoff with tips.
---
Friday, Oct. 22, 6:45 p.m.
Kelly discusses Schumer endorsement on WGRZ
U.S. Sen. Chuck Schumer didn't make India Walton ask for his endorsement during a scheduled Thursday evening phone call, according to campaign spokesperson Jesse Myerson.
The Senate Majority Leader opened the call by telling the Democratic nominee for Buffalo mayor he was endorsing her, Myerson said. He then quickly made his support public via Twitter:
Today, I endorse @indiawaltonbflo, the Democratic nominee for Mayor of Buffalo. She's a community leader, nurse, & mother with a clear progressive vision for her hometown.

Dems are at our best when we build a big tent & forge inclusive coalitions to fight for everyday people. pic.twitter.com/Bm5B4lwXoH

— Chuck Schumer (@chuckschumer) October 21, 2021
Schumer's endorsement represents a shift: The moderate Democrat endorsed four-term incumbent Byron Brown in the primary election. When Brown lost to Walton, Schumer remained silent as to whether he would support his party's nominee — until Thursday.
New York's other senator, Kristen Gillibrand, joined Schumer in endorsing Walton on Friday.
Other prominent elected Democrats with Buffalo constituencies continue to stay out of the fray. Gov. Kathy Hochul indicated last week she would not endorse either candidate. U.S. Rep. Brian Higgins and Erie County Executive Mark Poloncarz have remained neutral thus far, as well.
                                                                                       — Geoff Kelly
---
---
Wednesday, Oct. 20, 8:40 a.m.
AOC coming to Buffalo for India Walton
U.S. Rep. Alexandria Ocasio-Cortez will headline a rally for mayoral candidate India Walton on Saturday, Oct. 3.
The Bronx Congress member, a star of the progressive wing of the Democratic Party, has supported Walton's candidacy since before the June primary. Yesterday she leaped to the defense of Walton after the chair of the state Democratic Party explained his decision not to endorse the party nominee by clumsily comparing her to David Duke, a former grand wizard of the Ku Klux Klan and occasional candidate for public office.
Jay Jacobs absolutely should resign over his disgusting comments comparing a Black single mother who won a historic election to David Duke.

India Walton is the Democratic nominee for Mayor of Buffalo. No amount of racist misogyny from the old boys' club is going to change that. https://t.co/8umSM3jpaP

— Alexandria Ocasio-Cortez (@AOC) October 19, 2021
Ocasio-Cortez's visit to drum up support for Walton has been in the works since late summer, according to the Walton campaign. It will take place at the Town Ballroom in downtown Buffalo on Saturday at 11 a.m., to launch the campaign's early voting drive.
Another progressive luminary, U.S. Sen. Bernie Sanders, has been fundraising for Walton by email and on social media for the past two weeks. His first asks have yielded about $40,ooo, according to her campaign, which has helped Walton to match incumbent Byron Brown's flurry of TV ads this week.
Walton's campaign also benefited from a $150,000 TV ad buy this week, plus another $30,000 for phone banks, from the Working Families Party's independent expenditure committee. Brown's campaign got a boost last month from a $171,000 independent expenditure by the New York State Realtors Association, which a filing with the state elections board indicates was for "canvassing."
— Geoff Kelly
---
Tuesday, Oct. 19, 12:03 p.m.
What Buffalo cops spend their time on
Geoff Kelly sifted through some 1.4 million 911 calls from 2015 to 2019 and learned that calls from citizens are down, an indicator of less crime, which bodes well for Mayor Byron Brown's campaign for a record fifth term.
But those records also show a surge in traffic stops initiated by police, and most of the stepped-up enforcement occurred in low-income, minority neighborhoods. That could be a liability for Brown as he and Indian Walton battle for the city's Black and Latino vote.
Also of note in Geoff's story: crime is down, 911 calls are down, yet spending on police department operations has increased significantly while most other city services have had to get by with modest budget increases.
Set a few minutes aside and read this most-important story, the first of three crime-related pieces we have planned for the coming week.
                                                                                                   — Jim Heaney
---
---
Wednesday, Oct. 13, 10:30 a.m.
Yes, write-in candidates have won
What does it take to win as a write-in candidate?
Name recognition. Oodles of cash. And a sound plan to educate voters and get them to the polls.
It's easier said than done. But it has been done. Just ask the sitting mayor of Detroit. Or the senior U.S. senator from Alaska.
Can Byron Brown follow suit? Justin Sondel reports.
                                                                                                          — Jim Heaney
---
Wednesday, Oct. 13, 8:35 a.m.
State realtors spend big money on Brown campaign
Last month a lobbying organization that supports the real estate industry spent more than $170,000 to support Byron Brown's reelection effort.
The New York State Association of Realtors Fund — the association's political giving mechanism — purchased the services of a political consulting company called C3 Public Strategies in Sacramento, Ca. According to the fund's filing with the state board of election, C3 provided "canvassing" on behalf of the Brown campaign.
C3's clientele is nationwide and predominantly Republican. Like many political consultants, the firm was engaged in the Georgia races that gave Democrats control of the U.S. Senate.
The NYSAR Fund paid C3 $170,703.50 on Sep. 15.
The most basic rule governing independent expenditures is that the committee that spends the money cannot coordinate in any way with the candidate or a cause the expenditure supports.
Investigative Post sent inquiries to C3, the NYSAR Fund, and the Brown campaign. We asked what sort of canvassing (phone, door-to-door) the money bought and whether C3 had any  local assistance (voter lists, personnel, strategy) in setting up its operation. None replied.
Two days after paying C3, the National Association of Realtors sent the NYSAR Fund $400,054.50. The fund's balance, as of Sep. 27, was $1,372,049.51. Last year, the fund spent over $750,000, according to state filings, all to one marketing company in Denver, Co.
Credit to Rob Galbraith of the Public Accountability Initiative for finding the expenditure. There have been rumors the Brown campaign would benefit from independent expenditures from state committees. This is the first evidence of that.
                                                                                                        — Geoff Kelly
---
Tuesday, Oct. 12, 4:09 p.m.
Poverty and the mayor's race
We're reporting today on Buffalo's stubbornly high poverty rate – the third highest in the country – and what the candidates intend to do about.
Byron Brown, of course, has had 15 years to do something about it, and as Mark Sheer reported, poverty has not been a priority for the mayor. On the other hand, it's high on India Walton's to-do list, although not everyone is crazy about the way she wants to pay for the effort.
                                                                                             — Jim Heaney
---
---
Monday, Oct. 11, 3:56 p.m.
An endorsement that wasn't screened
The Buffalo News ran a story Monday about the city's population gain, which has been fueled largely by refugees and immigrants. 
The story, by Washington bureau chief Jerry Zremski, posed a question: How much credit could Mayor Byron Brown claim for that growth? 
The News story quoted Bangladeshi businessman Mohammed Osman praising Brown for making the city friendly to the immigrant communities. In particular, Osman credited the Brown administration with demolishing derelict buildings on the East Side, where Osman has purchased numerous properties.
"Who did that? Mayor Brown and his administration," Osman told The News.
But Osman is not a model property owner himself, according to Rob Galbraith of the Public Accountability Initiative, who quickly flagged Osman properties as tax delinquent and cited for code violations.
Properties owned by Osman and Fortunes America LLC, a limited liability corporation Osman controls, are $24,589.48 behind in city and county taxes and user fees, according to Galbraith's research.
More than half that tally is tied to two adjacent East Side properties where Osman recently hosted a fundraiser for Brown.
The Oct. 2 event took place at 1389 and 1393 Kensington Avenue, near Eggert Road on the city's East Side. According to tax records, Osman is $13,598.75 in arrears on city and county property taxes and fees for those addresses. Both are currently listed as in foreclosure on city tax documents. 
The city's Open Data Buffalo site lists numerous code violations for 1389 Kensington, the most recent issued on March 21, according to Galbraith.
A flyer for to Oct. 2 fundraiser and dinner party described 1389/1393 Kensington as the "Bangladeshi Community Campaign Office." Brown attended the event, according to a video posted to Osman's Facebook page:
                                                                                             — Geoff Kelly
---
---
Friday, Oct. 8, 12:26 p.m.
Heaney discusses election on Capital Tonight
Who is donating to Byron Brown and India Walton and what do they want in return? That's what Susan Arbetter asked Investigative Post Editor Jim Heaney on Thursday's edition of Capital Tonight. Heaney provided his analysis, based in part on previous reporting by our Geoff Kelly. Take a look.
                                                                                              — Jim Heaney
---
---
Tuesday, Oct. 5, 1:43 p.m.
Big money for Brown, small donors for Walton
The usual suspects — and some unusual ones — have written big checks to Mayor Byron Brown's re-election campaign, according to reports filed with the state Board of Elections.
Major donors as of Sep. 27 include developers and others who do business with City Hall — Doug Jemal and his son, Paul Ciminelli and his son, etc. There are also patronage employees who are out of a job if Brown loses to India Walton.
There are also a number of prominent Republicans, including the Williams brothers and William Huntress.
In all, Brown has raised about $851,000 since he lost the June 22 Democratic primary. Walton, for her part, has raised about $617,oo0. The difference: Brown has relied mostly on large donors — 232 donations of $1,000 or more — while only 70 of Walton's donors have given that much.
While Brown has raised more, he's also spent more. His campaign had $464,000 in the bank, compared with $360,000 for Walton. 
— Jim Heaney
---
Tuesday, Oct.5, 10:00 a.m.
Mychajliw sued for alleged campaign finance violations
Hamburg Democrats filed a lawsuit Monday asking the New York State Supreme Court "to compel Stefan Mychajliw to comply with State Election Law," according to a press release issued Monday afternoon.
The suit accuses the Erie County comptroller, who is running for Hamburg town supervisor, of numerous campaign finance violations, some of which Investigative Post has previously reported.
Among Mychajliw's sins, according to the members of the Hamburg Democratic Committee, whose members filed the complaint:
He has failed to form a committee to run for Hamburg town supervisor, yet appears to be spending money on lawn signs and literature, and has held fundraisers. This is illegal.
He is using the committee formed for his comptroller campaigns to raise and spend money, which is illegal, not least because there is a much higher cap on contributions to a candidate for comptroller ($31,484) compared to town supervisor ($2,196).
That's not just a potential pitfall, according to Mychajliw's July filings with the state Board of Elections, which show two donations — from Accadia Contracing and Tarver Transit of Tonawanda — that exceed that limit.
"Campaign finance laws were put into place to ensure transparency, accountability, and a level playing field in campaigns," Terry MacKinnon, the Hamburg Town Democratic Committee chair, said in the press release.
"The fact that he needs to resort to breaking laws to fund his campaign shows just how desperate he is his to salvage his failing political career."
The press release throws in a few potshots at Mychajliw's candidacy::
Only 20 percent of his donors are from Hamburg, according to the Mychajliw's filings.
More than half the $26,250 he's raised for the race has come from corporate interests.
When he ran for Congress last year against Chris Jacobs, he lost Hamburg by a two-to-one margin.
Mychajliw's apparent disregard for state election law may be emboldened by the fact that violators are rarely investigated and punished.
But there is news from Rochester that ought to give pause to all the scofflaws in state politics. Yesterday Mayor Lovely Warren pleaded guilty to knowingly and willingly accepting donations greater than state contribution limits allow. The plea requires Warren — who lost her Democratic primary in June — to resign as of Dec. 1, a month before she was due to leave office anyway.
The plea also resolved gun and child endangerment charges Warren faced as a result of a raid on the home she shares with her estranged husband, who prosecutors accuse of drug-dealing.
Because she is admitting to a misdemeanor, rather than a felony, Warren will keep her law license and her pension.
— Geoff Kelly
---

Thursday, Sep.30, 12:21 a.m.
Walton adds advisors, including one from City Hall
India Walton made six new appointments to an advisory committee she has assembled to guide her transition into the mayor's office, should she beat incumbent Byron Brown in the Nov. 2 general election.
And one of those appointees works in City Hall.
Chris Hawley — a senior planner in the city's Office of Strategic Planning who was instrumental in revising the city's building code revision — will advise Walton on urban planning issues.
Another city planner has been tapped, as well: Bradshaw Hovey, a retired research associate professor at the University at Buffalo School of Architecture and senior fellow at the UB Regional Institute.
Sharon West, a former executive director of the Buffalo Municipal Housing Authority, will advise Walton on affordable housing matters.
Cesar Cabrera, a former regional administrator for the state Department of Labor, will help to guide Walton on workforce development.
Greg Olma, a former Erie County legislator and deputy parks commissioner, will tackle parks.
Dan Sack, a community activist for four decades, will advise Walton on historic preservation.
Those six join another half dozen subject experts named as Walton advisors last week:
Mark Manna, the regional director for United Food and Commercial Workers Local One and former Amherst Town Council member, on labor issues.
Buffalo Board of Education member Jennifer Mecozzi, on education matters.
Former acting City Comptroller Vanessa Glushefski, on municipal finance.
Alexander Wright, an attorney and founder of the African Heritage Food Co-op, on local business.
Victoria Kuper, co-founder of both BreadHive Worker Cooperative Bakery and Cooperation Buffalo, which helps businesses become worker- and customer-owned cooperatives.
Kevin Connor, co-founder of the Public Accountability Initiative — a nonprofit that exposes corruption in business and government — on good government and transparency.
Hawley is the first city employee to join Walton's advisory committee, which will guide her on policy and hiring, in the event she takes the reins of city government in January. He has openly supported Walton since before the June Democratic primary and hosted a fundraiser for the Walton campaign last week.
At a meet-and-greet in Allentown Thursday night — hosted by Hovey, the UB city planner — Walton said other city employees have reached out to her and offered their advice and expertise, as well. She said she is being "very protective" of their identities.
— Geoff Kelly
---
Thursday, Sep.30, 6:22 a.m.
Things we're reading…
Here are three stories about Buffalo's mayoral race worth checking out:
1. India Walton traveled to New York City last weekend for a series of fundraising events, prompting this piece by Jesse McKinley, the New York Times Albany bureau chief. A sample:
The unexpected battle for Buffalo reflects the defining tension within the national Democratic Party, pitting its new generation of left-wing politicians against its more moderate establishment, as represented by Mr. Brown.
McKinley notes that Walton has gained the support of such progressive celebrities as U.S. Sen. Bernie Sanders and U.S. Rep. Alexandria Ocasio-Cortez. Last weekend's fundraisers for Walton were headlined by former gubernatorial candidate Cynthia Nixon and New York City Public Advocate Jumaane Williams, who may run for governor next year. She spoke to the Rev. Al Sharpton's National Action Network.
The Walton campaign told Investigative Post the weekend in New York yielded over $70,000, which will help to air Walton's first TV ad, which debuts tonight. The ad opens with a few barbs directed at Brown but focuses mostly on introducing Walton to viewers.
Brown's TV ads have been on the air for three weeks.
2. On Monday, attorney Stephanie Cole Adams — a Walton supporter — filed a complaint with the city's Board of Ethics arguing one of Brown's TV ads broke rules governing how police officers may express support for a political candidate.
In the ad, a relatively young and diverse group of police officers tells the camera they will all lose their jobs if Walton is elected mayor on Nov. 2.
The Brown campaign has been trying to hang the phrase "Defund the Police" around Walton's neck, saying she would lay off 100 officers in order to cut the budget by $7.5 million. Younger officers would be first to go, Brown' campaign argues, due to the department's seniority rules.
Walton has said she would reduce the size of the police by attrition — that is to say gradually, through retirements — as recommended in a report by the Partnership for the Public Good, and use the savings to fund other public safety programs. There would be no layoffs.
The complaint, writes Buffalo News political reporter Bob McCarthy, "said six of those appearing in the spot are dressed in 'Class B' uniforms of short-sleeved shirts emblazoned with 'POLICE' or the Police Department seal, and are identified as 'real Buffalo police officers.'"
There are strict rules governing police in uniform engaging in partisan political activity, and Adams believes the Brown ad violated them.
"This is not about the officers but about people who have power over those officers," Adams told McCarthy, suggesting Brown and police department leadership were ultimately responsible for any ethics violations in the ad.
"This is not an attack on the officers. If wrong was done, then it was done to them, too, because they were given bad guidance."
3. Last week, Buffalo-based journalist Justin Sondel — who teaches at Hilbert College, strings for the Washington Post, and contributes the occasional piece to Investigative Post — wrote a cover story for City & State about race between Walton and Brown.
At the center of Sondel's story is the tension between the Walton campaign and well-heeled real estate developers supporting Brown. Walton has been clear that she thinks the Brown administration has shown largesse to developers that the city cannot afford.
"We are not bringing in enough revenue to support city services as it is," Walton told Sondel. "So why is it that we give tax breaks to folks who don't really need them and allowing development to continue to happen on the backs of good, hardworking, taxpaying Buffalonians?"
— Geoff Kelly
---
Tuesday, Sep.28, 9:34 p.m.
Dos and don'ts of write-in voting
There are rules to follow if you want to vote for a write-in candidate. The rules are flexible, however, and take into account the voter's intent. 
For example, if you want to write in for Byron Brown, "B Brown" is probably OK. So is using a rubber stamp with the mayor's name. Then again, Buster Brown may not make the cut.
Justin Sondel's story details the dos and don'ts for voters. It also explains that the public may not know election night who won the race for mayor.  The mechanics of tabulating the votes of five write-in candidates – Brown isn't alone – could result in delays that could be days, or even longer if there are court challenges.
                                                                                                 — Jim Heaney
---
---
Tuesday, Sep.28, 10:17 a.m.
Sizing up the mayor's race
Dave Lombardo, host of The Capitol Pressroom, quizzed Jim Heaney on the campaign involving Byron Brown and India Walton in an interview that broadcast Tuesday. 
Heaney discussed polling data that shows the mayor in the lead, Brown's futile legal battle to win a line on the November ballot, and the campaign's key issues, starting with public safety.
Who will win? Heaney told Lombardo it depends on which candidate does a better job turning out their supporters, and whether city voters prefer change or the status quo.
The Capitol Pressroom is heard on about 20 public radio stations across upstate New York, including WBFO, which airs the program nightly at 8 p.m.
                                                                                                          — Jim Heaney
---
---
Sunday, Sep.26, 10:52 p.m.
Brown
'

s talking points, and other news

Last week, Deputy Police Commissioner Joseph Gramaglia and his wife, Sarah, hosted a fundraiser at their North Buffalo home for Byron Brown. 

A video taken at the event captured Brown giving a short speech in which he outlines "how much better" he is than Walton. (He jokes that it's not he, Brown, saying he's "better" than Walton; he attributes that claim to real estate broker Peter Hunt, who is in the audience.) He then hits three of his current talking points about Walton:
She will raise property taxes.

She will decrease funding to the police department.

She favors restorative justice practices, which Brown claims means "no jail time for rapists."
The first two claims are basically true. The third is not.
Walton has argued the city needs to increase revenue, and property taxes are the only certain revenue source over which the city exercises control. Brown has been reluctant to raise them. Instead, he's relied on the sale of city property, new fees and fines, and other schemes to boost revenue. When those have failed to produce revenue sufficient to meet rising costs, he's used the city's cash reserves to plug the resulting budget deficits — to the tune of more than $100 million over the past decade. 
Walton advocates reallocating money from the police budget to fund alternative public safety measures, as prescribed in a study released in May by the Partnership for Public Good. The police budget has grown at twice the rate of inflation since 2006, while other city departments have effectively been defunded — growing at just two-thirds the rate of inflation.   
The third claim is a misrepresentation of restorative justice — a concept Brown himself included in the package of police reforms he rolled out in response to last summer's street protests against police misconduct.
Here's Brown's pool-side address:
As we reported two years ago, the Gramaglias hosted a fundraiser for Brown in 2017, too. That event yielded at least $15,000, according to state campaign finance records. 
Brown, or course, was reelected that year, and soon elevated Joe Gramaglia to his current position as the department's second in command, running day-to-day operations. Sarah Gramaglia, a former prosecutor in the Erie County District Attorney's office — is frequently named as a candidate for a City Court judgeship.
In other campaign news from the preceding week:
Thursday evening's campaign activities included a fundraiser for Walton at the Eugene V. Debs Social Hall on Peckham Street, billed as a meeting of the LGBTQ+ community and allies. One of the evening's emcees, a drag performer named Vanna Deux, said she was fired that night from her regular gig at Club Marcella in retaliation for appearing at the event:
I lost my source of income because I hosted an event for @Indiawaltonbflo. I believe in this person to change the way this city is run. I regret nothing. However, if you have a couple extra dollars I could use it.

Venmo: @/tipvanna / PayPal: vannadeux@gmail.com

— very tired adult "woman" (@VannaDeux) September 24, 2021
At the same time, at the Augustin Olivencia Community Center a couple miles away, a faction of Latino community leaders gathered to convey their endorsement of Brown. At the end of August, a different faction of Latino leaders joined state Assembly member Jonathan Rivera in endorsing Walton.

 

Walton brought in a new campaign manager last week: Drisana Hughes, who is coming off the successful primary campaign of Alvin Bragg for Manhattan district attorney. She has also worked on the campaign of New York City Comptroller Scott Stringer and on the Biden presidential campaign in Colorado. Hughes takes the place of former campaign co-chairs Kartika Carr and DeJon Hall, who will continue to advise Walton. 

Sofia Quintanar, the Brown campaign's spokesperson, now describes herself as "Fmr Comms Director" for Brown — "Fmr" being shorthand for "former" — on her Twitter account. However, an email announcing Thursday evening's Olivencia Center endorsement event came from her campaign address. Neither Quintanar nor the Brown campaign have responded to inquiries about her status or requests for campaign updates for the past two weeks.
— Geoff Kelly
---
Thursday, Sep.3, 9:35 a.m.
Assessing Brown's track record on education
"Hands off" best describes Mayor Byron Brown's relationship with Buffalo public schools.
"The positive thing was, he was not involved. The negative thing was, he was not involved," James Sampson, former school board president, told Investigative Post's Layne Dowdall.
Most notably, the city has increased aid to the school district by only $500,000 during the mayor's 15 years in office. How much would Buffalo's school aid have increased if it just kept pace with inflation? $25 million.
Brown has made up a little of the difference by funding school-related programs, such as police officers in the schools and family support services provided by Say Yes to Education. But dollar-wise, it doesn't amount to much, about $2.3 million this year.
India Walton. who is running against Brown for mayor, wants City Hall to be more supportive, including a $20 million increase in direct aid.
Some say the district doesn't lack for money. The problem, they say, is a lack of effectiveness and accountability. Neither candidate is addressing that issue head-on, although Walton does speak of the need to change the city's culture around education. 
Our story includes a version done for our radio partners at WBFO.
— Jim Heaney
---
Tuesday, Sept. 21, 8:35 p.m.
Poll: Bad news for Walton, a few silver linings
A new poll of the Buffalo mayor's race found 59 percent of respondents would vote for Byron Brown if the race were today. 
Just 28 percent chose Democratic nominee India Walton, Brown's opponent. The remaining 13 percent said they were undecided.
The favorability ratings break Brown's way, too: 60 percent of those polled expressed a favorable opinion of Brown, compared to 27 percent for Walton. Brown's unfavorable rating was 27 percent, Walton's 48 percent.
There is nothing but bad news for Walton's campaign in those numbers. But there's much more to glean from this poll than its top-line conclusions.
Let's start with where it comes from. 
The poll was performed last Thursday and Friday, through a combination of surveys by text and automated calls to landlines, by a Kansas City political consulting firm called co/efficient. 
Prior to this poll, the firm worked for two Western New York clients, according to state campaign finance records: Lynn Dixon's campaign for Erie County executive in 2019 and Karen Healy-Case's primary race for Erie County Sheriff this spring.
Some common denominators between those campaigns: 
Both candidates were endorsed by the local Republican and Conservative parties.

Both employed political strategist Chris Grant of Big Dog Strategies, who appears to favor co/efficient as a subcontractor.

Both lost their races.
Healy-Case paid co/efficient $27,456 for help with fundraising, email outreach, and TV ads. She lost the June 22 GOP primary to John Garcia by 19 points.
Dixon's campaign paid co/efficient $9,968, most of that for a poll (or perhaps two polls) that showed Dixon in a "statistical dead heat" with Democrat Mark Poloncarz, the incumbent. She lost by seven points.
Last year, co/efficient — again working for a Republican campaign — got one wrong in almost identical fashion to the Dixon campaign. The firm declared a "statistical tie" between its employer, Republican Scott Milne, and Democrat Molly Gray in the 2020 race for lieutenant governor of Vermont. Gray beat Milne by seven points.
Last month, co/efficient broke out the same refrain, declaring a "statistical tie" in the race for Virginia governor between Democrat Terry McAuliffe and Republican Glenn Youngkin. Co/efficient's poll found McAuliffe had just a two-point lead over Republican. An average of major polling firms gave McAuliffe a lead greater than four points.
The polling and political news site FiveThirtyEight gives co/efficient a middling grade of B/C for reliability, based on an analysis of five polls the firm conducted, four of which the firm forecast correctly.
Walton supporters were quick to dissect shortcomings in the poll's demographics and look beyond those top-line numbers for rays of hope.
For example, Rob Galbraith of the Public Accountability Initiative noted that 40 percent of respondents were over 65 years old. People over 65 represent 12.4 percent of Buffalo's population. 
That's an overrepresentation of a demographic that heavily favored Brown in the primary, according to an analysis by geographer Russell Weaver, research director for the Cornell ILR Buffalo Co-Lab.
Weaver also noted that the co/efficient characterized its respondents as "likely voters," even though more than half of them admitted they had participated in two or fewer of the last four general elections.
"Unless the sample was mostly new registrants (unlikely given the age distribution), it's hard to believe it's a poll of 'likely voters,'" Weaver tweeted.
For Walton supporters, Weaver found a silver lining in the poll's cross-tabs: Black voters and young voters "have net positive favorables" on the question of Walton's democratic socialism, which the Brown campaign has made a foreboding theme in its messaging. 
Among voters under 35, 63 percent said Buffalo should elect a socialist mayor, 19 percent said it should not, and 17 percent were unsure.
Among Black voters, the result was murkier: 30 percent said yes to a socialist mayor, 27 percent said no, and a whopping 42 percent were on the fence.
Still, overall the Brown campaign's messaging on the "socialism" question seems to be working, at least on the 653 people who responded to this poll: 27 percent said yes to electing a socialist, 44 percent said no, and 29 percent were undecided.
The firm's president, Ryan Munce, told Investigative Post's partners at WGRZ News that he was not commissioned by any candidate or committee. The client is a third party, Munce said, which paid for polls in a number of municipalities and Congressional districts across the country. 
Munce did not respond immediately to Investigative Post's questions about the poll's methodology, who paid for it, and whether co/efficient worked with Chris Grant and Big Dog Strategies again on the contract. We'll update this article when and if he does.
Here's the poll: 
— Geoff Kelly
---
Tuesday, Sept. 21, 12:20 p.m.
Paladino promotes Brown's fundraiser
At the end of August, developer Carl Paladino told Investigative Post he was through supporting Byron Brown. Paladino called the four-term incumbent "a mope."
It appears he's had a change of heart. 
On Monday afternoon, Paladino circulated an email invitation to a fundraiser for Brown hosted by the owners of a restaurant in a building Paladino owns: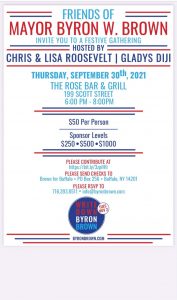 Paladino forwarded the invitation to his extensive personal email list. Several recipients forwarded Paladino's to Investigative Post.
After Brown lost the June 22 primary to India Walton, Paladino tried to rally support in the business community to sponsor Brown's write-in campaign. Brown then sought to distance himself from the controversial developer. Paladino stayed quiet all summer, until returning a call from Investigative Post at the end of August to unload a profanity-laced declaration that he would not back Brown and neither should anyone else.
The Rose Bar and Grill is owned by Lisa Roosevelt, a nurse at the Buffalo Psychiatric Center. She opened the place in 2019 in Ellicott Development's Fairmont building, the redevelopment of which was aided by the Brown administration's sale of two city streets to the company.
Lisa Roosevelt's husband and co-host, Chris Roosevelt, is a city employee. According to his online CV, he works as a purchasing and receiving agent for the Buffalo Water Authority, where state records show he will make $37,888 this year. He is also vice chair of the Buffalo Sewer Authority, a position appointed by the mayor that comes with a $2,500 annual stipend.
The third host, Gladys Diji, is Lisa Roosevelt's mother. Like her daughter, she is a nurse who worked many years at Buffalo Psychiatric Center. She currently works for D'Youville College.
Diji has donated $760 to Brown's campaigns in the past four years. Between them, the Roosevelts have given $150.
— Geoff Kelly
---
Monday, Sept. 20, 11:01 p.m.
An agenda for reform
Buffalo has more than its share of problems.
Yes, some pockets are doing well, but Buffalo is one of the nation's poorest, most violent cities. Too many kids graduate from our public schools with subpar reading, writing and math skills, which helps to explain our region's sluggish economy. And there's City Hall's political culture, whose ethics leave a lot to be desired.
What to do?
Jim Heaney outlined an agenda for change that published earlier this month in Buffalo Spree. His Outrages & Insights column is now posted on our website. Give it a read.
                                                                                                         — Jim Heaney
---
---
Monday, Sept. 20, 6:26 p.m.
Campaign news from assorted media outlets
We included coverage of the mayor's race produced by other media outlets in our newsletter Sunday. Here's a recap, starting with a  sew story posted Monday morning in City and State NY by Justin Sondel, an occasional contributor to investigative Post, including this story that published last week.
Justin's piece for City and State, written for a statewide audience, recaps developments since the waning days of the Democratic primary in June and brings us forward to today. Of particular interest are comments from Larry Quinn, a developer who is supporting Mayor Byron Brown, and India Walton, who articulates her intentions for development if she's elected.
The Intercept has also posted a story written from a broad perspective on the mayor's race. The story is based, in part, on reporting by Investigative Post and Rob Galbraith of the Buffalo-based Public Accountability Initiative. It's a good read that covers a lot of ground and connects a lot of dots.
A WGRZ story by Steve Brown took apart a Brown campaign commercial that claims India Walton's plan to redirect a portion of funding presently earmarked for the police department would result in the layoff of 100 police officers. Good fact checking.
And then there's The Buffalo News.
Rod Watson put Walton's proposed 3 percent tax increase into context. Watson's column appeared the day after  a News editorial took Walton to task for her proposed tax increase. In that editorial, The News repeated Brown's claim that the 3 percent increase in the tax rate would cost the owner of a house assessed at $100,000 an extra $300 a year. Wrong. The increase would come to $30. (The online version of the editorial had not been corrected as of this writing. That's six days and counting.) 
This is the same editorial board that in June advocated the elimination of  all minor parties from the ballot in New York state — voters should only have a choice between Republicans and Democrats — but then last week applauded Brown's placement on the ballot as a minor party candidate thanks to the errant rulings by U.S. District Judge John Sinatra and State Supreme Court Justice Paul Wojtaszek.
The paper's logic: only 20 percent of voters turned out for the June primary. Left unsaid: Brown won his 2013 primary with an identical 20 percent turnout. And no, The News in 2013 did not call for the primary loser to get another crack at Brown in the November general election.
On Monday, Bob McCarthy reported on a shake-up in the Walton campaign and her endorsement by April Baskin, chair of the Erie County Legislature. Her endorsement underscores how many of her counterparts on the Common Council remain on the fence, as reported by Deidre Williams, my former newsroom neighbor.
Note: Most of this post appeared in our newsletter emailed Sunday mornings. You can subscribe to the newsletter here.
                                                                                                — Jim Heaney
---
---
Thursday, Sept. 16, 10:32 p.m.
Brown's "Buffalo Party" is almost over
Thursday afternoon a state appeals court overturned a lower court's order instructing the Erie County Board of Elections to place Byron Brown's name on the Nov. 2 ballot.
Shortly afterward, a federal appeals court issued a stay on a parallel order by U.S. District Court Justice John Sinatra. 
The county Board of Elections is now free to certify the general election ballot — without Brown's name on it — and begin printing and mailing ballots to military voters overseas.
That means Brown's month-long effort to get his name on the ballot is all but over.
The U.S. Second Circuit Court of Appeals will hear arguments Friday morning. Eventually it will rule on whether to overturn Sinatra's order. 
If the Second Circuit follows the lead of the state appeals court — and the arguments before both panels are essentially identical — the Brown campaign's options narrow considerably. The mayor's last recourse to get his name on the ballot would be to ask the state Court of Appeals or the U.S. Supreme Court to intervene. Neither is likely to do so. 
Brown has been running a write-in campaign since he lost the June 22 Democratic primary to India Walton. Then, a month ago, he filed an independent nominating petition seeking to create a new ballot line — for the "Buffalo Party" — with his name on it as a candidate for mayor.
That effort was rejected by the Erie County Board of Elections because Brown submitted it nearly three months past the May 25 state deadline for such petitions. Brown sued in state and federal courts, arguing the deadline was unconstitutional. He won favorable rulings in both lower courts, but those rulings were appealed — in state court by the Walton campaign and in federal court by the Walton campaign and the county Board of Elections.
Yesterday's decision by the state's Fourth Department Appellate Division overturned the Dec. 3 ruling by state Supreme Court Justice Paul Wojtaszek. Wojtaszek's order mimicked an order issued earlier the same day by Sinatra, the brother of Nick Sinatra, a real estate developer and underwriter of Brown's political campaigns.
Brown's lawyers leaned heavily on the U.S. Supreme Court's ruling in an Ohio case involving the 1980 presidential candidacy of John Anderson. The Supreme Court found that Ohio's deadline for independent candidates to get their names on the ballot was prohibitively early and gave an unfair advantage to the candidates of the two major parties.
Brown's lawyers maintained the state's May 25 deadline was similarly prohibitive and arbitrary.
Lawyers for Walton and the county Board of Elections argued the Anderson case did not apply for numerous reasons. Anderson was a candidate for president, for one; at stake were national interests that transcended a single state's prerogative to run its own elections. 
Further, they argued, Brown had ample opportunity to create an independent ballot line within the deadlines proscribed by state election law. 
New York's election law, though sometimes byzantine, is "far more liberal" in its provisions for candidates who wish to pursue multiple ballot lines, including independent lines, Sean Cooney, an attorney for Walton, told the state appeals court during oral arguments Thursday morning.
Brown did not conceive he might lose the Democratic primary to Walton, so he made no backup plan to get on the ballot. Cooney argued Brown was not constitutionally guaranteed the right to reverse his own decision.
The court agreed. 
Brown "is far from the archetypal 'independent candidate' whose interests Anderson and its progeny seek to protect," the court wrote in its decision.
"[Brown] has been in elective office for the last 25 years, has served four terms as Mayor of Buffalo, and first chose to participate in the Democratic primary election in lieu of filing a timely independent nominating petition," the justices continued. 
"States are constitutionally permitted to preclude candidates who lose one primary election from subsequently running on another ballot line."
Here's the full text of the state appeals court's decision:

In a statement issued Thursday night, Walton praised the Fourth Department's decision as "an acknowledgement of the duly elected New York State legislature's right to set our political calendar." 
"If everyday Buffalonians are late on rent, parking fees, or school assignments, they face consequences," Walton said. "There is no reason the rules should not apply to my GOP-backed opponent as well."
                                                                                                         — Geoff Kelly
---
---
Thursday, Sep. 16, 12:52 p.m.
Podcast: Brian Nowak on democratic socialism
India Walton, the Democratic nominee for mayor of Buffalo, is a democratic socialist. She's endorsed by Democratic Socialists of America, a group that has endorsed leftists like U.S. Rep. Alexandria Ocasio-Cortez and U.S. Sen. Bernie Sanders, as well as centrist presidential candidates like John Kerry and Barack Obama.
Incumbent Byron Brown and his supporters have made great hay of that word, "socialist" — stoking fear by portraying Walton as a radical, conflating socialism with communism, and imagining Buffalo somehow being transmogrified into Cuba or Venezuela.
So what is a democratic socialist? How do democratic socialists govern differently from mainstream Democrats and Republicans? What does the label mean at the level of local government?
To answer those questions, we turn to Cheektowaga Town Councilman Brian Nowak.
Nowak is the only elected official in Western New York who identifies himself as a democratic socialist. He got involved in politics as a local organizer for Bernie Sanders campaign during the 2016 presidential race, then won a seat on Cheektowaga's Town Council in 2017. He's seeking a second term this November.
In today's Campaign Notes podcast, Nowak discusses the long history of democratic socialists in American politics as well as the policies and programs that originate with them — from publicly owned water and sewer systems and public banks to Social Security and municipal broadband.
Have a listen:
— Geoff Kelly
---
Thursday, Sep. 16, 8:20 a.m.
Federal appeals court stays order to put Brown on ballot
On Wednesday evening a federal appeals court issued a stay on a district court judge's order putting Byron Brown's name on the Nov. 2 ballot for mayor.
Brown has been running a write-in campaign for mayor since a week after he lost the June 22 Democratic primary to India Walton. In August, Brown filed an independent nominating petition seeking to create a new ballot line — for the "Buffalo Party" — with his name on it.
That effort was rejected by the Erie County Board of Elections because Brown submitted it nearly three months past the state deadline for such petitions. Brown sued in state and federal courts, arguing the state's deadline was unconstitutional. He won favorable rulings in both courts, but those rulings are being appealed — in state court by the Walton campaign and in federal court by the Walton campaign and the county Board of Elections.
Wednesday evening's stay suspends the order issued by U.S. District Court Judge John Sinatra, who some argued should have recused himself: The judge's brother, Nick Sinatra, is a prominent real estate developer and Brown supporter.
Last week a state appeals court stayed a similar order from New York State Supreme Court Judge Paul Wojtazek.
The stays hold until the federal and state appeals courts that issued them rule on the appeals. The federal Second Circuit Court of Appeals will deliberate on Friday. The state's Fourth Department Appellate Division will hear arguments today.
— Geoff Kelly
---
Wednesday, Sep. 15, 10:12 a.m.
Elections commissioners weigh in on Brown ballot lawsuit
Another party is seeking to join the state and federal legal fights over whether Mayor Byron Brown's name should appear on the Nov. 2 general election ballot.
The New York State Election Commissioners' Association has asked state and federal appeals courts for permission to file briefs arguing it shouldn't.
Brown has been running a write-in campaign for mayor since a week after he lost the June 22 Democratic primary to India Walton. In August, Brown filed an independent nominating petition seeking to create a new ballot line — for the "Buffalo Party" — with his name on it.
That effort was rejected by the Erie County Board of Elections because Brown submitted it nearly three months past the state deadline for such petitions. Brown sued in state and federal courts, arguing the state's deadline was unconstitutional. He won favorable rulings in both courts, but those rulings are being appealed — in state court by the Walton campaign and in federal court by the Walton campaign and the county Board of Elections.
The Election Commissioners' Association comprises appointed elections commissioners across the state.
"Any decision rendered in this case will have an effect on the operations of Boards of Elections throughout New York State," the association's lawyers wrote to the federal Second Circuit Court  of Appeals, which is considering whether to issue a stay on U.S. District Court Judge John Sinatra's ruling, which instructs the county Board of Elections to accept Brown's petition and put his name on the ballot.
The state's Fourth Department Appellate Court has already stayed a matching order issued by state Supreme Court Judge Paul Wojtaszek.
The association's lawyers maintain the courts should allow the association to submit briefs arguing why the state's deadlines are reasonable.
The requirements of state election law did not prevent Brown from getting his name on the ballot, they wrote: Brown decided in the spring to pursue only one path to the ballot — the Democratic primary — and that gamble failed.
"He stands in the shoes of a 'sore loser' not as 'a late emergent candidate' as described by Judge Sinatra," the association's lawyers wrote to the Second Circuit.
The state and federal appeals courts are expected to consider briefs from the parties to the appeals before the end of the week. On Friday, the county Board of Elections must begin mailing out absentee ballots to military overseas, per federal law.
— Geoff Kelly
---
Tuesday, Sep. 14, 9:39 a.m.
State of the city: fair housing law
Today Investigative Post launches a series of stories that, taken together, comprise a portrait of the City of Buffalo.
The first piece is by Justin Sondel, who looks at the city's enforcement of fair housing laws that protect renters against discriminatory practices.
Sondel reports the Brown administration has largely failed to apply the law to landlords in the city, prompting renters and fair housing advocates to seek relief from county and state laws, which offer renters more robust protections — and are actually enforced.
"The county process is really better," Deanna Eason, executive director of Housing Opportunities Made Equal, told Sondel. "It provides more protection for the city of Buffalo — not just the city of Buffalo, but for the county, obviously."
— Geoff Kelly
---
Monday, Sep. 13, 12:39 p.m.
Pot PAC formed to influence state cannabis program
Since the day after Byron Brown lost the Democratic primary in June, rumors have been flying that someone, somewhere, would form a political action committee to assist him in waging a write-in campaign.
Here at Investigative Post we've been diligently chasing down those rumors and checking filings with the New York State Board of Elections, looking for independent expenditures and newly formed committees with ties to the mayor.
This weekend we thought we may have found it: Equity PAC, registered with the state Board of Elections last Wednesday.
Turns out that's not what it is.
Investigative Post has been told the PAC was formed to promote racial and economic equity in the implementation of the state's new adult-use cannabis laws — causes championed by Assembly Majority Leader Crystal Peoples-Stokes. We're told Equity PAC will not be active in the campaign for Buffalo mayor or any other race this election season.
Equity PAC had the markings of a Brown-friendly PAC: Its mailing address is six doors down from the mayor's house. Further, it is the current address of two people with close ties to the mayor, according to voter rolls and campaign finance filings.
The first is Crystal J. Rodriguez-Dabney is chief of staff to the president of SUNY Buffalo State. Prior to taking her current job in 2018, Rodriguez worked for Brown for 10 years in City Hall.
The second is Phillip Dabney Jr., whom Brown appointed to fill a vacancy on Buffalo City Court last December. Dabney is running for a full term in November.
Dabney and Rodriguez-Dabney were married last September.  
Under state law, a PAC can raise money and direct it to other campaign committees. It cannot spend money directly on behalf of a candidate. It also cannot coordinate its activities with those of the candidates and committees it supports.
Last month, a rumor traveled through City Hall that Kevin Helfer, Brown's parking commissioner, would leave his post and form a PAC to assist in the mayor's reelection campaign. Helfer denied the rumor and is still in his job.
                                                                                                      — Geoff Kelly
---
---
Thursday, Sep. 9, 1:25 p.m.
Geoff Kelly discusses tonight's mayoral debate
Four candidates for mayor of Buffalo will square off in a debate at the Frank E. Merriweather Library tonight.
The leading candidates, of course, are four-term incumbent Byron Brown and Democratic primary winner India Walton.
Last night Investigative Post's Geoff Kelly briefed our partners at WGRZ on the other two — Democrat Ben Carlisle and Republican Sean "Jaz" Miles — and what to expect from them tonight. Both, like Brown, are running write-in campaigns.
The debate begins at 7 p.m. It's sponsored by the Buffalo Association of Black Journalists and WUFO 1080 AM/ Power 96.5 FM, which will broadcast the debate. The debate will also be streamed live on YouTube.
---
Thursday, Sep. 9, 9:57 a.m.
The state of the lawsuits, a Brown campaign commercial
Yesterday, the state's court of appeals issued a stay on New York State Supreme Court Justice Paul Wojtazsek's order, handed down last Friday, instructing the Erie County Board of Elections to put Byron Brown's name on the Nov. 2 ballot as the "Buffalo Party" candidate for mayor of Buffalo.
Lawyers for Brown's and Walton's campaigns will argue the matter before the state's Fourth Department Appellate Division next Thursday, Sep. 16 — one day before the elections board must mail out finalized ballots to military voters, by federal mandate.
The elections board disqualified Brown's petition creating the "Buffalo Party" ballot line for himself because it was submitted on Aug. 17, nearly three months past the May 25 deadline for such petitions. Brown's lawyers sued in state and federal courts, arguing the deadline was unconstitutional.
Brown won favorable rulings in both courts. The Walton campaign appealed both decisions.
The elections board is not party to the state appeal but has joined Walton in the federal appeal seeking to overturn U.S. District Court Justice John Sinatra's ruling. Sinatra's decision preceded and guided Wojtaszek's.
Yesterday, after the state appeals court granted a stay, Walton's lawyers asked the federal Second Circuit Court of Appeals to follow suit immediately.
Right now, her lawyers wrote in a letter to the court, the elections board had two contradictory court orders to follow: one instructing the board to put Brown's name on the ballot, another saying to leave it off until the legal arguments have been heard.
Meanwhile, the deadline for printing and mailing ballots to military voters looms. In light of that, Walton's lawyers have asked the Second Circuit for a decision by the end of next week.
As it stands, the Second Circuit has told Brown's attorneys to file their arguments against a stay by Friday, and Walton's lawyers to respond to those objections by Monday.
Also yesterday, Byron Brown's campaign dropped its first TV commercial, titled "Earn." The name derives from the mayor's opening line:
"I know that as we go forward, I have to earn your vote," Brown says to a couple dozen people, meant to look like a cross-section of Buffalo, seated in a circle in Centennial Park, with City Hall in the background.
Brown then makes some claims about his record: He claims credit for creating job opportunities, though he does not say what they are or how he made them; he says 22,000 children have participated in the city's summer reading program; he says 15,000 guns have been taken off the streets during his nearly 16 years as mayor; he says he has diversified the police force with new hires.
He does not mention India Walton or other candidates in the race.
— Geoff Kelly
---
Wednesday, Sep. 8, 2:56 p.m.
Ciminelli, Kaloyeros convictions upheld
This isn't about the mayoral campaign, but as long as we're focused this week on court doings, it's worth noting that a federal appeals court today upheld the convictions of Louis P. Ciminelli and Alain Kaloyeros for their role in the Buffalo Billion scandal.
The two schemed to rig the bid for the development of the SolarCity plant, as it was known at the time. Investigative Post first exposed the wrong doing in December 2014 and then-U.S. Attorney Preet Bharara subsequently launched an investigation.
Ciminelli, one of Gov. Andrew Cuomo's largest campaign contributors from Western New York, and Kaloyeros, who quarterbacked the Buffalo Billion program, were convicted on felony charges in July 2018. Kevin Schuler, a Ciminelli executive, took a plea to two felony charges, testified against his boss and avoided jail time.
Kaloyeros was sentenced to 42 months in prison, Ciminelli to 28 months. It was not immediately clear how soon they must report to prison.
                                                                                                  — Jim Heaney
---
---
Tuesday, Sep. 7, 4:51 p.m.
Board of Elections to appeal federal court ruling
The Erie County Board of Elections will appeal a federal judge's order instructing the board to put Byron Brown's name on the Nov. 2 ballot on a newly created "Buffalo Party" line.
The board will not appeal a state judge's affirmation of the federal judge's ruling. Both decisions were handed down Friday.
At a special hearing held this afternoon, the county's two elections commissioners split on the question of whether to join legal challenges to the courts' rulings.
Ralph Mohr, the Republican commissioner, opposed appealing the state decision. Mohr said India Walton's campaign could fight the state ruling if it wished, but the board should steer clear in order to preserve its impartiality.
Any vote taken by the board must be unanimous, so Mohr's opposition overruled Democratic commissioner Jeremy Zellner's vote in favor of appealing.
Mohr joined Zellner in approving an appeal of U.S. District Court Judge John L. Sinatra, Jr.'s order. Sinatra overturned the board's disqualification of Brown's independent nominating petition. The Brown campaign submitted that petition — creating the Buffalo Party line, with Brown its candidate for mayor — on Aug. 17, nearly three months after the May 25 deadline set by the state Legislature.
Walton's campaign is not named in the federal lawsuit. As a result, Mohr said, he feared an appeal by Walton's campaign might get mired in issues of standing. In the interest of the board of elections getting clear and expedited instructions, the board — which is named in the suit — should join the appeal.
Taking no action, Mohr said, risked making the board "acquiescent to public perception that this contest is being undertaken under two different sets of rules."
"I concur," Zellner said, then shot a look at Jeremy Toth, the assistant county attorney who represents the board of elections in court.
"I'm off," Toth said and left the room.
Speed is of the essence. The state deadline for finalizing the form of the general election ballot is this week, though Zellner noted the board can change the ballot and re-certify it later, depending on how the courts rule.
Military ballots must be mailed out the following week. If an appeals court reverses Sinatra and instructs the board to remove Brown's name from the ballot, it is possible the board would need to mail out replacement ballots.
It would be administratively difficult, Mohr said, though not unprecedented.
Someone asked the commissioners if the courts' rulings meant the board would have to accept petitions from other candidates seeking to get their names on the ballot, whether for mayor or any other office.
"As of now, there are no deadlines," Mohr said.
Indeed, at least two other write-in candidates, apart from Brown, are taking to court's ruling as license to do exactly that.
Ben Carlisle told Investigative Post Friday afternoon, after Sinatra's ruling, that he would consider passing a petition to be named the Libertarian Party candidate.
And William O'Dell of South Buffalo said at Tuesday's special hearing that the board of elections should allow a period of time for write-in candidates like himself, Carlisle and Jaz Miles to gather signatures and create their own ballot lines.
O'Dell also said that Judge Sinatra — brother of developer Nick Sinatra, a big Brown booster —  should have recused himself from the case.
— Geoff Kelly
---
Tuesday, Sep. 7, 7:56 a.m.
Judge Sinatra's conflicts
On Friday, U.S. District Court Judge John L. Sinatra, Jr. ordered the Erie County Board of Elections to put Byron's Brown's name on the Nov. 2 ballot as a candidate for Buffalo mayor.
That's bad news for India Walton, who beat Brown in the June Democratic primary. On Friday afternoon, Walton called Sinatra's decision "a travesty and a mockery of justice."
It's good news for the judge's brother, real estate investor and developer Nick Sinatra, the Republican developer who has been a political patron of the mayor for more than a decade.
Walton complained that Judge Sinatra should have recused himself, due to his brother's support for and close working relationship with the Brown administration.
Indeed, Nick Sinatra and his companies have donated at least $11,755 to Brown's campaigns, most recently $1,000 on June 7, according to state records.
That political support for Brown often has been repaid with what amounts to "special treatment" from City Hall.
The developer's cooperative relationship with the Brown administration included employing one of the mayor's top advisors, Peter Savage III — later chair of the Erie County Legislature — as his attorney of record. That employment ended when Savage became a City Court judge.
For all these reasons, Walton and her supporters argue, Judge Sinatra should have recused himself. A familial relationship with a person who stands to benefit from a judge's decision is reason enough for recusal, according to federal judicial guidelines.
HUGE conflict of interest: The federal suit against Erie Co Board of Elections to get Byron Brown on the ballot for mayor of Buffalo is being heard by John Sinatra, the brother of real estate developer Nick Sinatra, a major campaign donor and ally of Brown's. pic.twitter.com/PvDCUt6FFt

— Rob Galbraith (@RobGalbraithLS) September 1, 2021
But it's not just his brother. Judge Sinatra has his own, somewhat more tenuous ties to the Brown administration.
Between 2014 and 2017, Sinatra's former employer, the law firm Hodgson Russ, made many donations the Brown's campaign committee, according to state records.
Seven of those donations were attributed explicitly to Sinatra, along with other attorneys at the firm.
Those seven donations total $10,750. Brown's campaign finance disclosure filings do not indicate how much of that is attributed to Sinatra. These donations were made before a 2019 change in state law in 2019 requiring campaigns to spell out how much of a partnership's donation counted against the contribution limit of each partner — a law the Brown campaign rarely follows anyway.
There's more.
While employed at Hodgson Russ, Sinatra represented Rev. Richard Stenhouse of the Jeremiah Partnership in a federal racketeering lawsuit filed against Brown, the City of Buffalo and Stenhouse by a Cleveland development company, NRP Holdings.
NRP accused the city of canceling a housing project after the company refused to give a minority hiring consulting contract to Stenhouse.
Sinatra got Stenhouse released from the lawsuit in exchange for a reported $200,000 settlement. The case against Brown and the city was eventually dismissed, though a panel of federal appeals court judges wrote the case raised "troubling questions" about how the city operates.
In the questionnaire Sinatra filled out at the beginning of his confirmation process, he referred to the case under a list of pro bono  activities:
I also counseled a pastor involved in an alleged RICO case, including counseling him after his involvement as a party. Some of this work was at a discounted rate, and some was pro bono. I have spent several weeks on this matter.
At Friday's hearing, no attorneys for Walton or the Erie County Board of Elections asked for Sinatra's recusal. The judge himself raised the matter in court, saying some had suggested he should remove himself from the case. He said he could see no compelling reason to do so.
The Walton campaign has said it plans to appeal Sinatra's decision. The Erie County Board of Elections will hold a public hearing today to discuss whether it will do the same.
— Geoff Kelly
---
Friday, Sep. 3, 8:47 a.m.
County attorney: Brown is "a sore loser"
An assistant county attorney pulled no punches in court papers filed yesterday, describing Buffalo Mayor Byron Brown as "a sore loser."
The attorney, Jeremy Toth, is representing the Erie County Board of Elections, which last Friday disqualified Brown's last-ditch effort to get his name of the Nov. 2 ballot by creating a new line called the "Buffalo Party."
Brown filed the an independent nominating petition to create the party, naming himself as its candidate for mayor, on Aug. 17, nearly three months after the May 25 deadline. The county's two elections commissioners rejected the petition because it was late.
Brown's lawyers challenged the board's rejection in state and federal courts, arguing the state's May 25 filing deadline is unconstitutional. They say the deadline, which was set by the state Legislature in 2019, denied Brown — a four-term incumbent mayor who has also won election to the Common Council and the state Senate — fair and equitable ballot access.
In court papers, Toth argues that Brown had a fair shot at getting on the ballot. Brown could have created the "Buffalo Party" back in May, but did not because he assumed he would win the Democratic Primary. He lost, Toth writes, and now wants "another bite at the apple."
What Brown is seeking now is not fairness but "a constitutional right to preferential treatment," according to Toth.
Hearings are scheduled this morning for both the state and federal lawsuits.
When Toth calls Brown "a sore loser," he isn't simply being disparaging; he's using a legal term of art.
"A 'sore loser' candidacy is one in which an individual loses in a party primary and then seeks to run in the same election as an independent or minor party candidate," Toth writes, citing a federal case that defined the term.
Many states have laws to prevent "sore loser" candidacies, on the theory that general elections should be used to decide questions of government, not as a battleground for perpetuating "intraparty feuds" or to recapitulate decisions voters have already made.
New York does not have a "sore loser" law, though placing the deadline for filing an independent nominating petition before the primary election is intended to achieve the same end. If you want an independent line on the ballot, you must pursue that process before learning how you fared in a major party primary.
Toth notes that Brown has been running for office since the 1990s in a system that places the deadline for independent nominating petitions before the primary. Brown never noted a flaw in the system prior to this year. And Brown certainly has the know-how to work that state's election system.
"[Brown] had the resources, the capabilities and the awareness of election law to submit a timely independent petition," Toth writes. "He simply chose not to."
Toth goes on to list the evidence that Brown is a political professional, with professionals doing his political work for him. He cites Investigative Post reports detailing efforts to create the illusion of a grassroots uprising of support for Brown's write-in candidacy, as well as the Republican and Conservative party operatives who circulated his petition (scroll down to Aug. 19).
"These are not disparaging comments…for the sake of making disparaging comments," Toth writes, though one gets the sense he enjoyed his work.
"Byron Brown is a sore loser…he is not entitled to the same considerations the Courts have given to actual third-party candidates."
— Geoff Kelly
---
Thursday, Sep. 2, 9:14 a.m.
Hochul demurs, and other mayoral campaign notes
Yesterday a reporter asked Gov. Kathy Hochul if she would endorse a candidate in the race for Buffalo mayor.
"I'm not making any local endorsements," she said. "I'm not making endorsements at this time."
Hochul is in a tricky spot. Hochul is now head of the state Democratic Party. India Walton is the Democratic Party's nominee. Byron Brown is running against the party.
However, Walton is also supported by the Working Families Party and the Democratic Socialists of America. Both parties are strong downstate and support challenges to mainstream Democrats like Hochul. That's why they backed Walton over Brown. They'll probably back some downstate primary challenger to Hochul next year.
So, like her predecessor, Hochul has political cause either to appease or marginalize those parties. Appeasement is unlikely. Nothing will convince the left that Hochul — with her deep ties to the Democratic Party establishment and Andrew Cuomo; with her husband, the former federal prosecutor under George W. Bush, now a lawyer for the politically wired Delaware North Corp.; with her previous embrace of the conservative Democratic politics characteristic of this region — that she is one of them.
Marginalization isn't really an option, either. If she hopes to win (or avoid) a Democratic primary next year, Hochul needs to draw in those downstate regions where the DSA and WFP are most influential. That explains her choice of state Sen. Brian Benjamin of Harlem for lieutenant governor. Benjamin checks a lot of boxes: an Ivy League educated businessman, a child of immigrants, a party insider with plenty of credibility among downstate progressives.
Walton checks a lot of boxes, too. If nothing else, Hochul is an avid promoter of women in politics.
However, Hochul would benefit from a peaceable kingdom among Western New York Democrats when she pursues a full term next year. She probably can't have that. Jumping into the mayoral fray now, on either side, won't help matters.
Other mayoral campaign happenings this week:
Walton's campaign continues to hold small fundraisers across the city, including one downtown on Tuesday promoted by the Erie County Democratic Committee, and another Wednesday evening at a private home near Gates Circle.
On Tuesday, Walton received an endorsement from a coalition of Latino groups, including the Puerto Rican/Latino Committee and Pushing Latinos Forward. They join the county Democratic Committee, state Assembly member Jon Rivera, and five members of the city's school board in endorsing Walton inthe past two weeks.
A group called the Veterans for Byron Rally Committee held an event aboard the U.S.S Little Rock Tuesday afternoon to support Brown's write-in campaign. Both the mayor and developer Doug Jemal took part in the rally.
The mayor's campaign has not responded to Investigative Post's requests for information about campaign events and endorsements.
Write-in candidate Ben Carlisle has been added to next week's mayoral debate sponsored by WUFO Radio and the Buffalo Association of Black Journalists. Originally the debate had included just Walton, Brown, and Republican write-in candidate Jaz Miles. Carlisle successfully lobbied the sponsors to let him on the stage, arguing he'd declared his candidacy in early July and registered a campaign committee — something Miles has not done. The debate takes place at the Frank E. Merriweather Jr. Library on Thursday, Aug. 9 at 7 p.m. It will be broadcast live by WUFO on 96.5 FM and 1080 AM.
— Geoff Kelly
---
Wednesday, Sep. 1, 8:10 a.m.
Push polls abound
As Labor Day nears, so too does a deluge of campaign advertising. Most of it will be generated by the marquee races in this fall's election cycle: primarily Buffalo mayor and Erie County sheriff, with a sprinkling of ad dollars spent on the race for Erie County comptroller.
The themes in the advertising that will soon rain down upon us will be determined in part by "push polls." These are surveys designed to impart characterizations of the candidates by building those characterizations into the questions asked. Getting across those ideas — that a candidate is corrupt or saintly, capable or incompetent — is as important as how the person on the other end of the phone line answers the questions.
Campaigns prefer to call them "messaging" or "message-testing" polls, because they also measure how voters respond to themes that may or not make their way into advertisements and candidate talking points. (Also, it sounds better than "push poll.") However, inasmuch as these polls also promulgate the messages they're testing, they are push polls.
Our readers reported several push polls in the field in the past month.
At the beginning of August, several sources told Investigative Post they'd been on the receiving end of polls that pushed out unflattering stories about India Walton, the Democratic nominee for mayor of Buffalo. (Mostly these were distillations of stories that have already made headlines and newscasts since Walton won the Democratic primary in June.) If you knew these stories to be true, the poll asked, would you be more or less likely to vote for her in the fall?
That poll was clearly fielded by the Brown campaign or a supporting organization.
About a week later, there was a push poll benefiting the Walton campaign. The questions in the poll asserted that city government is "mired in corruption." Walton, on the other hand,  is "a proven leader," the poll's questions maintain, who "knows first-hand what families in Buffalo are facing."
The Working Families Party ran a similar poll for Walton before the primary election.
Most recently, sources described to Investigative Post a poll designed to benefit Kim Beaty, the Democratic nominee for Erie County sheriff. Sponsored by a group called Moms Demand Action for Gun Sense in America, the poll asked respondents what they thought of candidates for law enforcement jobs who indicated they'd be selective about which laws they would enforce.
This is a reference to right-wing candidates for sheriff who say they will not enforce the SAFE Act — the state's gun ownership and safety regulations — in Erie County. Republican nominee John Garcia hasn't actually taken that position, nor has independent candidate Ted DiNoto. Conservative Party nominee Karen Healy-Case has, but she's no longer campaigning for the office, after losing the GOP primary to Garcia.
The poll also planted questions in the heads of respondents about John Garcia's endorsement by Tim Howard, the departing sheriff, whose management of the jails has generated significant controversy.
The results of these polls will never be released to the public. But we may get an inkling — what messages worked, what didn't — when the TV and radio advertising dollars start flowing later this month.
— Geoff Kelly
---
Tuesday, Aug. 31, 7:20 a.m.
State, federal judges to hear Brown lawsuits Friday
A state judge will hear arguments from lawyers for the Erie County Board of Elections, India Walton and Byron Brown this Friday to decide whether Brown should appear on the Nov. 2 general election ballot as the "Buffalo Party" candidate.
The Brown campaign filed an independent nominating petition two weeks ago to create the ballot line. The deadline for filing such petitions was May 25.
The board of elections disqualified the petition on Friday. (Scroll down to read more about that.) The next day, the Brown campaign filed a lawsuit challenging the board's decision.
Per an order to show cause issued yesterday, the parties will appear virtually before State Supreme Court Justice Paul Wojtaszek on Aug. 3 at 11 a.m. Assistant Erie County Attorney Jeremy Toth will represent the board of elections. Manhattan election law specialist Jerry Goldfeder will represent the Brown campaign.
Meanwhile, the Brown campaign has also filed a suit in federal court challenging the board of elections ruling. The federal suit will be heard before U.S. District Court Judge John Sinatra. The hearing is currently scheduled for Friday, Aug. 3 at 10:30 a.m. — just a half hour before the hearing in state court.
The Brown campaign has employed a separate team of lawyers for each suit. Toth represents the board of elections in both actions.
— Geoff Kelly
---
Sunday, Aug. 29, 10:22 p.m.
Brown vs. the Board of Elections
On Friday, the Erie County Board of Elections' two commissioners tossed out Mayor Byron Brown's independent nominating petition, by which the mayor hoped to get his name on the Nov. 2 general election ballot.
Brown has been pursuing a write-in campaign since losing the primary in June to India Walton. Right now, Walton's is the only name that will appear on the ballot. The petition sought to create a "Buffalo Party" line, with Brown as its candidate. 
The petition's "fatal flaw," to use the legal term of art: The deadline for independent nominating petitions was May 25. Brown filed his petition on Aug. 17 — almost three months late.
The board's two commissioners, Republican Ralph Mohr and Democrat Jeremy Zellner, heard arguments Friday from attorneys representing both campaigns. 
Buffalo attorney Sean Cooney, on behalf of the Walton campaign, made a pretty simple case: The law is clear and the election calendar as set by the state Legislature is immutable, therefore the petition was dead upon arrival. He noted the commissioners, back in the spring, ruled Walton off the Working Families Party line — even though she was the party's endorsed candidate — because her campaign missed a filing deadline by a day. The same strict enforcement of deadlines must be be applied to Brown, Cooney argued.
Appearing on behalf of the mayor was Manhattan attorney Jerry Goldfeder, an election law specialist. Goldfeder argued the elections commissioners had no power to rule on the validity of Brown's petition. That's "the court's job," he said.
Further, Goldfeder argued, the state legislature's decision to change the deadline for filing independent nominating petitions was unconstitutional. That question, too, should be determined in court, Goldfeder maintained, not by the elections commissioners.
Those were Jerry Goldfeder's positions Friday. 
The Jerry Goldfeder of 2012 — author of "Goldfeder's Modern Election Law," a 156-page handbook for aspiring candidates — might disagree.
In his book — Chapter 3, Section A, titled "Timing is Everything" — Goldfeder acknowledged that the state legislature is empowered to set the election calendar. The "prescribed dates are strictly enforced," he wrote, and candidates "must file petitions timely."
In a footnote, Goldfeder cautioned that case law works against challenges to the legitimacy of filing deadlines. He also contradicted the arguments he made at Friday's hearing about what the Board of Elections can and cannot do, as well as the role of the courts:
A legion of cases stands for the proposition that Boards of Elections have properly disqualified petitions that are postmarked or delivered untimely. There is no latitude by the Board … Furthermore, courts have no discretion to alter this rule.
Nonetheless, on Saturday, Goldfeder filed a lawsuit on behalf of Brown versus the county Board of Elections, advancing the same arguments he made at Friday's hearing.
Meanwhile, the Walton campaign has been vetting the petition's 257 pages, which contain more than 3,000 signatures. In the event a judge agrees with Goldfeder about the filing deadlines, Walton's lawyers will try to demonstrate more than three-quarters of those signatures are invalid under the law.
The vetting requires checking for duplicate signatures, verifying voter registrations and addresses, and analyzing handwriting. 
It also includes cross-referencing the thousands of signatures on Brown's "Buffalo Party" petition with all previously filed petitions for the mayor's race. Under state law, a voter can only sign one nominating petition per office, per election cycle. 
So, if you signed for Brown the Democrat last spring, you can't sign for Brown the "Buffalo Party" candidate in August.
Case in point: South District Council Member Chris Scanlon.
Scanlon — who has been helping to organize Brown's write-in effort in South Buffalo — signed Brown's "Buffalo Party" nominating petition on Aug. 12 on a page circulated and witnessed by his wife.
However, Scanlon also signed the Brown's Democratic Party nominating petition on March 13.
The earlier signature counts, under state law. The second signature is invalid.
                                                                                                      —Geoff Kelly
---
---
Thursday, Aug. 26, 10:27 p.m.
A law firm casts its lot with India Walton
On Wednesday evening, Hogan Willig became the first law firm to throw its support behind India Walton in the race for Buffalo mayor.
Corey Hogan, the founding partner, told the 30 or 40 gathered behind the firm's Summer Street office that he'd received "a lot of pushback" on his decision to host the event, which was a fundraiser for Walton's campaign.
The reason he and his firm did so, he said, was to provide people a chance "to get enlightened about what she can do to improve our city."
He praised those present as "brave" for attending.
The attendees included Betty Jean Grant, a former Erie County legislator and 2017 candidate for mayor. Grant, a Walton supporter, live-streamed part of the event on Facebook. There were attorneys representing a number of downtown firms and some nonprofits, a music executive, a filmmaker, some community activists. Also on hand was Nate McMurray, the former Congressional candidate, who joined Hogan Willig earlier this year. McMurray has promoted Walton on social media platforms. He told Investigative Post he'd convinced his new bosses to host Walton.
Billed as a "meet and discuss" event, it was also a fundraiser with a $100 ticket price. The firm offered to cover admission for anyone who could not afford it.
In an email invitation to the event, Hogan wrote:
I know one of the elephants in the room is concern over "socialism" and what it actually means. My hope would be that this is discussed with India. I am reminded that six (6) of the "10 happiest countries in the world" have governments based on many of its principles. 
Walton arrived late, delayed at a meeting of the Erie County Democratic Party's city committee members, who formally conferred their endorsement on her.
When she spoke, it wasn't about democratic socialism.
She began to describe how unlikely was the path that led her from single motherhood at age 14 to being the Democratic nominee for mayor, in the backyard of a high-profile law firm, collecting checks and volunteers.
"I don't know you," she said, before thanking Hogan for hosting. "I don't know anyone, so I don't owe anyone."
Her speech was brief, maybe five minutes — a good thing, considering the humidity. She didn't spend it expanding on policy positions, opting instead for a mission statement: "to make a healthier and more safe Buffalo."
How does Walton, who is pursuing her first elected office, propose to achieve those goals?
"By using all the policies my intelligent friends have proposed for the past 10, 15, 20 years," she said.
"That the barrier to progressive change has been coming from the second floor of City Hall is not only egregious, it is unacceptable…and it's gone on far too long."
Prior to the event, some right-wing activists accused Hogan Willig of hypocrisy. The firm represented parents  opposed to COVID restrictions in public school districts — a largely conservative and libertarian pool of clients. Now, the right-wingers complained on Facebook, the firm's partners were embracing a mayoral candidate on the opposite end of the political spectrum.
Some discussed attending and disrupting the event. None did.
—Geoff Kelly
---
Thursday, Aug. 26, 1:34 p.m.
No valentines for Hochul from Paladino
Byron Brown wasn't the only political figure Carl Paladino trashed in a Monday afternoon phone call to Investigative Post.
The sometimes abrasive and often profane developer also lit into Kathy Hochul, who was still a day away from becoming governor. 
"The Buffalo News is writing her up as if she's some kind of goddess, when she's a [expletive] idiot," he said.
Paladino was particularly incensed by Hochul's willingness to extend the state's moratorium on evictions, which has been in place since last summer's COVID lockdowns. The moratorium is due to expire at the end of this month. Hochul has called for faster disbursement of federal rental assistance dollars as the expiration date approaches. 
"She's going to extend it," he said. "We got word of that this morning. That's how bad this [expletive] woman is. We've got tenants that haven't paid rent in a year. And she wants to extend it. She's a [expletive] idiot."
This reporter tried to draw out Paladino on internecine conflicts within the local Republican and Conservative parties, in which Paladino wields significant influence. Divisions along those usually united fronts surfaced around the GOP primary for sheriff, in which an unendorsed candidate, John Garcia, was victorious over Karen Healy-Case, who had the endorsement of both parties. 
Paladino demurred from airing that political laundry — almost. 
He directed a dig at Karl Simmeth, the Erie County GOP chairman. He described Simmeth as a puppet for Nick Langworthy, the state GOP chair who preceded Simmeth as county chair.
"Karl Simmeth? I think he's just a nobody," Paladino said. "You know, he takes his instructions from Nick."
                                                                                         —Geoff Kelly
---
---
Wednesday, Aug. 25, 2:01 p.m.
Exclusive: Paladino disavows Brown
Carl Paladino didn't take kindly to Byron Brown trying to distance himself from the outspoken developer in the days following the June 22 primary for mayor. After stewing about it for weeks, Paladino unloaded on the mayor in an interview Monday with Geoff Kelly. He called Brown a "mope" and advised voters to sit out the Nov. 2 election.
Paladino likewise said many business people he knows are sitting out the campaign. He intends to do the same. Moreover, Paladino said while he has little regard for India Walton, she does not pose a threat to development in the city.
                                                                                                 — Jim Heaney
---
---
Wednesday, Aug. 25, 6:21 a.m.
Poll: Older voters favor Brown, younger support Walton
Candidate Byron Brown, running a write-in campaign for a fifth term as Buffalo mayor, had a very good day Aug. 12. Census numbers revealed Buffalo's population has risen by 17,000 people since 2010, the first growth since 1950.
That same day, a poll conducted by Emerson College on behalf of WIVB-TV showed Brown with a 10-point lead among likely voters over the Democratic nominee, India Walton.
A little over 50 percent of voters polled said they'd vote for Brown if the election were held today. A little over 40 percent said they'd vote for Walton. Just under 8 percent hadn't decided, and just under 2 percent said they'd vote for someone else.
Walton had a slight edge among African-American voters, while Brown led among white, Hispanic and Latino voters. Brown had a strong lead among male voters (54 percent to Walton's 40 percent, with less than 5 percent undecided) and a more tenuous edge among women (47 percent to 41 percent, with 10 percent undecided).
Walton registered a significant lead among younger voters. Respondents 18 to 34 years of age favored her over Brown 56 percent to 38 percent, with less than 5 percent undecided.
According to geographer Russell Weaver, director of research at the Cornell ILR Buffalo Co-Lab, Walton's lead among younger voters was reflected in the results of the June primary, when Walton beat Brown by about 5 percent of the vote.
Weaver, who in a previous life was a staffer for the Buffalo Common Council, has analyzed the primary turnout and results. He's also been breaking down the region's new Census numbers.
By comparing the two data sets, he's uncovered such possibly-useful gems as this: 64 percent of voters in the June primary were renters, rather than homeowners. And Weaver estimates Walton won 61 percent of that vote.
Younger voters turned out in higher than usual numbers in the primary, according to Weaver.
"Those younger voters definitely swung toward India Walton," he said.
Weaver discussed his findings and the Emerson College poll in a recent episode of The Square. (That's a highly recommended podcast for the local politics junkie.) He allowed the poll was bad news for the Walton campaign, but suggested there were reasons to question its findings.
For one thing, two-thirds of the voters sampled by Emerson College were over 35, meaning they fell inside the demographic were Brown performed best in the primary. Those polled also expressed antipathy toward "socialism," a high opinion of Buffalo's police department, and a rejection of the "defund the police" movement. This demographic pool is unlikely to favor India Walton.
"The numbers are definitely skewed by who's participating in [the poll]," Weaver told the podcast's hosts.
Likely the poll sample leaned older because older people are generally more likely to participate in polls, Weaver said. Reputable pollers like Emerson College aim to reach participants by an equal mix of mobile phones as well as landlines, Weaver said, in order to capture younger voters who don't use landlines. But landlines tend to yield more participants, making poll samples older.
Weaver offered this specific example.
The Emerson College pool showed Brown with a whopping 3-to-1 lead over Walton among Latino and Hispanic voters.
Among the 87 voters polled in that category, 60 were over 35. That's nearly 75 percent.
"And half of them didn't vote in the primary," Weaver said.
Older and stayed at home in June — the very model of a Brown supporter, according to the Emerson College poll.
While the poll should ring a lot of warning bells for Walton's campaign, Weaver said there's reason to be skeptical of its results. If the Walton campaign can succeed in turning out a younger-than-usual demographic of voters on Nov. 2 — as it did in the June primary — then the race will be much closer than the Emerson College poll suggests.
"My internal modeling puts the race at a coin flip right now," Weaver said.
 — Geoff Kelly
---
Monday, Aug. 23, 9:55 p.m.
Hochul a prolific fundraiser
We interrupt our coverage of the mayoral campaign to discuss our new governor, Kathy Hochul, who is scheduled to take office just after midnight. We looked into her donors the past four years, which includes her run for lieutenant governor in 2018.
Our Money in Politics found she's raised a lot of funds since 2017, some $4.4 million. Many of her donors are high rollers: 58 contributed a total of at least $20,000, and 354 gave at least $5,000. 
There are some notable names in the donor list, including relatives, developers and companies and unions that do business with the state. We name the biggest of them.
Our post includes a podcast with Geoff Kelly and Ken Kruly discussing Hochul's campaign finances, her prospects for election next year, and several ongoing local races, including that for mayor of Buffalo.
                                                                                                              — Jim Heaney
---
---
Monday, Aug. 23, 2:23 p.m.
Mayor looking to South Buffalo for support
Byron Brown is looking to South Buffalo for support, as reported by Steve Brown of WGRZ.
Why South Buffalo, not exactly a bastion of liberal voters? 
Well, it's home to a lot of city employees, including police and firefighters. It's been that way since the days of Jimmy Griffin, through the mayoralty of Tony Masiello, and, for the past 15 years, Byron Brown.
Most city employees are protected by Civil Service rules and therefore do not risk losing their jobs if Brown is defeated in November by India Walton. Political appointees who serve at the pleasure of the mayor, including department heads, could lose their jobs, however, as our Geoff Kelly told WGRZ.
Brown beat India Walton in the South District in the June Democratic primary, 1,244 votes to 733, but turnout was poor. In the 2017 primary, nearly twice as many South Buffalonians voted. That year Mark Schroeder beat Brown 3,193 to 779 in the South District. 
In fact, Brown has lost the South District in three of his five Democratic mayoral primaries. The only times he's won the district — this year against Walton and in 2013 against Bernie Tolbert — was when he faced African-American challengers and turnout was low.
                                                                             — Jim Heaney & Geoff Kelly
---
Sunday, Aug. 22, 9:10 p.m.
The Brown-Paladino connection. It's real.
Byron Brown was getting blowback from Carl Paladino's vocal call for the mayor to stage a write-in campaign after losing the Democratic primary in June. The mayor's response was to say he didn't want Paladino's support and to declare the two "are not close."
It depends on what you mean by "close." Close personal friends? No. But as Mark Scheer reports today, the two have enjoyed a mutually beneficial working relationship for years.
Brown has supported many of Paladino's development projects, showing favoritism at times, and brought one of Paladino's close associates into his inner-circle in City Hall. In addition, Paladino and his companies have contributed to Brown's campaign committees, which in turn have spent money to rent Paladino properties to host fundraisers.
It's been a 'You scratch my back, I'll scratch yours" relationship. Which is all fine and good — Brown has similar relationships with other developers and other corporate interests — but don't pretend otherwise when it comes to Paladino. 
                                                                                                        — Jim Heaney
---
---
Friday, Aug. 20, 7:40 a.m.
Fill in the blank: other candidates for mayor
India Walton's primary win over four-term incumbent Byron Brown cracked open the hermetically sealed world of local politics. Abhorring a vacuum, others naturally have rushed in, joining Brown in declaring themselves write-in candidates for the office of mayor.
Most of these are social media gags, offered in jest or protest, and then gone. One fellow made up a few signs and planted them here and there downtown. 
One stumbling block: His signs indicate he lives in Cheektowaga.
Two candidates have gone to the trouble of formally registering campaign committees with the state Board of Elections, as required by law if one intends to raise and spend money on a race. 
The first is Ben Carlisle, an attorney for the downtown firm of Williams and Williams, which specializes in defending clients against workers' compensation claims. Carlisle, who lives on the Lower West Side, presents himself as a "rational alternative" to "the false choice of four more years of Byron Brown or a four year experiment of socialism and defunding the police," as he characterizes Walton's platform on his newly launched website.
Carlisle's website features some pretty entertaining videos of the candidate explaining why he's running. In one he jumps off a low roof into a pool; in another he throws a television from the top of a higher roof. He has a platform page, too, which explains why, after initially taking part in last summer's police accountability protests, he was turned off by the anarchy and property destruction that ensued, and stopped identifying as a Democrat. 
His policy proposals are not as specific as India Walton's, but he does offer some ideas — unlike the incumbent Brown, whose webpage comprises a photograph, some slogans, and links for donating and volunteering.
Carlisle will kick off his candidacy today, Aug. 2o, at 5pm in front of City Hall. There will be an after-party and fundraiser at Deep South Taco.
The other write-in candidate with a bona fide campaign committee is William O'Dell, a South Buffalo Republican. He's a sports booking manager for Seneca Niagara Resort and Casino.
O'Dell's candidacy does not offer the production values of Carlisle's, at least not yet. He's got a Facebook page, has started distributing signs, and told Investigative Post Thursday night that he's almost "ready to start rolling."
South Buffalo has not been kind to Byron Brown in past elections, but its considerable population of police, fire and other municipal employees have been organizing furiously for the mayor's write-in effort all summer, with the help of South District Council member Chris Scanlon. 
Still, most of the support that crew has been organizing are votes against Walton, not driven by love of the incumbent. Any votes O'Dell draws will be peeled away from Brown's potential base of support there.
— Geoff Kelly
---
Thursday, Aug. 19, 6:26 p.m.
Geoff Kelly updates WGRZ on campaign developments
Appearing on Channel 2's Town Hall broadcast, Geoff discusses his reporting posted earlier in the day that found GOP operatives played a major role in Byron Brown's effort to collect petition signatures in an effort to gain on line on the Nov. 2 ballot. (See story below.) Geoff also fact-checked the mayor's claim that voter turnout in June was the lowest ever for a mayoral primary. That claim is false: the lowest turnout was in 2013, when Brown defeated Bernie Tolbert.
                                                                                                       — Geoff Kelly
---
---
Thursday, Aug. 19, 12:09 a.m.
Byron Brown's "Buffalo Party" 
Buffalo Mayor Byron Brown, a lifetime Democrat, has signaled his willingness to accept Republican support for his write-in campaign against Democratic nominee India Walton in the Nov. 2 general election.
And he's got it. 
The independent nominating petition he turned in to the Erie County Board of Elections Tuesday tells the tale: Among those gathering signatures last week in an effort to get Brown's name on a ballot were suburban Republican Party officials, Conservatives, and at least one member of the region's robust community of right-wing extremists.
In fact, nearly one-third of the signature pages Brown turned in Tuesday were carried by members of right-leaning parties — most of them Republicans, most of them residing outside the city.
As it stands today, only Walton's name will appear on the Nov. 2 ballot. Because Brown, the incumbent, lost the Democratic primary in June, and didn't pursue any other party nominations, his only recourse is a write-in campaign. 
However, earlier this week, Brown indicated he would try to create a new party line by filing an independent nominating petition. The deadline to do that was back in May, before the primary, but the Brown campaign has said it will challenge that deadline in court. 
Thus, Tuesday's petition, aiming to create what the Brown campaign is calling the "Buffalo Party." The petition comprises 257 pages containing more than 3,000 signatures — far beyond the 750 signatures required. All were gathered over five days last week, according to the witnesses who gathered them and swore to their authenticity.
And who were those witnesses? According to the Walton campaign, 72 of those pages bear the signatures of registered Republicans. Nine pages were carried by registered Conservatives, one by a member of the right-leaning Independence Party and one by a member of the Libertarian Party. The witnesses to 18 more pages appeared to be unaffiliated with a political party or unidentifiable. 
The remaining 156 pages were carried by Democrats.
Among the Republicans and right-wingers:
Democrats carried and witnessed 156 pages of signatures. Among these were numerous City Hall employees, many of them members of Brown's cabinet and executive staff. 
These included Donna Estrich, the finance commissioner; Kevin Helfer, the parking commissioner; Brendan Mehaffy, the director of strategic planning; Gladys Herndon-Hill, the human resources commissioner; Michael Marcy, the director of intergovernmental affairs; Michael Seaman, the city treasurer; Jessica Smith, a top aide in the mayor's office; Mike Finn, the public works commissioner; and Oluwole McFoy, the not-very-transparent chief of the Buffalo Sewer Authority.
A spokesperson for the Erie County Board of Elections told Investigative Post Wednesday that the board's two commissioners — one Democrat, one Republican — had yet to set a date to evaluate the petition. Under state law, the deadline for filing a petition to create a party line for the November ballot was May 25. The Brown campaign cannot mount a legal action to challenge that deadline until the Board of Elections rules, the spokesperson said.
The Brown campaign declined to comment on this story.
The Walton campaign released a staement in response to Brown's filing Thursday afternoon.
"Not content merely to hold Democratic voters in contempt, Byron Brown has apparently now seen fit to throw New York State election law in the trash as well," Walton spokesperson Jesse Myerson said.
"While Brown and his Republican supporters don't think the rules apply to them, we are confident that this desperate gambit will fail as badly as his primary campaign did, that the rules will stand, and that the voters will conclude once again that it is time for a change."
–Geoff Kelly
---
---
Wednesday, Aug. 18, 1: 57 p.m.
Fact-check: Was mayoral primary turnout a "record low"?
On Tuesday afternoon, Byron Brown's campaign filed an independent nominating petition with the Erie County Board of Elections, seeking to create a new ballot line for Brown in the Nov. 2 general election.
Brown, the four-term incumbent, launched a write-in campaign at the end of June, a week after losing the Democratic primary to India Walton. Because he lost the primary and did not seek the nomination of any other party, Brown won't appear on the ballot.
The filing deadline for independent nominating petitions is long past, but Brown told reporters his campaign will mount a legal challenge to that deadline. 
Brown's argument: The deadline used to be mid-August and still should be. 
The counter-argument: The deadline was changed because the primary elections moved to June. Independent nominations have always been due before primary day, which is why the deadline was in May.
Among the rationales offered by the Brown campaign for both the write-in campaign and the belated effort to create a ballot line — which would be called the "Buffalo Party" — is a persistent claim that begs for a fact-check.
"Due to the record low turnout during the Democratic primary, we felt it made sense to pursue this avenue to make sure every voice in Buffalo is being heard," Sofia Quintanar, Brown for Buffalo's communications director, told The Buffalo News. 
The claim that turnout in the June primary for Buffalo mayor was the lowest ever is not true. Turnout was bad in June, but it was worse in Brown's 2013 reelection campaign.
This year, 23,439 ballots were cast in the Democratic primary for mayor. 
In 2013, when Brown beat Bernie Tolbert on the way to winning his third term, there were 23,018 votes cast. That was the record low.
In both cases, turnout was 20 percent.
For those of you who like picayune detail, there were more votes discounted as "blank, void or scattering" in 2013 than there were this year, too: 421 were discounted in 2017, compared to 323 this past June, according to Erie County Board of Elections records.
                                                                                                       — Geoff Kelly
---
---
Wednesday, Aug. 18, 6:08 a.m.
Staff changes at Brown and Walton campaigns
Both Byron Brown and India Walton made changes and additions to their campaign personnel in the last month, as each prepares for what are likely to be an intense 11 weeks leading to the Nov. 2 general election for mayor of Buffalo.
Walton beat Brown in the June Democratic primary with a volunteer crew, many of them new to electoral politics, with professional guidance from the Working Families Party. That model continues into the general election.
However, Walton's primary campaign manager, Courtney Friedline, has stepped out of that role. She is replaced by two local co-chairs: Kartika Carr and De'Jon Hall. 
Carr was until recently an organizer for VOICE-Buffalo, a 25-year-old social justice organization comprising clergy, labor, and community representatives. She's also the owner of Khari's Cafe, a West Side juice bar and coffee shop.
Hall, an attorney, is former director of the MOCHA Center. He is a past member of the Buffalo Police Advisory Board, which holds community meetings and prepares policy briefs on policing issues, reporting to the Common Council's Police Oversight Committee.
Walton has also replaced Seamus Gallivan as communications director, though Gallivan will continue to coordinate campaign events and activities. Taking his place is Jesse Myerson, a New York City-based freelance journalist for publications including The Nation, Rolling Stone, The Intercept and The Washington Post. Over the past decade he's been a community organizer for a long list of progressive causes and organizations. Most recently he was director of communications for New York City Council candidate Jaslin Kaur.
Brown barely ran a primary campaign, a strategy most observers attribute to Deputy Mayor Betsey Ball. Taking the reins from Ball for the general election is Conor Hurley, who has an impressive resume in mainstream Democratic Party politics. Hurley has managed campaigns for Hartford, Conn., Mayor Luke Bronin and former Tallahassee, Fla. Mayor Andrew Gillum. He managed the 2016 reelection campaign of U.S Sen Richard Blumenthal (D-Conn.) and the unsuccessful Congressional campaign of Florida Democrat Kristen Carlson.
Until the primary campaign, and even after, all Investigative Post's campaign-related questions were fielded by Brown's City Hall spokesman, Mike DeGeorge. For the general election, the Brown campaign has hired Sofia Quintanar of Brooklyn, whose last job was deputy press secretary for New York State Attorney General Letitia James. Her appointment notwithstanding, the Brown campaign has not responded to Investigative Post's inquiries in the past month.
                                                                                                          — Geoff Kelly
---
Tuesday, Aug. 17, 4:26 p.m.
Democratic fundraising site boots Byron Brown
ActBlue, the national online fundraising site for Democrats, has taken down Mayor Byron Brown's donations page in response to a social media campaign waged by supporters on India Walton. Walton, of course, beat Brown in the June Democratic primary. She will appear on the Democratic Party line on Nov. 2, while Brown, the incumbent, is running a write-in campaign. 
Last Wednesday, Walton supporters began tweeting at ActBlue arguing the site should not abet Brown's effort to defeat the endorsed and nominated Democrat in the race. They pointed out that Brown is apparently the beneficiary of local GOP support in his write-in effort.
Hey, @byronwbrown: did you notify @actblue, a platform that fundraises specifically for Democrats, that you are running a non-party write-in campaign against the person who currently owns the Democratic ballot line in November? I bet they'd be interested to hear that. pic.twitter.com/UAMBNPXtKN

— Adam Bojak (@AdamBojak) August 11, 2021
Apparently ActBlue agreed. By Thursday the donation tabs on Byron Brown's campaign website no longer linked to an ActBlue page, though the page still existed. By Monday Brown's ActBlue page had vanished.
A spokesman for ActBlue told Investigative Post the site has a policy against raising funds for candidates challenging "a Democratic nominee in a partisan race." The spokesman said Brown's donations page should have been closed as soon as Walton's primary win was certified. He called the failure to do so "an internal error" and said ActBlue was "working with the [Brown] campaign to transition them off of ActBlue." The Brown campaign has not responded to Investigative Post's inquiries.
                                                                                                            — Geoff Kelly
---
Tuesday, Aug. 17, 4:15 p.m.
Jon Rivera first local elected to endorse India Walton
State Assembly Member Jonathan Rivera became the first local elected official to endorse India Walton for mayor of Buffalo this morning. Walton and Rivera announced the endorsement in front of Rivera's childhood home on 14th Street, which is still owned by his father, Niagara District Council Member David Rivera.
"It is with incredible excitement that I lend my support to such a dynamic and engaging leader. The bold and innovative energy that India has shown is exactly what we need right now," Rivera in a statement released by the Walton campaign. "I believe in leading with compassion and in the direction towards equity; that's why I believe in India."
Rivera represents District 149, which includes areas of the city in which Walton did well in June's Democratic primary, including Allentown, Parkside, and the Elmwood Village. Rivera told Investigative Post on Monday he predicted "more would follow" him in endorsing Walton in the coming weeks.
                                                                                                          — Geoff Kelly
---